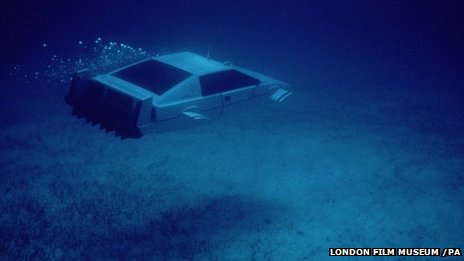 The London Film Museum (which used to be called the Moveum) in Covent Garden has closed for a few months while they prepare for an exciting new exhibition – Bond in Motion, which will feature the largest collection of James Bond vehicles ever assembled.
According to the BBC:
Cars used in the James Bond films are to go on display at a London museum.

The vehicles, including the white Lotus Esprit from The Spy Who Loved Me which famously doubled as a submarine, will be featured at the London Film Museum, in Covent Garden.

The Bond in Motion exhibition will also feature props, miniature models and action sequence boards from all 007's films.

The exhibition will open on 21 March.

In addition the Rolls-Royce Phantom III from Goldfinger and the Aston Martin DB5 from GoldenEye will also go on display.
Sounds really cool! The London Film Museum will be taken over completely by the new Bond Exhibition, so you won't be able to see old exhibits which have now closed permanently (as has the other location on the Southbank).
The exhibition opens on March 21st and prices are as follows: Adult: £14.50, Child (5-15): £9.50, Family (2 Adults, 2 Children): £38 and Children under 5 are free. We advise you to book your tickets in advance.
More details on their website.