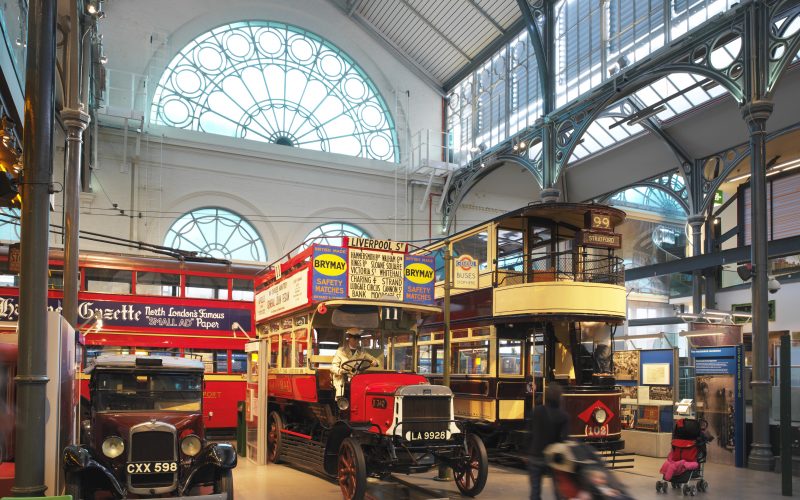 While London has many fantastic free museums and galleries there are some that have an admission charge. This list is by no means exhaustive but these are the 'pay for' London museums we would like to highlight. We've tried to focus on the best museums and have avoided listing common tourist traps. When you have to pay to get into a museum, especially in London where most world-class museums are free, we want to make sure you get the most for your money. Some are quirky, some are fine and some will provide a valuable history lesson. We hope you like this list and keep it for reference for all your future London travels!
Note: Prices are for the standard admission ticket without concession and without any early booking discounts. All prices checked in late 2018. This article originally appeared in the now-defunct Londontopia Magazine.
18 Stafford Terrace
This was the Kensington home of the Punch illustrator Edward Linley Sambourne and his family from 1875. The house has a wonderful 19th century Aesthetic Movement interior design and was opened to the public in 1980 by the Victorian Society. The Saturday costumed tours are particularly enjoyable.
18 Stafford Terrace, London W8 7BH
Tube: High Street Kensington
Adult admission: £10.00
Alexander Fleming Laboratory Museum
Fleming discovered the antibiotic penicillin at St Mary's Hospital in 1928, and visitors can see his laboratory restored to its 1928 condition. It's up several flights of stairs and you get escorted to the laboratory. There are some display boards and a short film but, I guess, it's all about being in the place where something monumental happened.
135a Praed Street, London W2 1RW
Tube: Paddington
Adult admission: £4.00
Benjamin Franklin House
This is the world's only remaining Franklin home. The house dates from c. 1730 and Franklin lived and worked here for sixteen years (1757–1775). You need to book a tour – either the Architecture Tour or the Historical Experience – the second being my choice as a costumed guide leads a group into each room and interacts with videos.
36 Craven Street, London WC2N 5NF
Tube: Charing Cross
Adult admission: £8.00
Brunel Museum
A museum devoted to one of the world's great engineering dynasties, the Brunel family. The museum is in the Brunel Engine House, designed by Sir Marc Isambard Brunel to be part of the infrastructure of the Thames Tunnel.
Railway Avenue, London SE16 4LF
Overground: Rotherhithe
Adult admission: £6.00
Canal Museum
Primarily a heritage waterways museum devoted to the history of Britain's canals. But as it's housed in a former ice warehouse (built c. 1862 for Carlo Gatti, the ice cream maker) it features the history of ice-cream and the ice trade, including a huge Victorian ice well used to store imported ice.
12-13 New Wharf Road, London N1 9RT
Tube: King's Cross St Pancras
Adult admission: £5.00
Charles Dickens Museum
This Georgian terraced house is where the author lived and worked from 1837 to 1839. It's where he wrote Oliver Twist, The Pickwick Papers and Nicholas Nickleby, and it's now a museum devoted to his life. Rooms are laid out as if the Dickens family are still living there and have just stepped out for a moment. Highlights include Dickens's writing desk and handwritten drafts of the novels he wrote here.
48 – 49 Doughty Street London, WC1N 2LX
Tube: Russell Square
Adult admission: £9.50
Churchill War Rooms
Built in the basement under government offices, this is the famous bunker where Churchill plotted the Allied route to victory during the Second World War. Restored and opened in the 1980s, it displays the Cabinet War Rooms behind glass walls as they would have been on a busy night during WWII. There's also the Churchill Museum to learn the story of his life and legacy.
Clive Steps, King Charles Street, London SW1A 2AQ
Tube: Westminster
Adult admission: £18.90
Dr Who Museum
A somewhat secret museum hidden at the back of a shop in east London, you enter through a TARDIS. See over 120 different props, costumes and artifacts from Doctor Who, Torchwood, The Sarah Jane Adventures and K9, dating back to 1963. A Guide goes with you so they are available to answer questions.
The Who Shop, 39-41 Barking Road, London E6 1PY
Tube: Upton Park
Adult admission: £3.00
Dulwich Picture Gallery
Founded in 1811 when Sir Francis Bourgeois RA bequeathed his collection of old masters "for the inspection of the public", this is the oldest public art gallery in the UK and the world's first purpose-built public art gallery. The substantial collection is set within an impressive building designed by Sir John Soane.
Gallery Road, London SE21 7AD
Rail: West Dulwich
Adult admission: £9.00
Fan Museum
Opened in 1991 as the world's first museum dedicated to the preservation and display of fans, it holds over 5,000 fans and fan leaves with examples from all over the world from the 11th century to the present day. The museum is located within two grade II* listed houses built in 1721 in Greenwich.
12 Crooms Hill, London SE10 8ER
Overground: Greenwich
Adult admission: £5.00
Fashion & Textile Museum
Founded by the designer Zandra Rhodes, this is the only museum in the UK solely dedicated to showcasing developments in contemporary fashion. It does not have a permanent display, but offers a programme of temporary exhibitions and displays throughout the year, which allows the Museum to showcase a rich variety of contemporary fashion and textile items.
83 Bermondsey Street, London SE1 3XF
Tube: London Bridge
Adult admission: £9.90
Florence Nightingale Museum
Located next to St Thomas' Hospital, the museum tells the real story of "the lady with the lamp". From her Victorian childhood to her experiences in the Crimean War, through to her years as a campaigner for health reform, the museum explains her legacy and also celebrates nursing today.
St Thomas' Hospital, 2 Lambeth Palace Road, London SE1 7EW
Tube: Waterloo
Adult admission: £7.50
Foundling Museum
Telling the story of the Foundling Hospital, Britain's first home for abandoned children, the museum also houses a nationally important art collection as well as the world's largest privately amassed collection of Handel memorabilia. The museum features the artist William Hogarth and the composer George Frideric Handel as both were major benefactors of the institution.
40 Brunswick Square, London WC1N 1AZ
Tube: Russell Square
Adult admission: £11.00
Garden Museum
Explore and celebrate British gardens and gardening through a permanent display of paintings, tools, ephemera and historic artifacts. The museum offers a glimpse into the uniquely British love affair with gardens. The museum was set up to save an abandoned church and knot garden where gardener John Tradescant was buried.
Lambeth Palace Road, London SE1 7LB
Tube: Lambeth North
Adult admission: £10.00
Handel & Hendrix in London
In the Georgian house in Mayfair that was the home of German-born composer Handel in 1712, the museum has a carefully restored set of period rooms. And as Jimi Hendrix lived next door, 200 years later, the museum also has rooms dedicated to the rock legend. It's an interesting juxtoposition to have these two special location combined into one museum. It's provides a fascinating look at musiucal history even if you're not a fan or rock or classical music. You'll still learn something!
25 Brook Street, Mayfair, London W1K 4HB
Tube: Bond Street
Adult admission: £10.00
HMS Belfast
This historic warship is permanently moored near Tower Bridge. It was originally a Royal Navy light cruiser and served during the Korean War and Second World War – including D-Day. By exploring nine decks of the ship we can discover what life was like on board.
The Queen's Walk, London SE1 2JH
Tube: London Bridge
Adult admission: £17.00
Household Cavalry Museum
After watching the Changing of the Guard at Horse Guards Parade, this is the place to visit.
Exhibits explain the 350-year history of the regiment and include ceremonial uniforms and regalia. And through a large glass wall you can see troopers working with horses in the original 18th-century stables.
Horse Guards Parade, Whitehall, London SW1A 2AX
Tube: Charing Cross
Adult admission: £8.00
The Jewish Museum
Reflecting the diverse roots and social history of London's Jewish community, this modern museum has permanent displays including a gallery dedicated to the Holocaust. It's interesting for exploring British Jewish history since 1066 right through to today.
Raymond Burton House, 129-131 Albert Street, London NW1 7NB
Tube: Camden Town
Adult admission: £8.50
Leighton House Museum
The former home of the Victorian artist Frederic, Lord Leighton (1830-1896), this is the only purpose-built studio-house open to the public in the UK. The Arab Hall in this 'private palace of art' has a golden dome and walls lined with stunning Islamic tiles. And upstairs, his painting studio has paintings and sculpture by Leighton and his contemporaries.
12 Holland Park Road, London W14 8LZ
Tube: High Street Kensington
Adult admission: £9.00
London Transport Museum
Explore the story of London and its transport system, highlighting the link between transport and the growth of modern London, culture, and society since 1800. There are actual buses and tube trains here and an excellent gift shop.
Covent Garden Piazza, London WC2E 7BB
Tube: Covent Garden
Adult admission: £17.50
Museum of Brands, Packaging & Advertising
Examine the history of consumer culture from Victorian times to the present day. The collection of over 12,000 items includes domestic 'everyday' products, packaging, posters, toys, and games. The 'Time Tunnel' gives a trip down memory lane to see how brands have evolved from the naive charm of Victorian times to the greater sophistication of today.
111-117 Lancaster Rd, London W11 1QT
Tube: Ladbroke Grove
Adult admission: £9.00
Old Operating Theatre
Housed in the attic above an old church is one of the oldest surviving operating theatres. Predating anesthetics and antiseptics, this museum of surgical history offers a unique insight into the history of medicine and surgery. Note, access to the attic is via a narrow 52-step spiral staircase. Tour guides will give you an excellent insight into the early days of medical research and surgery. It can be a bit gruesome – so this is not for the squemish!
9a St Thomas Street, London SE1 9RY
Tube: London Bridge
Adult admission: £6.50
Royal Observatory
Find out how it became the home of Greenwich Mean Time (GMT) and the first state-funded scientific institution of its day. Situated on the hill in Greenwich Park, it played a significant role in the history of astronomy and navigation. Stand on the historic Prime Meridian of the world and straddle two hemispheres while also exploring the home of the Astronomer Royals. The park surrounding is wonderful for walks and provides great views of Canary Wharf and the Docklands. Also, don't miss the National Maritime Museum nearby (which is free).
Blackheath Ave, London SE10 8XJ
DLR: Cutty Sark
Adult admission: £13.50
Sherlock Holmes Museum
The world-famous consulting detective Sherlock Holmes lived at 221b Baker Street between 1881 and 1904, according to the stories written by Sir Arthur Conan Doyle. This private museum has created his fictional home, shared with colleague Dr. Warson as if it was a real place. Expect mannequins and staged Victorian rooms.
221b Baker St, Marylebone, London NW1 6XE
Tube: Baker Street
Adult admission: £15.00
Tower of London
Officially Her Majesty's Royal Palace and Fortress of the Tower of London, this historic riverside castle houses the Crown Jewels. Discover 1,000 years of history through the Tower's life as a royal palace, prison, execution site, Royal Mint, and even a zoo. Yeoman Warders (Beefeaters), have lived here since the 1500s and now care for the ravens and give guided tours. It's still technically a military installation and the Warders are all retired military types who have to memorize the complete history of the Tower in order to run the tours.
London EC3N 4AB
Tube: Tower Hill
Adult admission: £25.00