London is a city that is forever changing. That means that you'll almost always find something new to do in London no matter how many times you've been there. The last few years have seen some really cool and innovative new attractions open in London; here are a few you should plan for your next trip over.
View from the Shard
The Shard is now Western Europe's tallest building and stands proudly over the South Bank in London. The stark glass tower is open to the public in a few ways. There is a luxury hotel and a mixture of different restaurants to try (and the views are free if you're dining). If you only want the view, then do the View from the Shard experience where you ride to the top of the building in a very fast elevator and then get panoramic views of London and surrounding areas. St Paul's always looks beautiful, no matter the weather. This attraction is a bit pricey – it starts at £30.95 for adults (about $40). It's cheaper if you book in advance on their website and we do recommend booking in advance as the attraction is very popular. To get there, take the Tube to London Bridge Underground Station and then follow the signs. The building is hard to miss! Open from 10 a.m. – 10 p.m. (I hear the night views are amazing). Also, nearby is The Old Operating Theatre Museum, a great little museum showing the history of medicine with a restored surgical theater.
Slide at The Orbit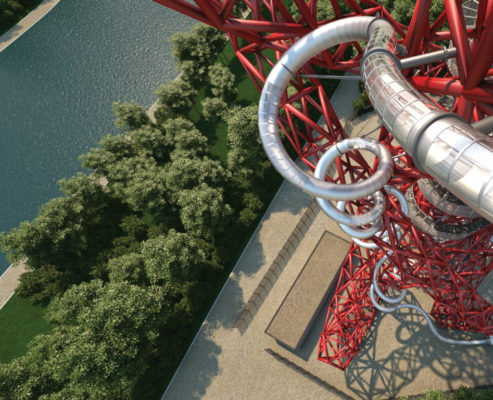 You may remember The Orbit tower from its many appearances during the London 2012 games – the sculpture by Anish Kapoor was a centerpiece of the London Games and now it's the centerpiece of the Queen Elizabeth Olympic Park. As an attraction, it hasn't been particularly popular mostly because there's not much to do in the park yet and it's quite a way's out from Central London for tourists to visit. Attendance numbers have disappointed. To drum up more interest, they've added the world's longest slide to the structure. Entrance to the tower and a ride down the slide is £15 (about $20) for adults and £10 (about $15) for children. If you book online, you get a small discount, we also recommend booking ahead for this attraction as the novelty of the new slide has made it suddenly popular for a time. It's open daily from 10am – 6pm.
The Sky Garden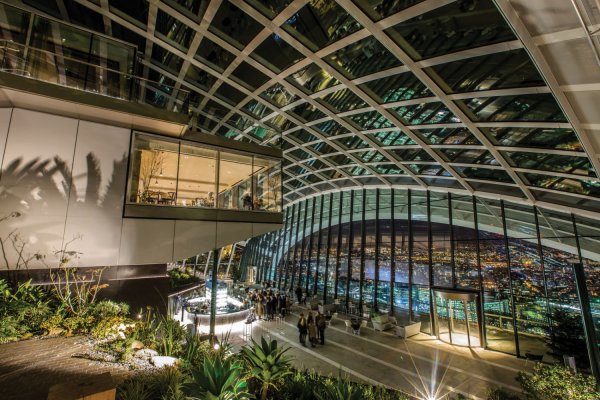 Being a city that cares about its heritage when building new skyscrapers, planners demanded that the public have some kind of access to the new tower at 20 Fenchurch Street, colloquially known as the 'Walkie Talkie'. As a result, a free public Sky Garden has been built into the top of the tower. The public gardens include amazing views of the City of London. There are also two restaurants and two bars located in the Sky Garden. They've been very popular since it opened so it can be difficult to get in. If you want to visit the Sky Garden, you must book in advance (tickets are released up to three weeks in advance). Tickets are free but they must control entry. You cannot just turn up and visit the Sky Garden (we learned this the hard way). Open 7 days a week, opening times vary based on the season. Book on their website: https://skygarden.london/
Jack the Ripper Museum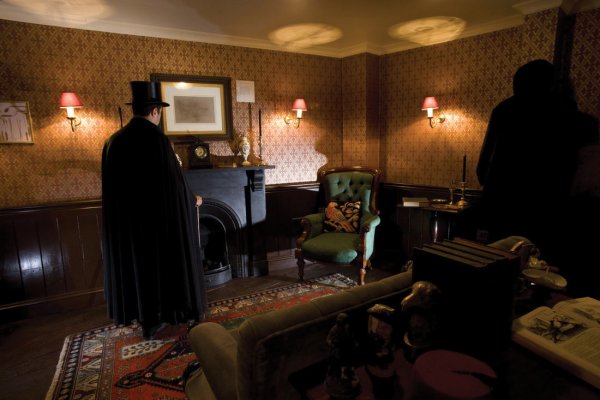 Jack the Ripper is probably the most famous British serial killer and Ripper tours have always been popular in London. So, it was only a matter of time that someone would open a museum dedicated to the mysterious killer (who still hasn't been identified). The museum takes you back in time to Victorian Whitechapel and respectfully educates visitors on the gruesome murders that took place. Step back in time to the London of 1888, the greatest city in the world, where the greatest unsolved crimes of all time took place. As you explore the museum, you will discover everything there is to know about the lives of the victims, the main suspects in the murders, the police investigation and the daily life of those living in the east end of London in 1888. The museum also runs Ripper tours of the local area. Open daily from 9:30 a.m. to 6:30 p.m. Admission at the door is £12 (about $16) for adults – £10 if you book online in advance.
Boris Bikes (aka Santander Cycles)
This scheme launched by the previous London mayor Boris Johnson allows Londoners and visitors to rent bikes all over the city and return them to any point that accepts them. It costs as little at £2 to rent a bike and you can ride it anywhere in London. You have to sign up in advance. It's a great way to get around London and a bit of a different way to experience the city. Sometimes it can be quicker to get around on a bike than in a taxi or on the Tube. See their website for route maps and helpful advice on cycling in London. https://tfl.gov.uk/modes/cycling/santander-cycles/
Mail Rail (Opening 2017)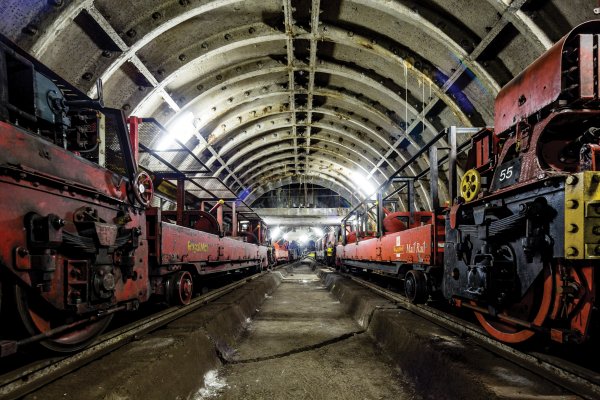 Did you know that London had a secret Tube Line that was once used exclusively by the Royal Mail? The Mail Rail was used by Royal Mail to transport mail between depots in central London. The system was no longer needed due to shifts in technology so for the longest time, the system sat abandoned but intact. Now, it's being opened up as a tourist experience. Visitors will learn about the history of the system and how it worked in London. They will also be able to take rides throughout the system on the old mail rail trains. It will be opening up as part of the new Postal Museum which will explore Britain and London's history through the prism of its mail service. Visitors will be able to ride the defunct mail rail on a looping track ride. This attraction is scheduled to be opening to the public in Spring 2017. Keep tabs on the project for official opening informationa and pricing at http://postalmuseum.org
Museum of Brands and Packaging
While this museum is not new, it has recently moved to a larger location in Notting Hill not far from the Portobello Road market. This museum takes you through the history of brands and packaging (mostly focused in British advertising history). There are galleries full to the brim with oddities and wonders alike, where every corner you turn leads you into a different decade. You'll see Rimmel cosmetics from the 1890s, First World War Oxo Cubes, Mars Bars, Rolos and KitKats from the 1930s, a 1970s Chopper Bike and around 12,000 other items that will open your eyes to the way British people lived and shopped. The museum is open daily but closed on Mondays. Admission is £9 (about $14) for adults and £5 (about $7) for children.
The Victor Wynd Museum of Curiosities, Fine Art & Natural History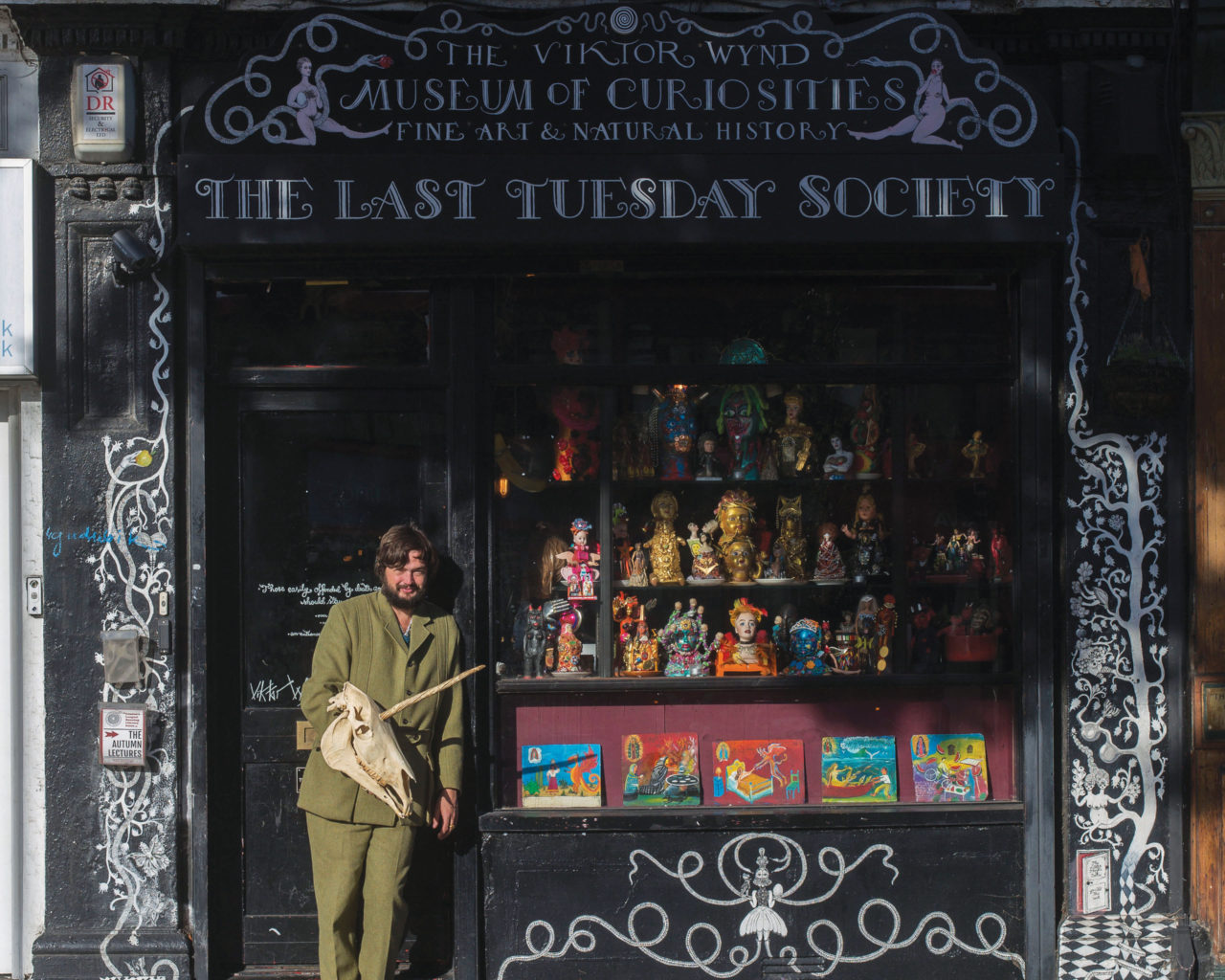 This is Britain's only museum of 'curiosities.' It's hard to define, but it's filled with a bunch of odd stuff. Here's a breakdown of the types of things on display: Shrunken Head, Asmat Human Trophy Skulls, Tribal Art from New Guinea & The Congo, Tin Toys, Juvenilia, Dolls, a bullet and piece of bone from a boys foot, odd books, two-headed calf, kitten & lamb, eight-legged lamb, Napoleon's Death Mask, hairball from a cow's stomach, kidney stone/bezoar, amber, and Erotica. Like we said, it's a hard museum to define. The Museum is open Wednesday through Sunday from 12 p.m. – 10:30 p.m. (I imagine it's quite spooky after dark!). Admission is £5 (about $7) and includes a cup of tea and a guidebook.
The Design Museum New Location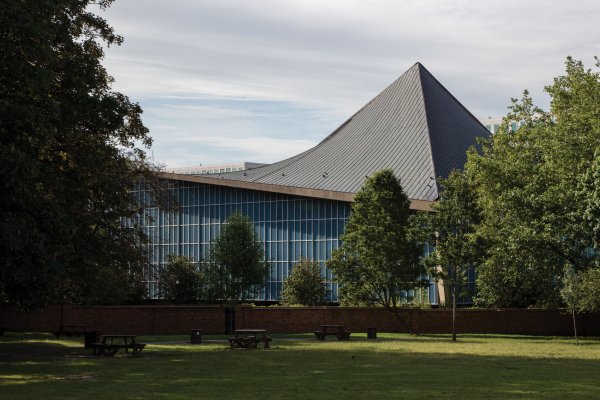 London's Design Museum has been closed for most of 2016 as they prepare to relocate to the former Commonwealth Institute building on High Street Kensington, a perfect use of the iconic modernist building that has been neglected for the past few years. The new museum was due to have opened in November 2016 so by 2017, it will have settled nicely into its new home. The new museum, with three times more space, will have a free permanent display, entitled Designer Maker User that tells the story of contemporary design. There will be two temporary exhibition spaces, with the first show, Fear and Love: Reactions to a Complex World, to feature newly commissioned installations. The museum will be open daily, new admission prices have not been set as we went to press.
The Night Tube
In 2016, the Tube started doing something it has not done in its entire history – run a 24-hour service on select lines. After years of delays, London now has a Night Tube service. Initially, the service will run only on the Victoria and Central lines on Fridays and Saturdays, expanding to more lines in the coming months. The service will run only on the weekends, for now, but now you don't have to worry about how to get back to your hotel/hostel/flat after a busy night out in London.