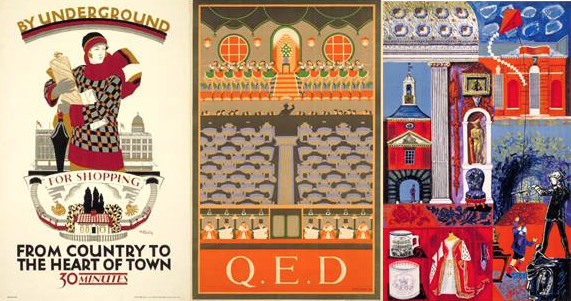 We got this news a little too late to include in the 2017 London Annual but the London Transport Museum has announced their two major exhibitions for 2017. Here are the details from the London Transport Museum.
Prize for Illustration 2017: Sounds of the City
19 May to 3 September 2017
Sounds of the City – an exhibition of 100 illustrations that interpret artists' relationships with sound in an urban context – will open on 19 May 2017 at London Transport Museum. Taking inspiration from the familiar, the curious, the persistent and the distinctive chorus of sounds we hear about us day and night, we celebrate the hubbub and the quiet spaces, the songs and the sounds, of our vibrant, diverse, multi-layered cities.
Poster Girls
13 October 2017 to summer 2018
Girl power comes to Covent Garden when Poster Girls – a major new exhibition about 20th and 21st century female graphic artists opens at London Transport Museum in the autumn of 2017.
Poster Girls will highlight some of the key female artists who have designed for London Transport and Transport for London including Dora Batty, Herry Perry, Laura Knight, Anna Zinkeisen, Margaret Calkin James and Freda Lingstrom. The artists and featured work will be examined and contextualised by both the era in which they lived and worked and their style, looking at influences both from within the design community and from the wider world.
As well as stunning original posters from London Transport Museum's collection, Poster Girls will include accompanying material such as letters, books and ceramics, photographs and original artworks. The exhibition will look at their diverse portfolios beyond posters and the context in which they were designing posters, the background story to their careers, and, importantly, their influence on 20th century design.
Both exhibitions take place at the Exterion Media Gallery in London Transport Museum located in the heart of the Covent Garden Piazza. Entry is included in the adult admission ticket to the museum, which allows unlimited daytime entry for a whole year. Kids go free.
I hope we'll have a chance to check them out!