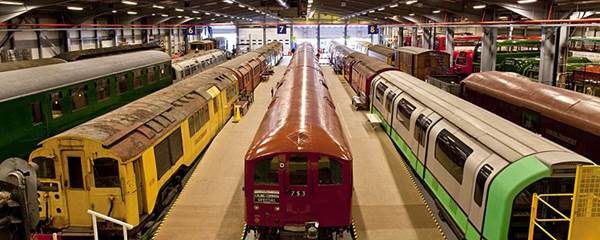 The London Transport Museum in London has an enormous collection and they couldn't possibly keep it all on display. So, they have a storage depot in Acton. It's not normally open to the public. But on a few days of the year, it's opened for general visitors.
Here are the details for this year's opening:
A rare opportunity to see inside London Transport Museum's Depot in Acton, West London, will take place on 22 and 23 April 2017. Transport enthusiasts and family visitors to the Museum's Secrets of the Underground Open Weekend will have the chance to explore this working Museum Depot, a treasure-house of over 320,000 artefacts from London's transport history and which is usually closed to the public.

Visitors will discover more about the unexpected, the hidden and secret places of the Underground with this jam-packed weekend of activities.  The Museum Depot will showcase a fascinating and fun themed programme of talks, interactive displays, tours and family activities including a ride on a miniature railway, a closer look at tunnelling ephemera and tours of its stunningart and poster collection.

At Secrets of the Underground Open Weekend visitors can:

·         Hear stories from Hidden London, the Museum's hugely popular series of tours of disused Underground stations, and get the inside track about the secrets of these hidden places and spaces

·        Join transport historian, Oliver Green, as he reveals the story behind a forgotten space below the streets of London – the Kingsway Tramway Subway. The only one of its kind in Britain, this listed cut and cover tunnel in central London sits below one of the busiest streets in our city

·        Marvel at the stories uncovered from London soil during the Crossrail tunnelling project, with author Gillian Tindall, who brings her infectious love of London's history to these freshly revealed tales

·        Discover the underground Mail Rail with The Postal Museum

·         Travel back in time to 1825 with Robert Hulse from the Brunel Museum, and hear about the engineering brilliance of Isambard Kingdom Brunel and the stories behind the construction of the world's first under-river tunnel from Wapping to Rotherhithe

·        Get a behind the scenes look at Crossrail, with talks about designing for underground spaces, and stories from the engineers who have tunnelled under London's soil.
You should buy tickets in advance.
To buy advance tickets for Secrets of the Underground Museum Depot Open Weekend on 22 and 23 April 2017 go to:
http://www.ltmuseum.co.uk/whats-on/museum-depot/open-weekends
Tickets cost £12 (about $15) for adults and £10 (about $12) for concessions and are valid for both days. Open from 11:00-17:00.  Last admission 16:00. Children and young people aged 17 and under go free (under 16s must be accompanied by an adult).