The London Transport Museum in Covent Garden has a new permanent gallery exploring the history of tunneling and a new temporary exhibition about Crossrail opening on 23 March 2018. Both are part of the national programme to celebrate the Year of Engineering 2018.
Digging Deeper Gallery
On the ground floor of the museum, this new gallery looks at the challenges of underground tunneling and the engineering feats that are needed.
London's deep-level Tube lines vary from 20 feet (6 meters) to 192 feet (50 meters) below ground. As passengers could not be expected to walk up and down long staircases, a mechanical solution was needed.
Elevators
Early Tube stations were all designed with lifts, at first hydraulically powered and later electric. (Covent Garden Tube station still has lifts rather than escalators.) Escalators were only introduced after the central London Tube network had been completed.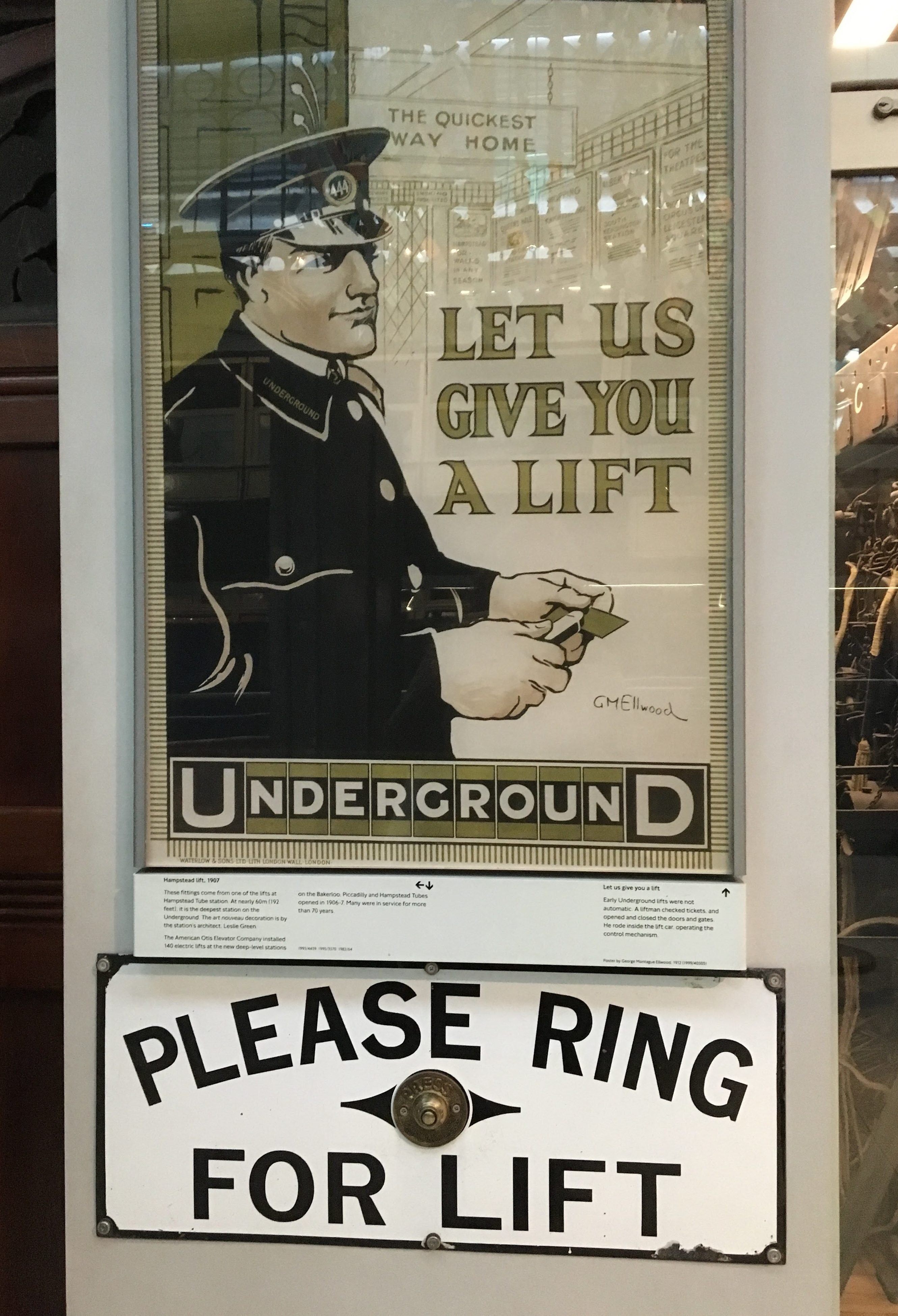 Early Underground lifts were not automatic. A liftman checked tickets and opened and closed the doors and gates. He rode inside the lift to operate the control mechanism.
Most lifts were used to move people up a few floors, but the lifts at the Tube stations were to get the passengers deep underground. There are three lovely working models of the elevators (lifts) at Borough Station on display here.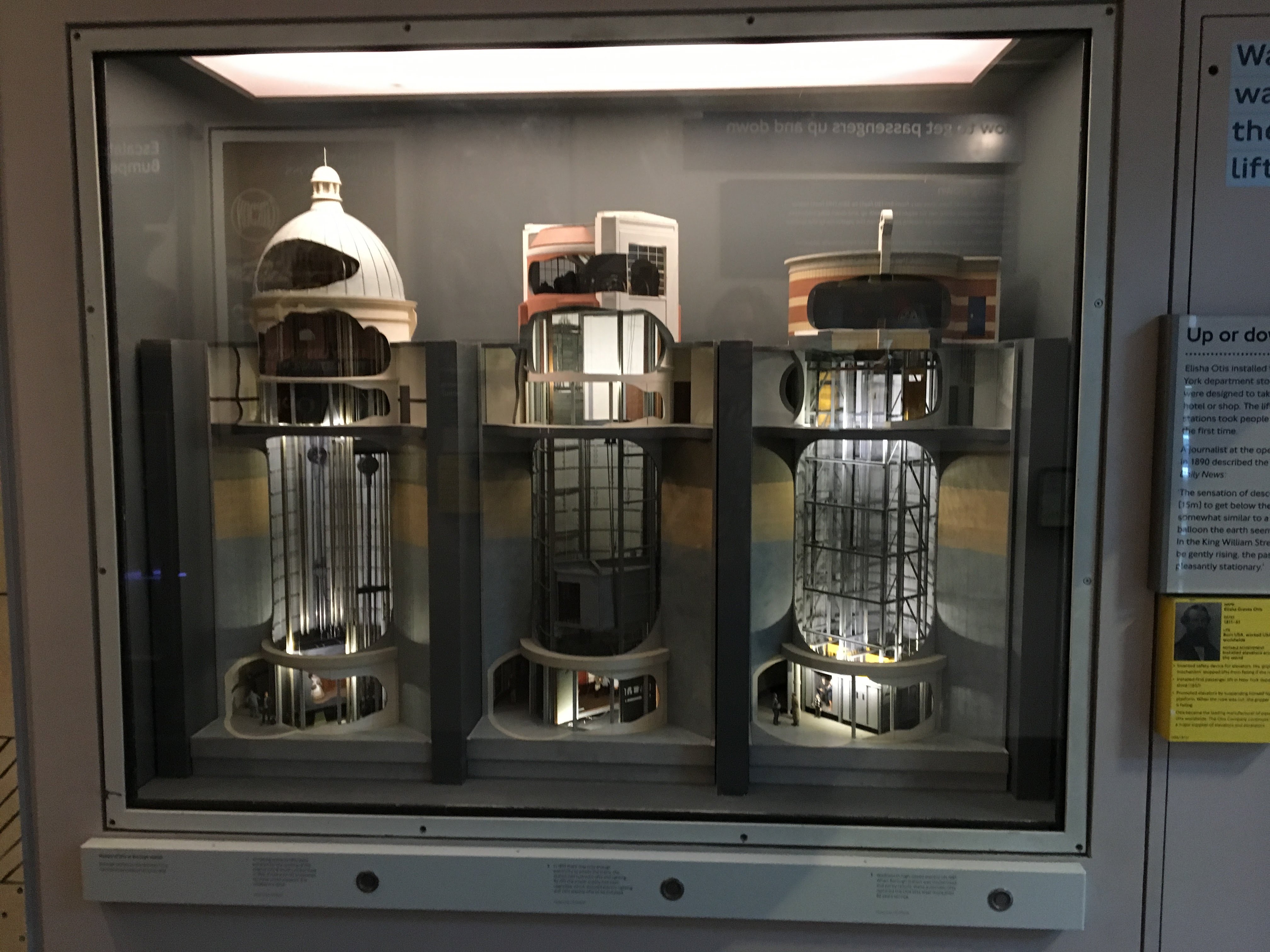 We have American engineers to thank for these as Elisha Otis installed the first passenger lift in a New York department store in 1857. The American Otis Elevator Company installed 140 electric lifts at the deep-level stations on the Bakerloo, Piccadilly and Hampstead Tubes which opened in 1906-7. Many were in service for more than 70 years.
Otis became the leading manufacturer of passenger lifts worldwide. The Otis Company continues to be a major supplier of elevators and escalators.
Escalators
The gallery has information about the first escalator. It was built for an amusement park in Coney Island, New York, in 1895 by Jesse W Reno. He called it an 'inclined elevator,' but by 1899 a moving staircase prototype was patented under the name 'escalator.'
His chain-driven moving walkway was displayed in London in 1902 at the Earl's Court Exhibition. And he built a moving spiral walkway at Holloway Tube station a few years later, but that proved to be unsuccessful.
Reno sold his British company to the Otis Elevator Company who installed the first public transport escalator, and it was in use at Earl's Court station from October 1911. (Don't quibble about the 'first escalator in London' fact as there was a continuous belt escalator in Harrods in 1898.)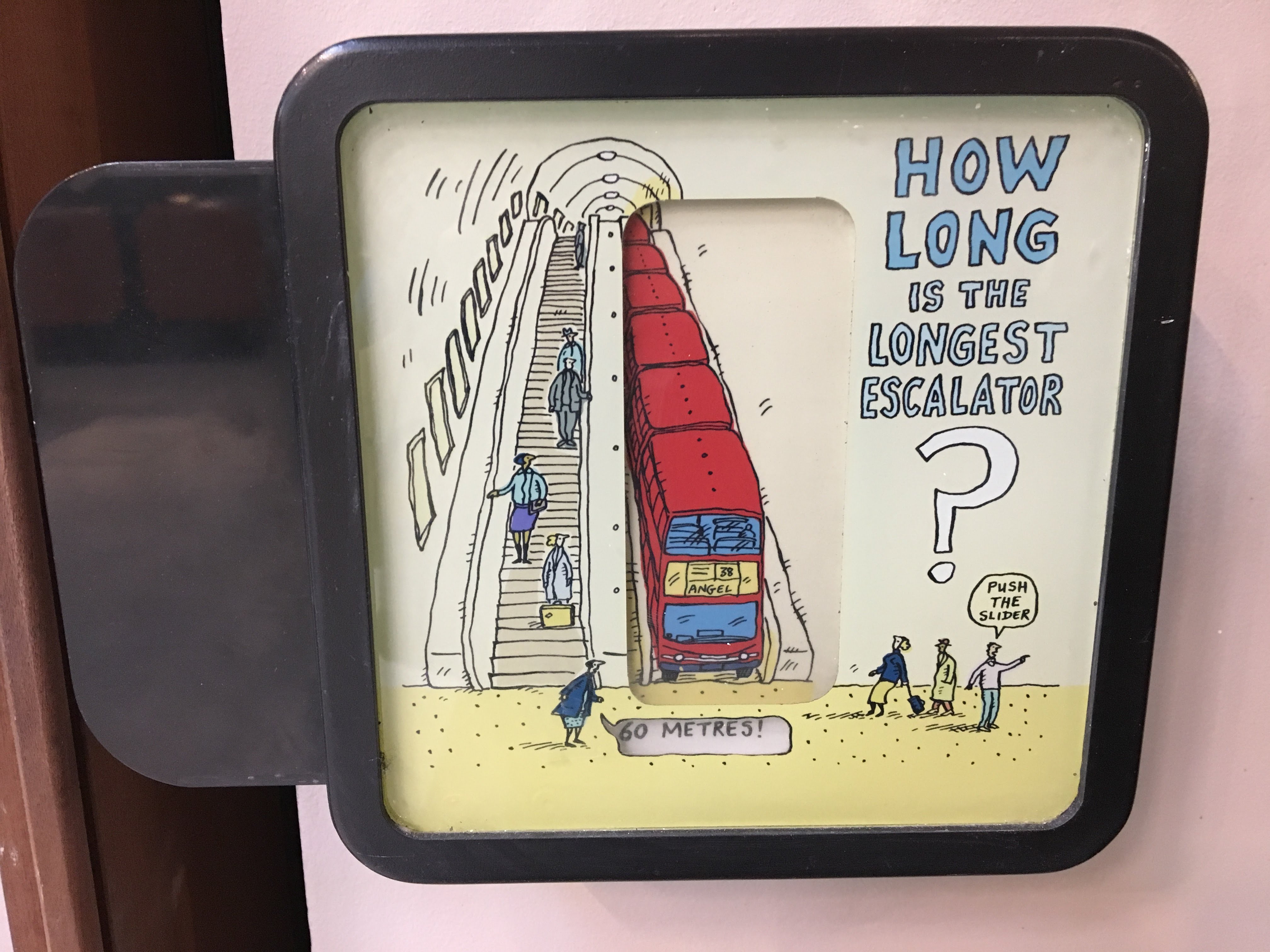 There's a display for "escalator legend" Bumper Harris but little to explain his claim to fame. (I'm told more signage is being added). His walking stick is here because Bumper Harris used it every day as he only had one leg. The reason his name is remembered by tube geeks is that on the day of the escalators opening at Earl's Court station he was employed to travel up and down to demonstrate to the public how safe and stable they were. It sounds like a far-fetched story, but apparently, it is true.
London Tunnel Pioneers
In the corner is a small display about Marc Isambard Brunel (1769–1849), the prolific Anglo-French engineer who developed the first tunneling shield which was used to build the Thames Tunnel. This was the first tunnel under a river anywhere in the world. (It's still in use on the London Overground between Rotherhithe and Wapping.)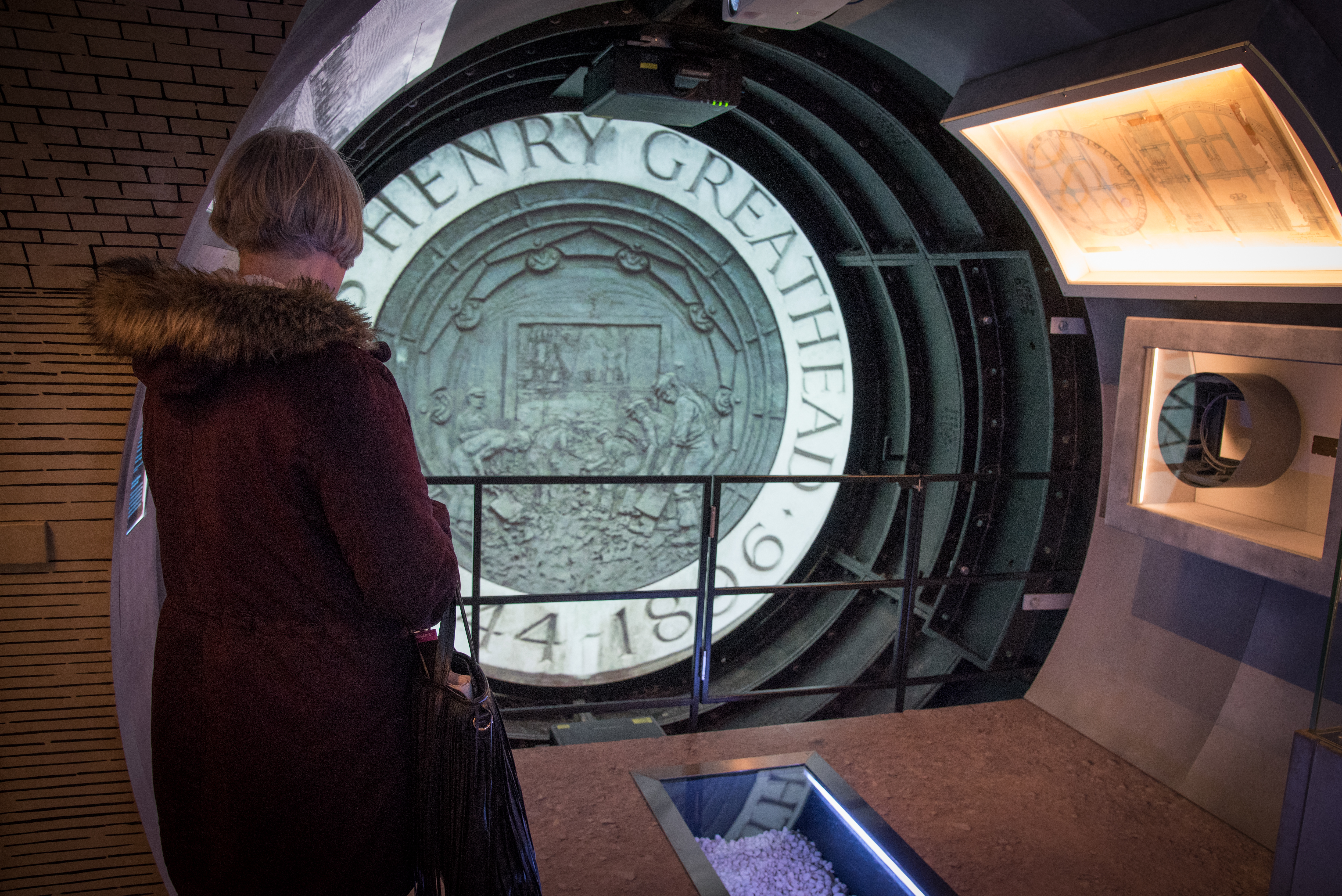 Into the second section of the gallery and the full-size model of the Greathead Shield dominates. There are projections with an audio explanation of its use. The Greathead Shield was used for tunneling for over 50 years from 1886.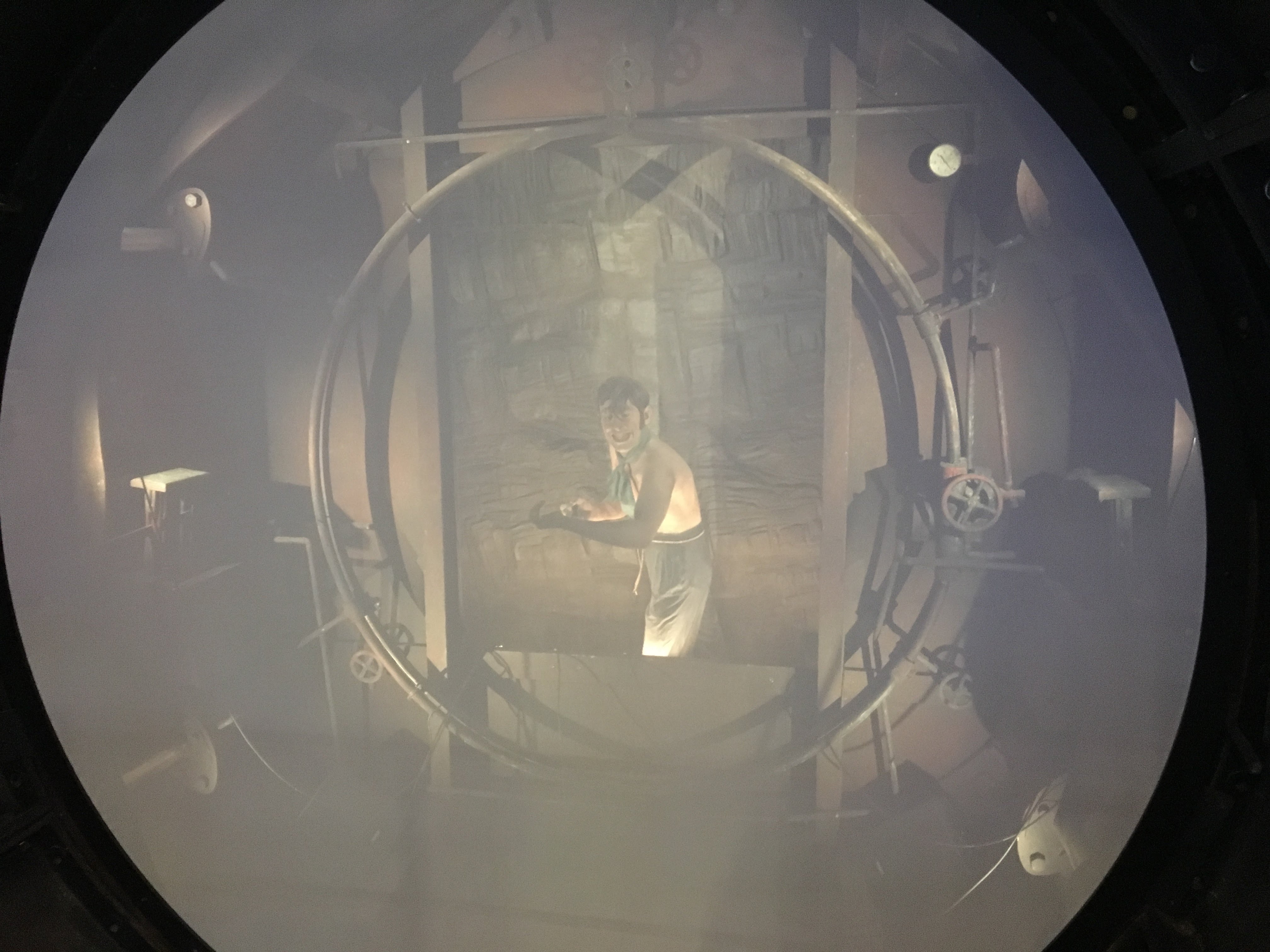 James Henry Greathead (1844–1896) worked with William Henry Barlow (1812–1902) to build the Tower Subway from the London Bridge area to near the Tower of London in 1870. A river crossing was needed as this was 24 years before Tower Bridge opened in 1894. This was the world's first tube tunnel, and it initially opened with a small car being hauled by cable in the tunnel, powered by a stationary steam engine. As this was unreliable, it took only a few weeks until the lifts and car were removed to make it a pedestrian tunnel with a spiral staircase at each end. (You can still see the Tower Subway entrance next to the Tower of London).
While the Tower Subway wasn't a commercial success, it did lead to Greathead's biggest achievement: the Greathead Shield. This circular shield protected diggers from tunnel collapse as it was inched forward, while behind it a permanent tunnel lining of cast iron segments were fitted into place.
You can see an example of the Greathead Shield in situ at Bank station. And there's a statue to James Henry Greathead nearby outside the Royal Exchange. Look closely, and you will see the statue plinth is actually a ventilation shaft for the Underground.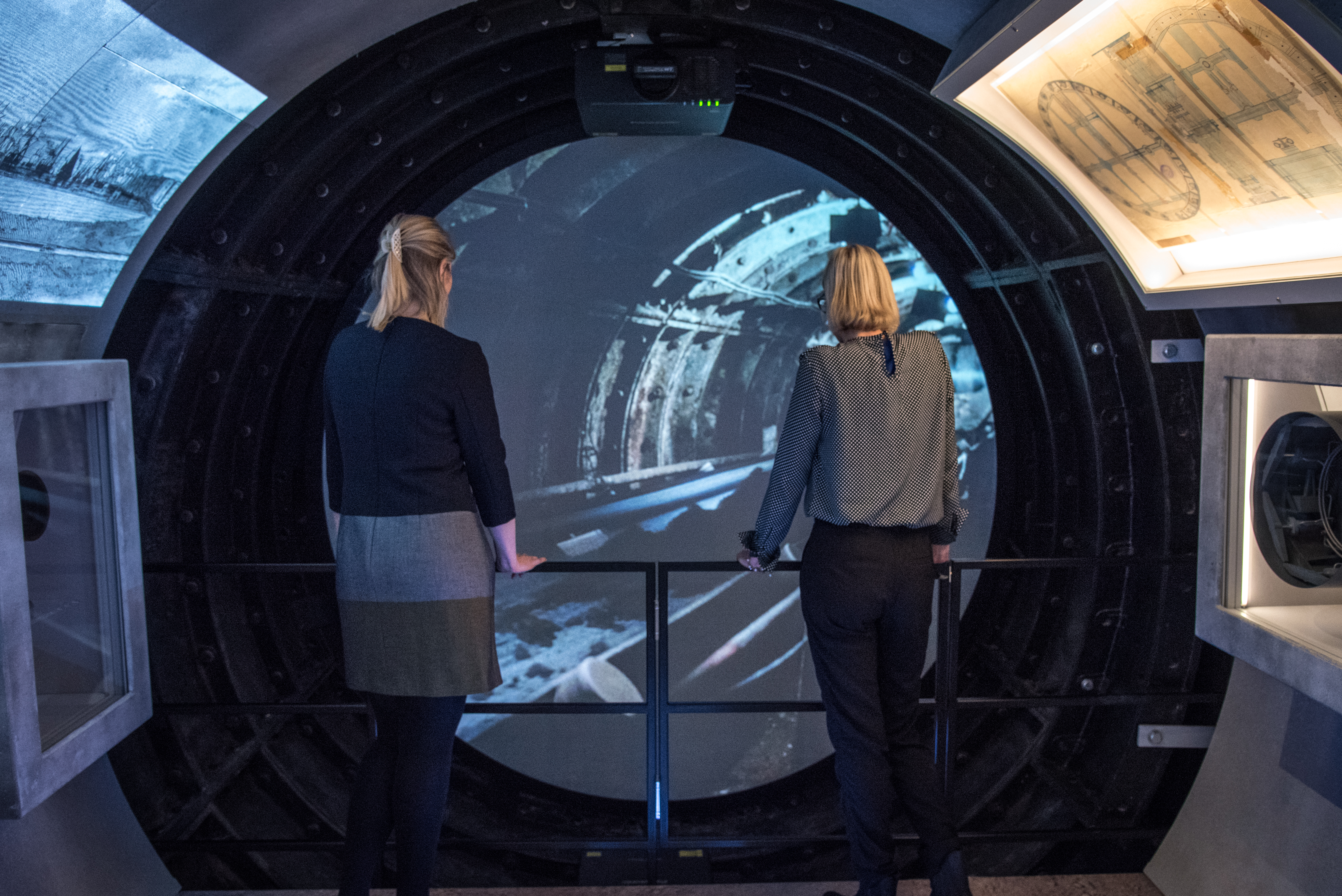 The Tube lines were dug by hand for many years. When tunnels are dug in waterlogged soil, compressed air can be pumped into an airtight chamber to hold back the water. Miners working in this environment can suffer decompression sickness if they return to normal atmospheric pressure too quickly. Tokens like this one below from the late 1930s were issued as a safety measure.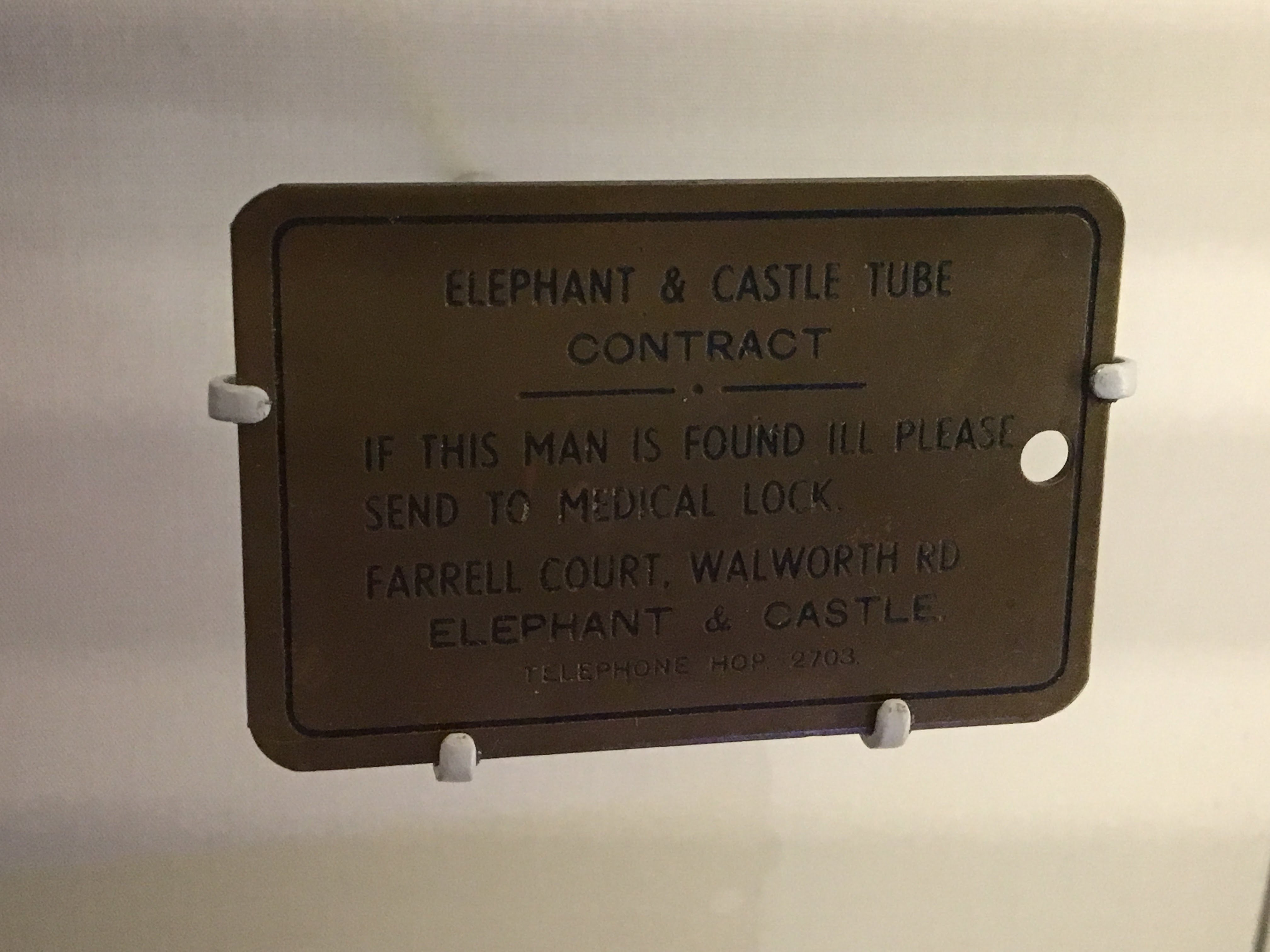 The Jubilee line extension was the first Tube section to not use physical labor, and the Elizabeth line (still under construction) has all been built mechanically. The engineers have computers to plan and control the excavation now so were able to cut through just 33.5 inches (85cm) from current Tube lines.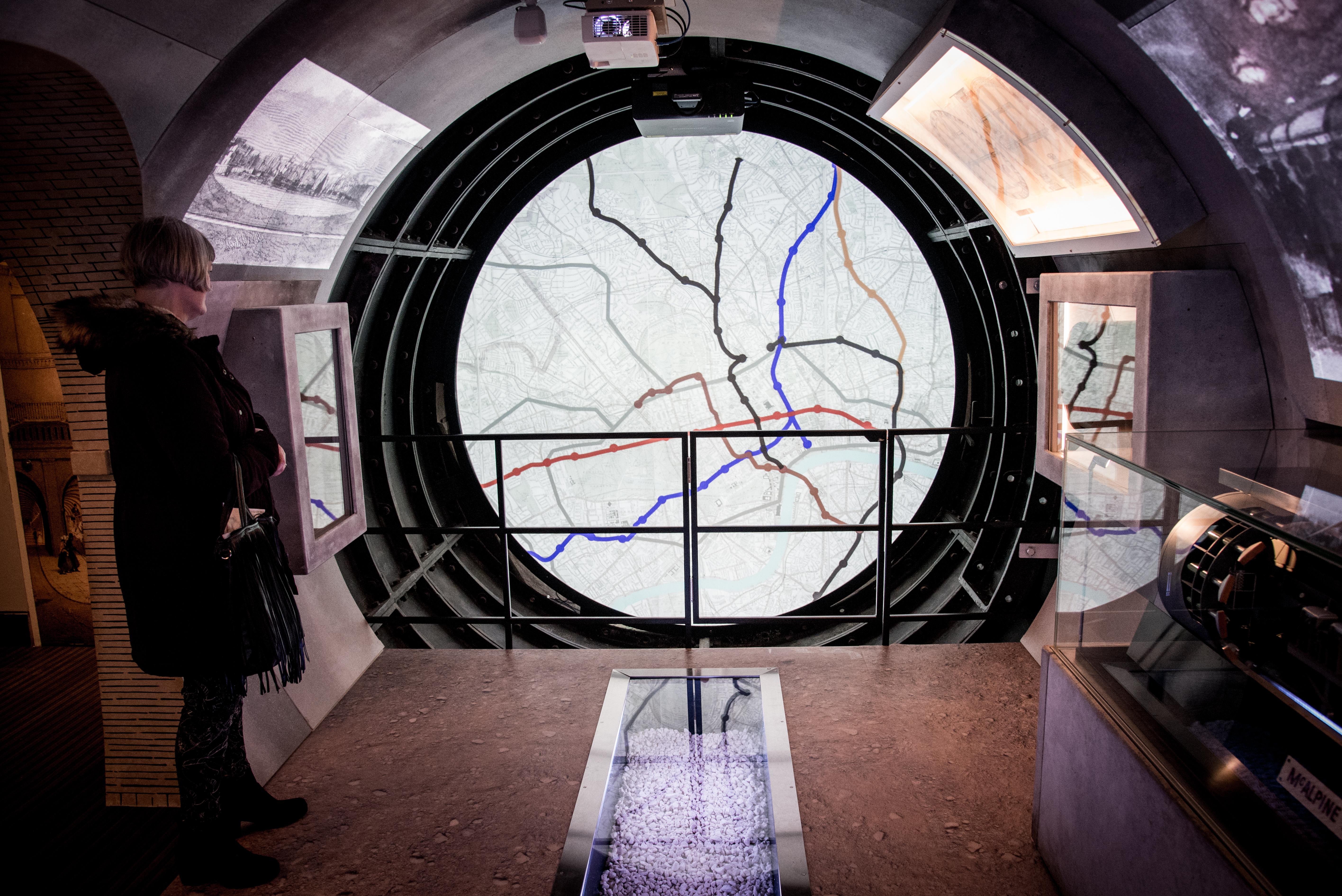 Electricity
Greathead died before electricity came into use, but the exhibits continue with power controls from Lots Road power station in Chelsea.
Other power options were considered for the Underground but as steam was impossible, and the cable system on the Tower Subway was unacceptable, electricity was chosen. Lots Road power station started generating electricity for the Underground in 1905. It was upgraded in the 1930s, and the display here is panels from the control room that opened in 1932. They carried switchgear and meters to control the steam turbines, generators, and current supply. The 1932 control room was replaced in 1968 when Lots Road was converted from coal to oil.
It was noted that Lots Road power station could boil 1 million kettles. An important tea-making statistic!
The world's first electric Tube opened in 1890 on the 3-mile long City and South London Railway from Stockwell in south London to King William Street near London Bridge.

I heard some students discussing how many Americans seemed to be mentioned at the museum and they were right. Charles Tyson Yerkes is described here as the "American who saved the Tube" and a "rather shady American financier" so it seems he wasn't totally appreciated. He made his fortune buying up and electrifying streetcar and elevated rail lines in Chicago. In 1900 he visited London and saw a similar business opportunity.
Yerkes created the Underground Electric Railways Company of London (UERL) in 1902. The UERL took over three of the struggling Tube projects: the Bakerloo, Piccadilly, and Hampstead lines, and electrified the District Railway.
The Secret Life of a Megaproject
This new exhibition is also on the ground floor (near the exit of the museum).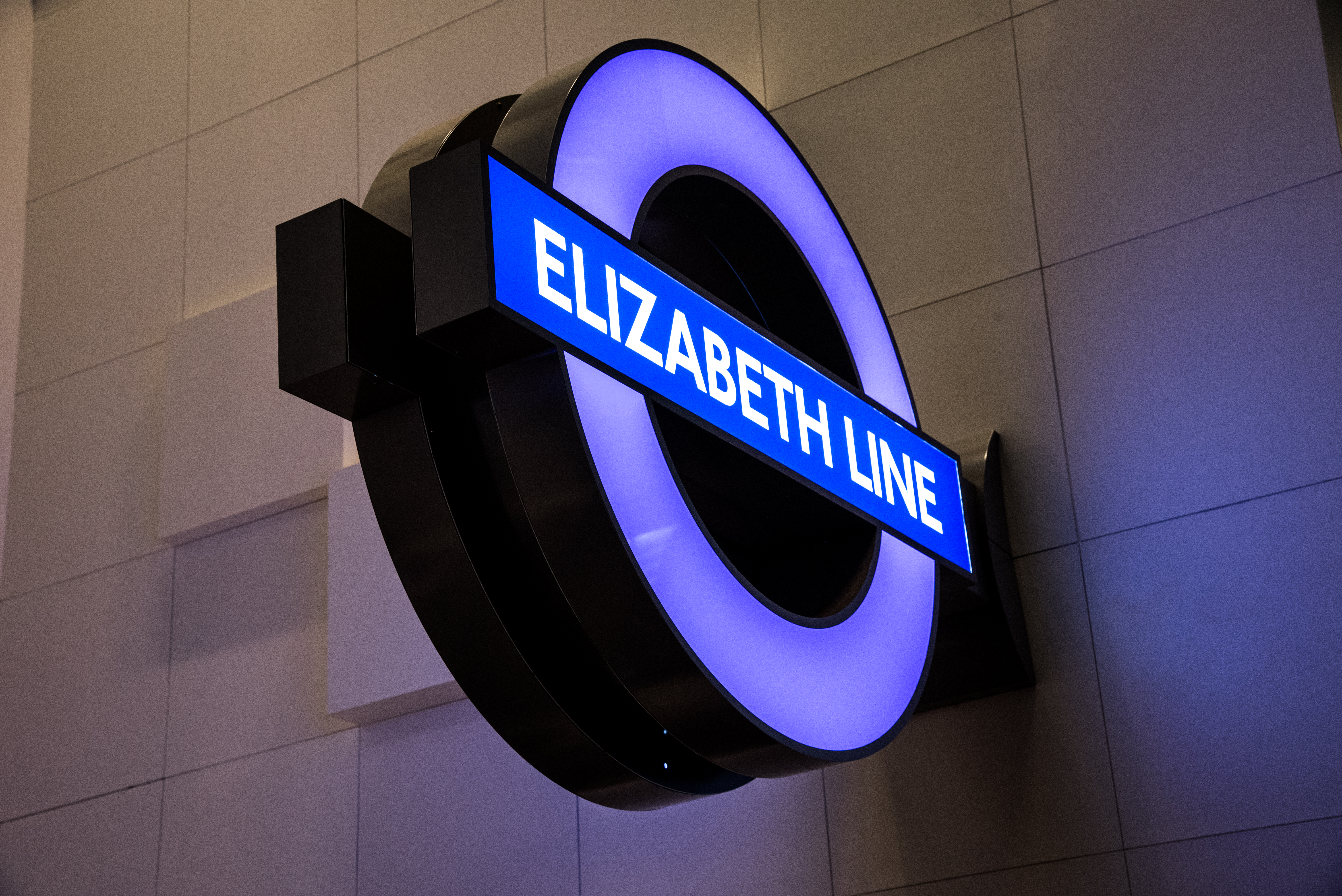 The London Transport Museum does an excellent job of giving an insight into the history of major infrastructure projects. The Crossrail project is more than a railway as it will have transformed the whole route through central London and out to the suburbs.
The Elizabeth line launches in December 2018. It will stretch more than 60 miles from Reading and Heathrow in the west through central tunnels across to Shenfield and Abbey Wood in the east.
There's a display here about art and design along the Elizabeth line as there are going to be ten new public artworks installed at stations along the line. The artworks will be installed by December 2018, but you can see an exhibition of sketches and proposals at the Whitechapel Gallery on until 6 May 2018. If you can't get there, you can see images in this week's Time Out.
The exhibition includes displays about environmental concerns, culture and heritage, industry skills and more.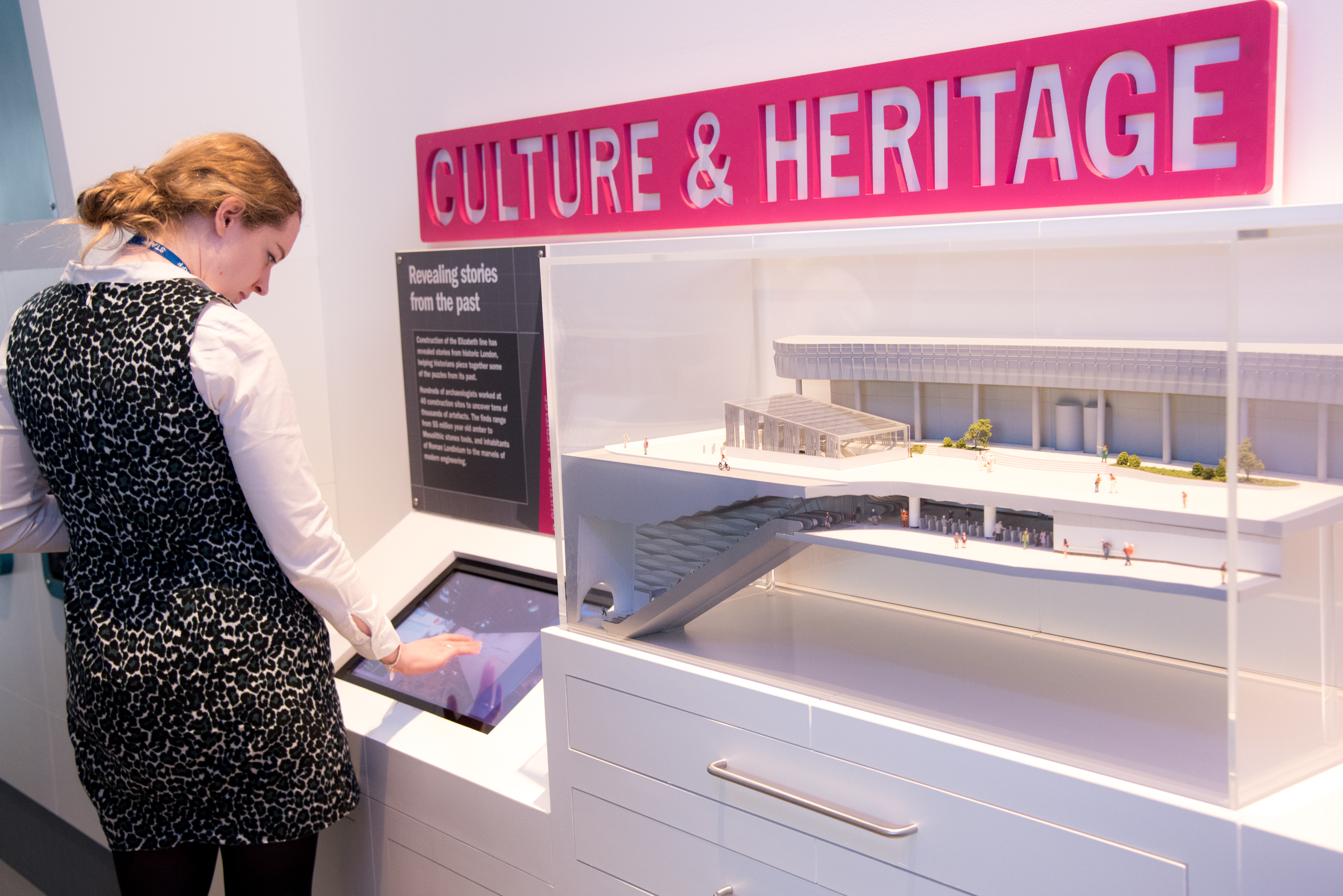 Objects on display include a drone used as part of the construction and the original prototype of the new Elizabeth line roundel. I noticed all of the school children who passed through were excited to see a drone on display. I was slightly surprised that all of these under 10-year-olds could recognize a drone so easily.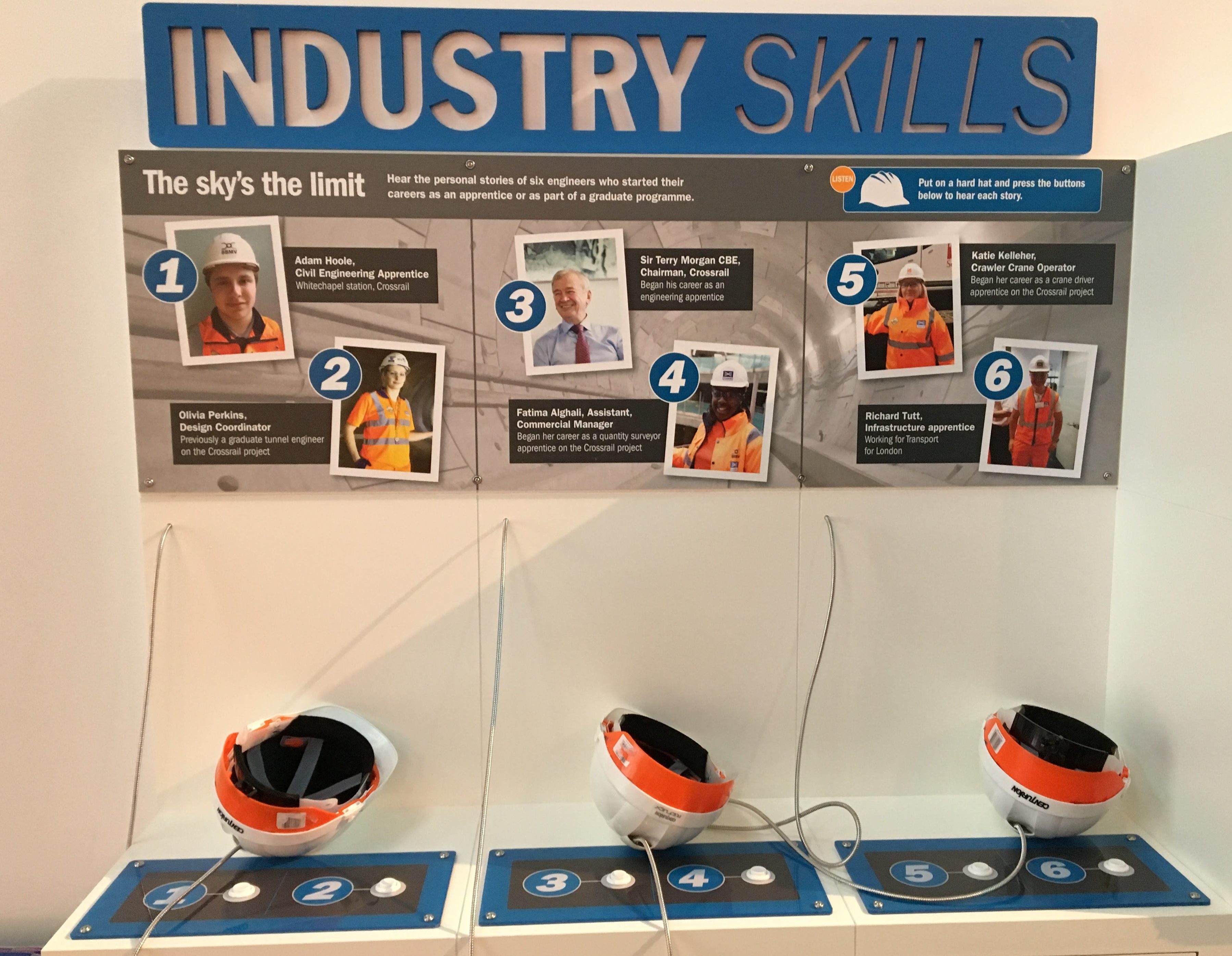 In the section called 'The City', it was interesting to read that by 2030, London's population is predicted to be 10 million as 180,000 new homes are planned to be developed along the route.
The Elizabeth Line will increase central London's rail capacity by 10%. And better access to the city will bring 1.5 million additional people within 45 minutes of London.
When you see a scale model always look closely at the people as modelmakers clearly have a sense of humor!
The Rest of the Museum
When you visit the London Transport Museum, your journey starts on floor two which is reached by lift or stairs. (I forgot to check if the lifts were made by the Otis Company, but I did note there was no liftman!)
Floor 2
Floor 2 looks at London from 1800 to 1900. By 1800, London was already the largest city in the world with a population of 1 million. The exhibits here look at horsepower (literally horse-drawn transport) and the railways. It was noted that London's streets were covered with 1,000 tonnes of horse dung every day!
By the end of floor two the time journey reaches 1901 when London's population had increased to 4.5 million.
Floor 1
Move down to floor 1, and it's all about the steam underground from 1863 to 1905.
There's an excellent model of a 'cut and cover' Tube line being dug out (see below). It literally meant that a channel was cut in the ground, the tracks laid down and then a roof added to form a tunnel.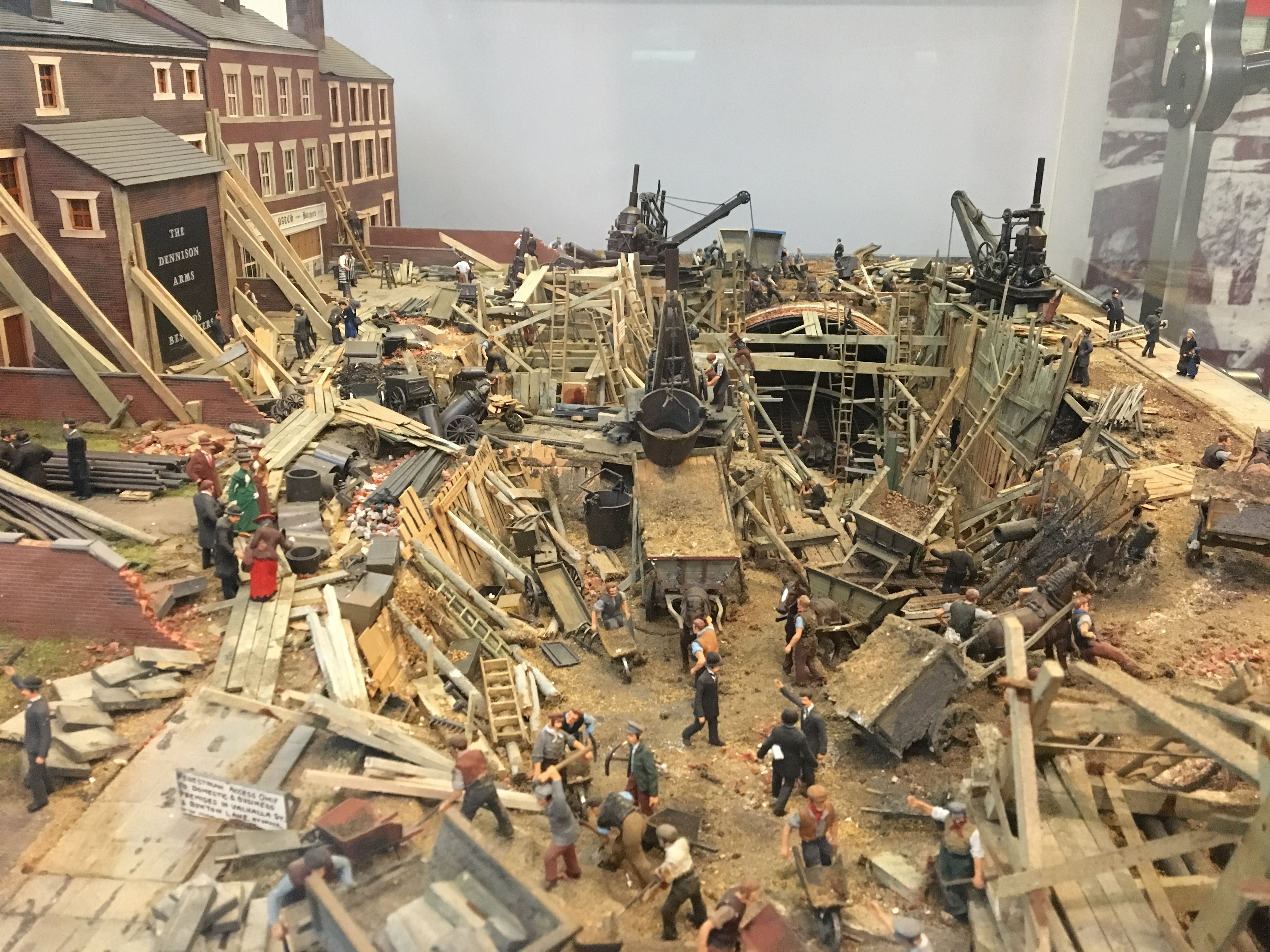 As already mentioned, steam-power on the Underground was not a great idea, but there were ventilation sections built to allow the trains to 'steam off.' One of the most famous is behind Leinster Gardens where impressive fake houses were included as a disguise.
What I did discover on this level is that The Metropolitan line was the first to offer cheap fares to workmen on early morning services. They were known as 'parliamentary trains' because they were introduced at the insistence of parliament. Reduced travel costs were one form of compensation for those who had to move when their houses were demolished as the lines were extended through built-up areas of London. (There are a few parliamentary trains still available which you can read about here and here.
The railways reflected the Victorian class structure, and there were first, second and third class fares available. Workman's fares were even cheaper than third class fares.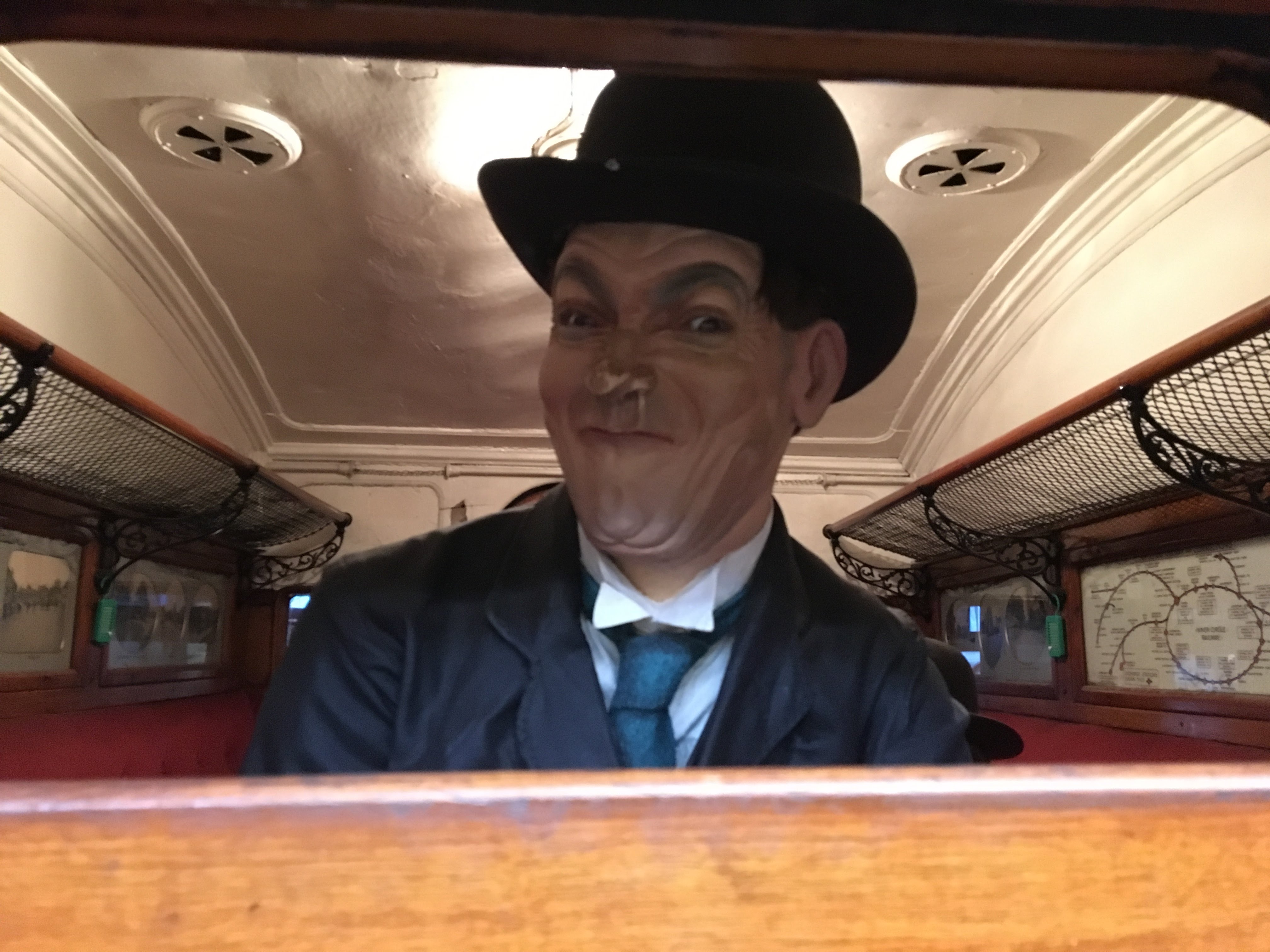 By the early 1900s, there were plenty of commuters coming in from the suburbs. Most were middle-class men with office jobs, but possibly the first female commuter was Isabella Beeton, author of Mrs. Beeton's Book of Household Management. By leasing a villa close to Hatch End station both Mr. and Mrs. Beeton got first-class season tickets to Euston. Her husband was a publisher, and they worked together on her publication, which was first released in a magazine format. She died when just 29, following an infection after having her fourth child.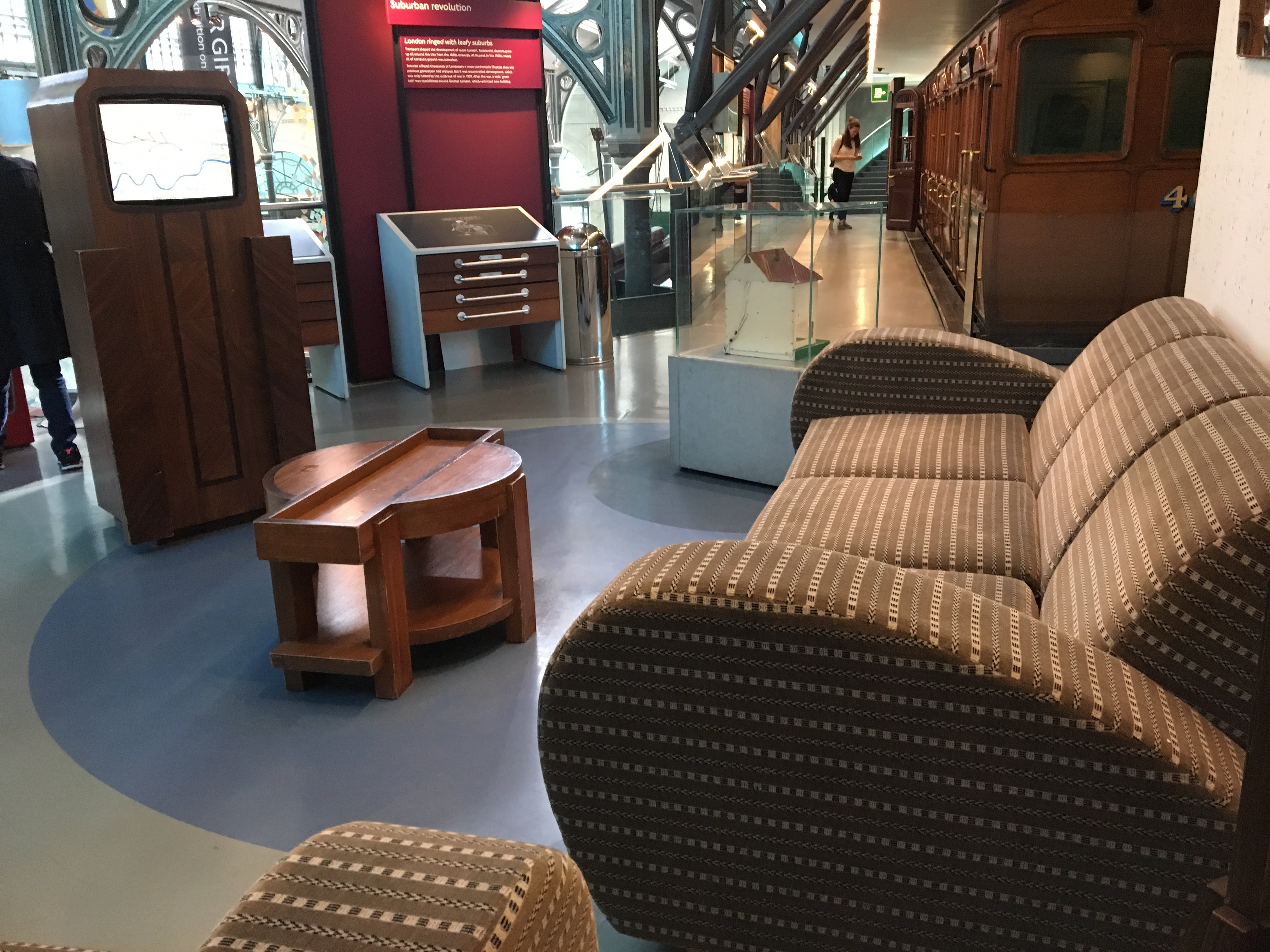 The Building
As you walk around to the stairs to go to the ground floor, do admire the Victorian building that houses the museum. It was designed as a flower market in 1871 and was used for wholesale fruit, veg and flower sales for the next hundred years.
When the businesses moved to south London, the old buildings were restored, and the London Transport Museum moved in by 1980.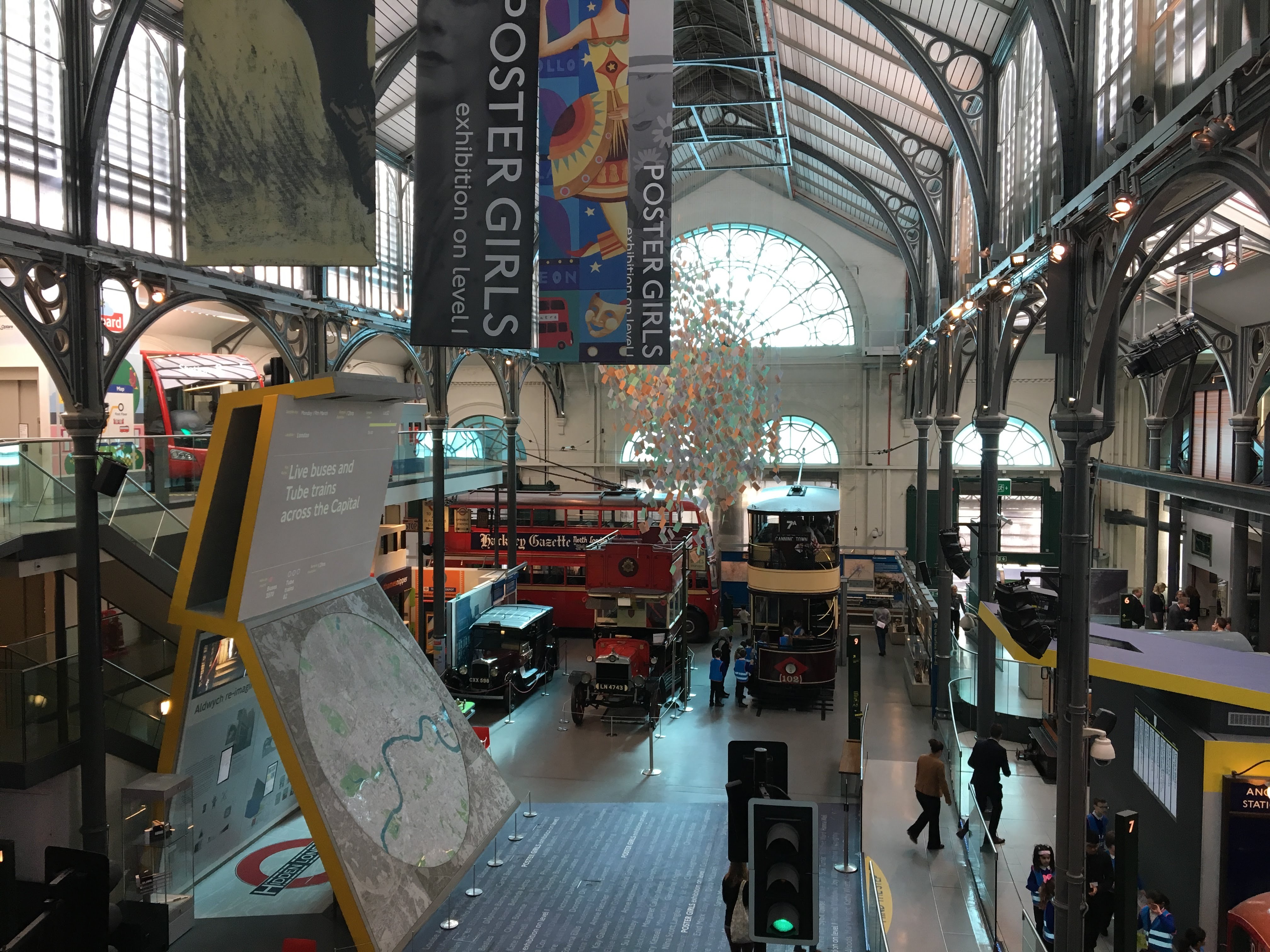 Ground Floor
This is where you'll find London buses and displays bringing the story up to today.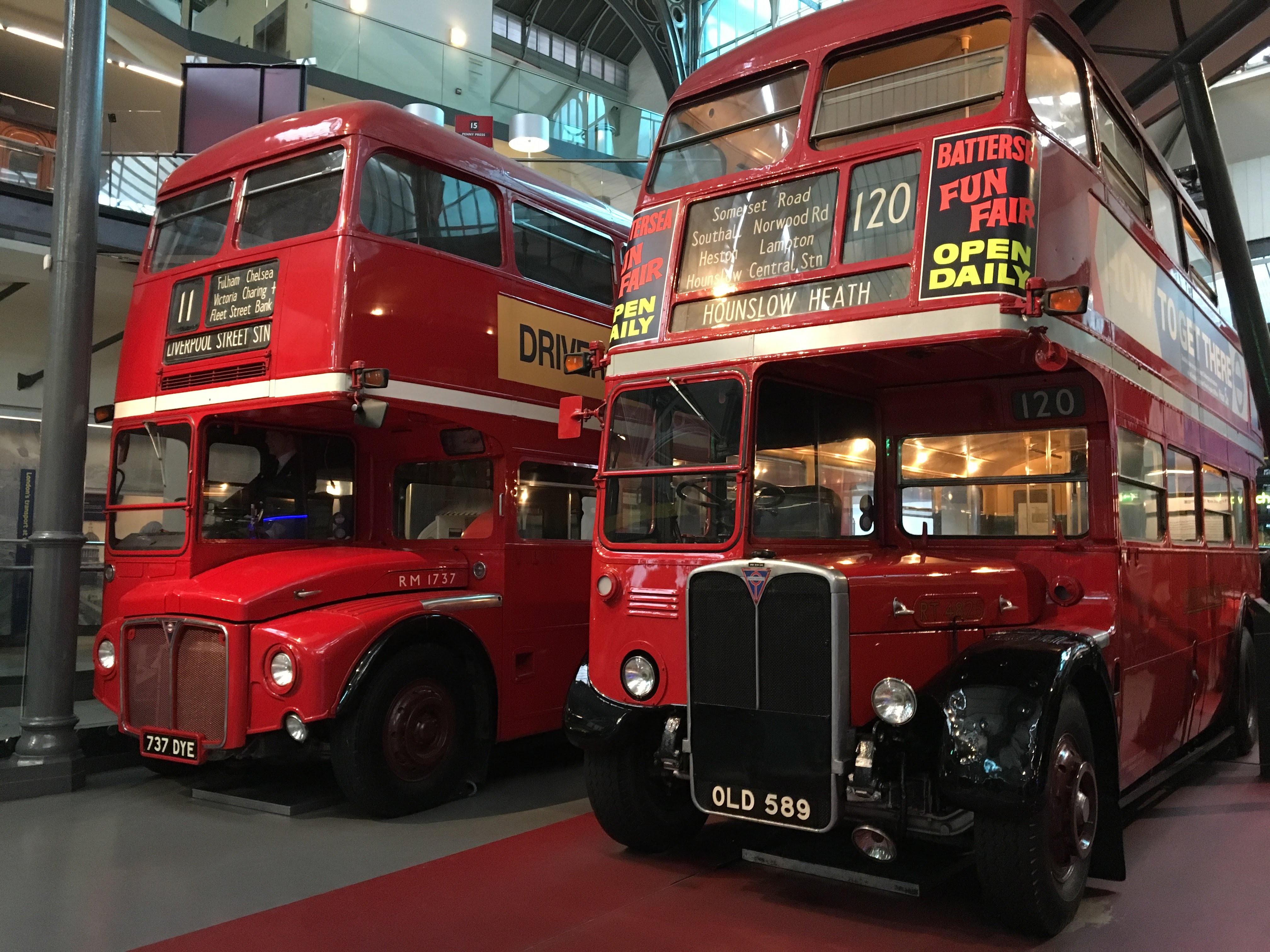 And There's More
Other new exhibitions, activities, and events at the London Transport Museum as part of the Year of Engineering 2018 include the new Future Engineers gallery, opening on 13 July 2018 which asks visitors to find out if they are a dreamer, planner or fixer; The Great Summer of Engineering Family Fun activities from 21 July to 3 September and the Acton Depot Open Weekend: Moving London on 22 and 23 September.
The Future Engineers gallery will be an interactive, hands-on space for 7 to 11-year-olds and their parents. The gallery will highlight the creativity, social value and diverse range of jobs available in engineering and invite visitors to solve engineering challenges. The highlight of the gallery will be a new train driving experience (opening in October 2018).
Contact Information
Address: London Transport Museum
Official Website: www.ltmuseum.co.uk
Tickets: £17.50 (£16 booked online in advance); kids go free.
Adult admission tickets allow unlimited daytime entry for a year to all galleries and exhibitions.