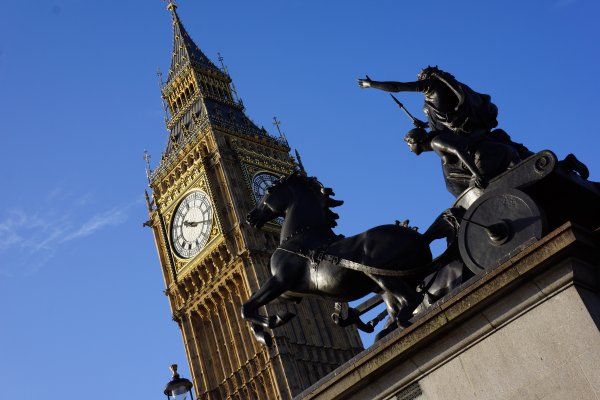 One of the highlights of our last trip to London was the opportunity I had to explore the Houses of Parliament on a guided tour (more on that coming soon). So, it was with great excitement that I received the news that in addition to the group guided tours, they will now start offering self-guided audio tours of the Houses of Parliament.
From April 2014 the Houses of Parliament are enhancing the experience offered to domestic and international visitors by introducing brand new audio tours as an alternative to the established guided tours. Both tours run most Saturdays throughout the year and on selected weekdays during holiday periods including Easter, Whitsun and August. Tickets can now be booked for tours up to 30 August 2014.
As visitors explore highlights including the Royal Gallery, Lords Chamber, Central Lobby, Members' Lobby, Commons Chamber and Westminster Hall, the audio commentary brings to life the history, architecture and artworks of this iconic building, as well as the activities of a busy 21st Century working parliament. The audio tours will initially be available in English, Spanish, Italian, French, German, Russian and Mandarin.
Simultaneously, the popular guided tours will be extended to provide visitors with a more in-depth experience. There will be additional sit down stops in the Grand Committee Room, Moses Room and the 'Aye' voting lobby, and opportunities to find out more about Parliament from the expert guides. Guided tours in English run throughout the day and Spanish, Italian, French, German and Russian options are offered at set times on all opening days. Guided tours in other languages can be arranged for groups on request.
Now, Parliament is a very secure facility – expect to go through airport like security to get in for your booked tour (and leave plenty of time for this) – so they won't just be letting you wander around on your own.  Visitors taking an audio tour will follow a broadly similar and well signposted route to those on a guided tour. This will be at their own pace although driven to some extent by the audio commentary.  There will be Visitor Assistants in all rooms to answer questions and offer assistance.
Individual prices and booking:
Audio tours – Adults £17.50, Concessions £15, Children free with each paying adult and £7 for each additional child
Guided tours (including souvenir guide book) – Adults £25, Concessions £20, Children £10
Concession prices apply to over 60s, students, members of the UK Armed Forces.
All tours are on a timed ticket basis and advanced booking is recommended, although not essential. Bookings can be made by calling Ticketmaster on 0844 847 1672 (from the UK) or +44 161 425 8677 (from outside the UK), or by visiting www.parliament.uk/visiting.
Before you ask in the comments – you cannot take a tour of the Big Ben clock tower – this is not available to foreigners.