With some of the most famous bands in the world coming from the city, it's understandable that many people flock to London for its fine musical entertainment. Bands such as The Clash, Iron Maiden and of course the Rolling Stones all originated from the capital.
Beatles Ticket to Ride Evening Tour
Ever dreamed of following in the footsteps of John, Paul, George and Ringo? Well visitors to London can do just that by climbing aboard a rock-themed bus and travelling across the city, stopping off at 35 Beatles sites along the way. The tour celebrates the 'Beatlemania' years and is the perfect way for fans of the band (and let's face it who isn't?) to spend an evening in the city. The bus will stop off at the art gallery where John Lennon met Yoko Ono, Paul McCartney's house of over 40 years and the famous Abbey Road crossing so visitors can create their very own iconic shot.
Concerts at the O2 Arena
2012 is another big year for live music and the O2 Arena in Greenwich will be hosting some of the most famous acts in the world between now and the end of the year. The huge 20,000 capacity of the arena makes it a magnificent music venue. In fact if the arena was turned upside down, it would apparently take Niagra Falls 15 minutes to fill it or alternatively 3.8 million pints of beer! From the laid-back ballads of Westlife (7 June) to the rock 'n' roll sounds of Guns 'n' Roses (31 May – 1 June) to the Latino Rhythm of Jennifer Lopez (22 October), the O2 will be hosting an assortment of concerts. Peter Andre is even there in December if cheesy pop is what gets you going…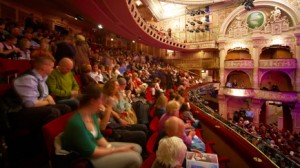 West End Musicals
The West End is home to some of the most amazing musicals on the planet, which have to be experienced at least once on any visit to London. Playing some of the most famous songs ever written, audiences are guaranteed to be bopping and singing along from start to finish. Experience the legendary pop beats of Michael Jackson in 'Thriller – Live' at the Lyric Theatre, the timeless classics of Queen in 'We Will Rock You' at the Dominion Theatre or The Lion King at the Lyceum Theatre for outstanding costumes, special effects and plenty of sing-a-long tunes.
Rock 'n' Roll Legends Tour
If you're forever nodding along to some sixties and seventies classics or playing the air guitar at every opportunity, the rock 'n' roll legends tour will fulfil your rock star dreams. As well as seeing many of the famous sites of the Beatles, the tour will pass iconic landmarks of several other music legends such as David Bowie, Bob Marley and Mick Jagger. This tour for music lovers visits studios and gig sites, as well as locations where famous album covers were shot.