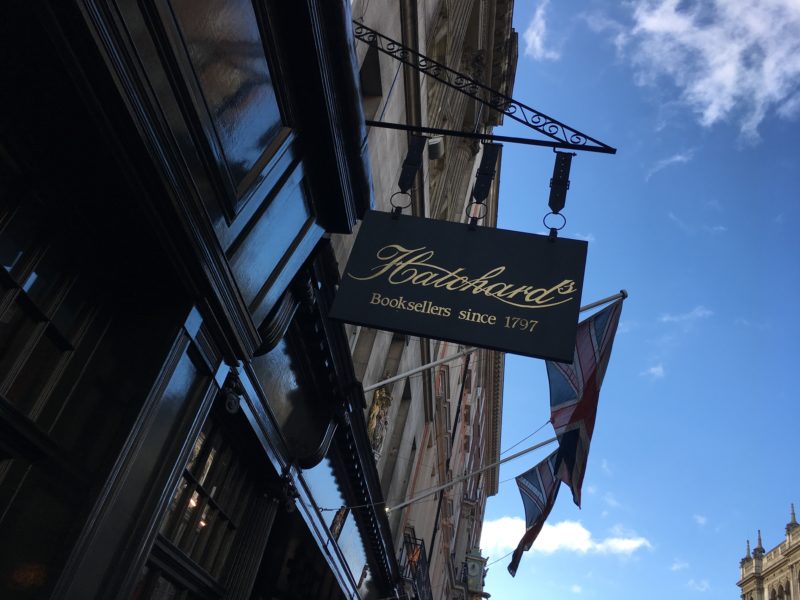 I love books. I love London. London has the best bookshops in the world. Here's my roundup of my top five favorites. We've made a note of which ones will be happy to send your book finds back home, so you don't have to worry about cramming everything back into your suitcase!
Hatchards -The word I would use to describe Hatchards is Stately. It's the oldest bookstore in Britain – founded in 1797! It's still in its original location on Piccadilly. While it's now owned by Waterstones, it still keeps its independent identity. This is the store that aristocrats would buy books by the library load or explorers would get ready for an expedition to some far corner of the world. They have an excellent selection and very helpful staff. When I visit London, I have to visit at least once. (Will ship your books to the USA)
Foyles – Foyle's is another London institution. It's much bigger than Hatchards (and their current location is only a few years old), so if Hatchards doesn't have it, Foyle's will definitely have it. It's basically a temple for book lovers. It's right on Charing Cross Road, and it can get quite crowded, but the higher up you go in floors, the quieter it becomes. Selection is unparalleled, and their staff of booksellers are always very helpful. (Will ship your books to the USA)
Forbidden Planet – I'm a huge sci-fi nerd, and Forbidden Planet is a place of pilgrimage. The place is literally a TARDIS. The upstairs is filled with toys and collectables, but descend the stairs, and you will find the best genre bookstore on the planet. They have every sci-fi, fantasy or horror book you can imagine. Not to mention the selection of comic books. Excellent selection and it's fun to commune with your fellow nerds. (Will NOT ship your books to the USA)
Stanfords – The ultimate travel bookstore that's been around since 1853. You can find anything related to travel, anywhere in the world here. From books to maps, they have everything. They recently moved from their stately building on Long Acre, so I haven't had a chance to check out the new digs. (Will ship your books to the USA)
Cecil Court -This one is a bit of a cheat as it's an alleyway that contains several bookstores. But if you love books, you must visit Cecil Court. It's filled with secondhand bookshops, but most of these bookshops are unique in that they specialize in specific things like first editions or collectable books. I can't afford most of the books for sale here, but it sure is fun to browse. (You'll have to check with each store on their shipping policy).