This came across the inbox and we thought it was worth sharing. Software developers have released a great new phone app that takes you on a tour of the maritime heritage of Greenwich.
The Viewfinder Photography Gallery is delighted to launch the Thames Trail: an interactive photowalk with an accompanying phone app that reveals the industrial and shipbuilding heritage of Greenwich, from its 19th century heyday to the present.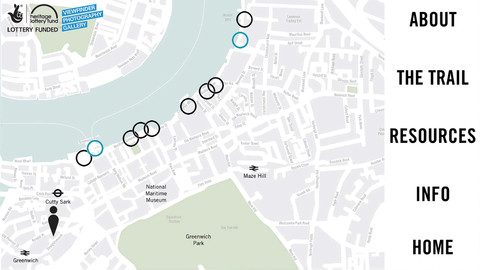 The route begins at the Cutty Sark and follows the riverside path around the O2 Arena. Walkers should allow at least an hour and a half to complete the route – and longer for stops to listen to the audio material and to take photographs.
Download the app now – for free – for Apple ( http://bit.ly/thamestrailapple) or for Android ( http://bit.ly/thamestrailandroid) phones. A digital booklet, children's pack, group photowalks and workshops can also be found at www.viewfinder.org.uk
Many wharves, jetties and other signs of the industrial past remain on the route, often unknown and unnoticed, yet they tell an important story about the river and Greenwich itself.
Archive material from Greenwich Heritage Centre, the National Maritime Museum and from personal collections – including paintings, photographs and models – as well as specially commissioned interviews with local historians and residents, enable participants to imagine what the area was once like, to see how it has changed and how it continues to evolve.
Very cool!
Download the app now – for free – for Apple or for Android phones. The app is free.