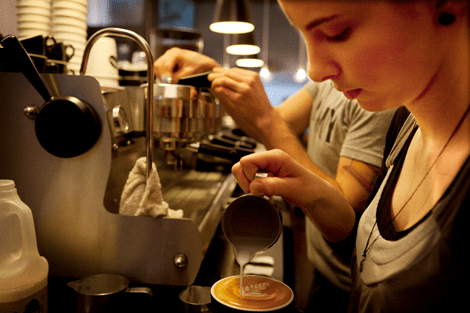 The London Coffee Festival will celebrate London's coffee culture during Britain's National Coffee Week at the end of April.
There will be artisanal Kimbo coffee and specialist tea for sale, demonstrations by 'baristas', gourmet food stalls and live music across different festival zones:: Hyde Park, Shoreditch, Soho, The Lab and The Growing Community. The UK Barista Championships 2012 will take place over the three days of the festival.
This is the festival's second year and the organisers are expecting 12,000 coffee-loving visitors, including foodies, professional baristas and coffee shop owners.
London's first coffee house opened in the mid-16th century in Cornhill in the City, not far from the Old Truman Brewery where the festival will take place. The city of Oxford claims to have had the first coffee house in England.
The London Coffee Festival takes place on 27–29 April. Trade day is 27 April (10am–5pm, public 5pm–10pm), then 28–29 April open to the public 10am–7pm. Admission is for a three-hour session and costs £9.50 online, £12.50 on the door. Premium tickets cost £14.50 online, £17.50 on the door and include a copy of The London Coffee Guide 2012. The charity Project Waterfall will receive 50% of all ticket sales. The charity delivers clean water projects in Tanzania.
The Old Truman Brewery, 91 Brick Lane, London E1 6QL
Tel: +44 20 7691 8836
Website: www.londoncoffeefestival.com
Facebook: The London Coffee Festival