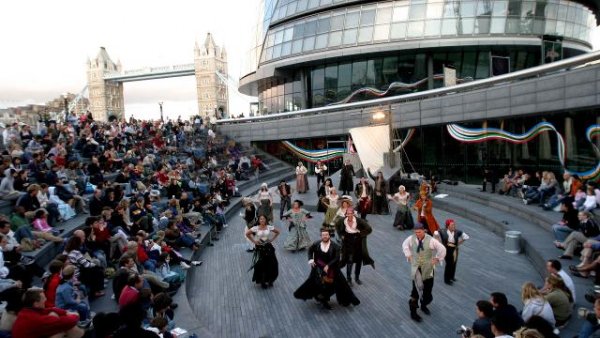 For centuries, public parks have been the purview of local government, often founded by the city or county as a means of preserving nature and giving the people a place to relax and enjoy nature.  Public squares have been gathering places, expression forums, and concert halls for amateur performers.  London as a government entity has largely been the one to manage these public spaces, but a new crop of spaces have popped up in recent years, ones not managed by the city, but by the corporation that owns the property.  These "pseudo-public" spaces might look like any other park or square, but they're actually on private property.  With Greater London unable to create or manage new spaces, these places have been largely created by developers and policed by private security.  While there are over fifty in London, we've outlined five that you should consider visiting, but be mindful that the rules in these spaces are likely to be different from the city's public spaces.
Arsenal Podium – Islington
This one is a bit more obvious as a pseudo-public space since it surrounds Arsenal Emirates Stadium.  The Podium is both a gathering place for Arsenal supporters as well as being filled with monuments to the club's history.  Monuments to players and important persons in the club's history include Managing Director Ken Friar, iconic player Dennis Bergkamp, Manager Herbert Chapman, Tony Adams, and Thierry Henry.  The land owned by the club is roughly seven acres in area, and it's a must-visit for Arsenal fans before and after the match.
More London – Southwark
Right next to London City Hall, More London is a private development that not only includes City Hall, but also the amphitheatre known as The Scoop, hotels, office space, and other commercial property.  Also known as London Bridge City, the property covers 13 acres and is managed by St. Martins Property Group, who also manage the London Bridge City Summer Festival and the property's Christmas market.  In addition to The Scoop, there are plenty of pedestrian walkways that see 10 million visitors per year, according to the firm's page.
Victory Park and Portlands – Newham
Victory Park draws its name from the 2012 Summer Olympics and was built as a "green lung" to provide the city with further green space.  These green lungs posses the dual aims of protecting the landscape and providing the city's residence with recreational space.  As such, Victory Park is lined with trees, benches, a children's play area, and plenty of tree-lined paths.  The park is surrounded on three sides by the East Village housing development, transformed from the former Olympic Village.  Managed by Get Living London, it is one of the pseudo-public spaces that isn't open to the public, existing primarily for the housing development's residents.
Regent's Place – Camden
Another mixed-use development, Regent's Place is a 13 acre site near Euston Road that was transformed from the Crown Estate into a campus that includes offices, retail, and residential buildings.  One of the main public spaces in Regent's Place is Triton Square, which is filled with plenty of spots to relax as well as public art.  One of the major pieces there is a marble frieze depicting Admiral Nelson's victory at the Battle of Cape St. Vincent.  The piece was originally intended for the Marble Arch but went unused until it was installed in the plaza.  Regent's Place Plaza is home in the summer to farmer's markets, lunches, public film screenings, and other events.
Bishops Square, Spitalfields – Tower Hamlets
Home to Spitalfields Market, Bishops Square in Tower Hamlets is a privately-owned public space surrounded by restaurants and shops.  JP Morgan purchased the area in 2010 and has been highlighted as an example of the concerns about these "POPS", which can be potentially closed to the public or have rules beyond those which govern public spaces.  So far, these concerns appear to be unwarranted as Bishops Square remains fully open to Londoners, and its public art installations are worth the trip on their own.  Additionally, there's a great amount of green space, benches, and public meeting spots.