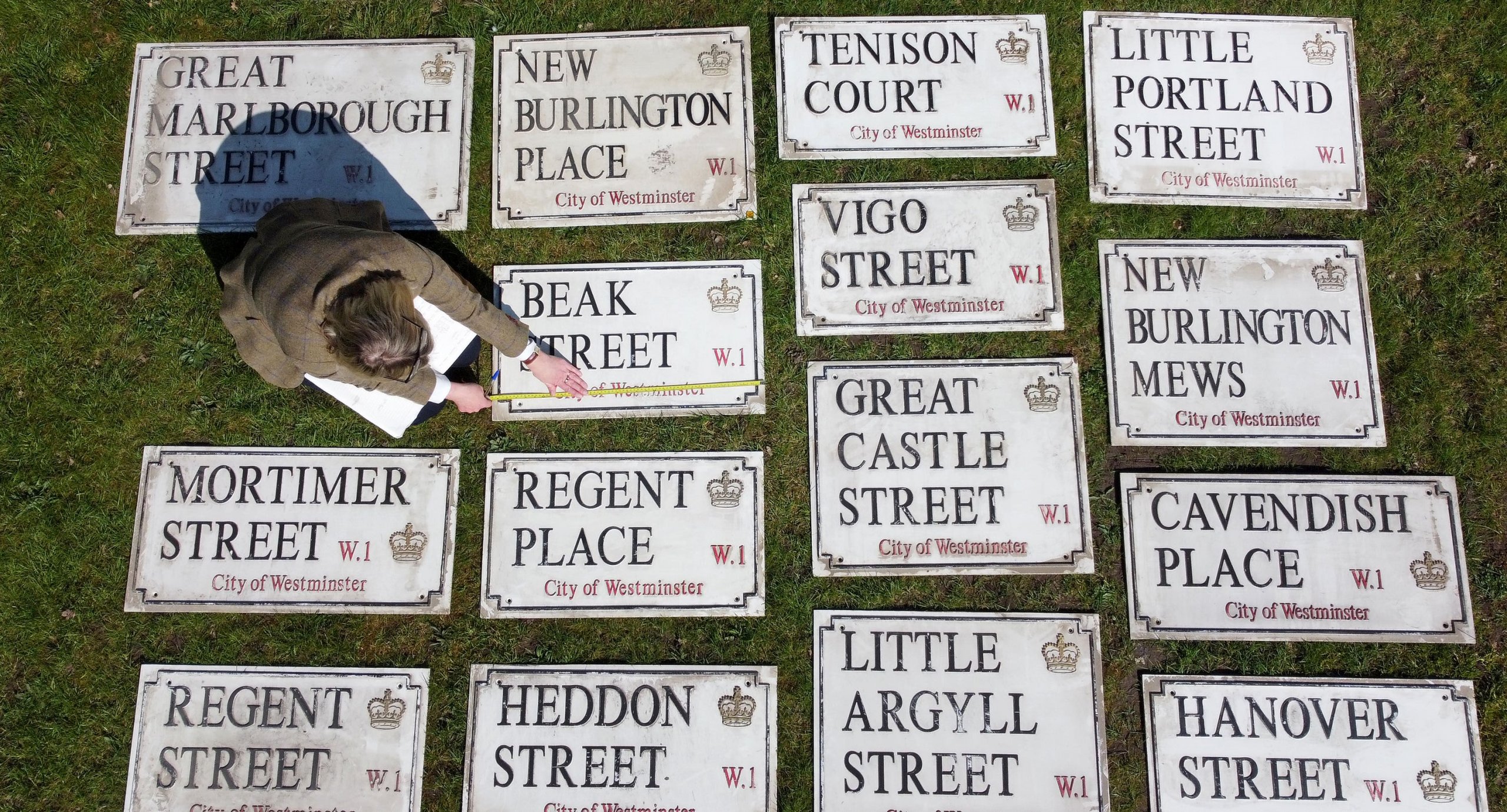 Hundreds of London street signs, from Regent Street to Soho Square, are being auctioned off – giving fans of the capital the chance to own an "effortlessly cool" piece of history.
Some 340 signs, dating from the 1950s and '60s, are being sold by Westminster City Council, with the prices expected to range from £80-300.
The first batch of 50 aluminum signs, being sold by Southon Auctioneers and Valuers, date from the 1960s and come from the Crown Estate and feature relief lettering and a gilt-painted crown.
It includes signs for Regent Street W1, Great Castle Street W1 and Cavendish Place W1, which are expected to sell for between £200-300 each.
Another 280 signs, created by the Royal College of Art's professor of industrial design Sir Misha Black in 1967, are synonymous with Westminster City Council.
They include Chelsea Bridge Road, Duchess Street and Soho Square and are estimated to sell for £80-120.
Auctioneer Catherine Southon said: "This is a chance for buyers to own a unique piece of London's history.
"The signs are a key part of our London heritage and guide us around the capital.
"There are a wide range of names that should appeal to individuals such as Margaret Street W1 and Hugh Street W1, both estimated at £80-120.
"We believe that with the focus being very much on the capital with the upcoming coronation of King Charles in May, the London Street signs will prove very popular, particularly those with a royal connection such as Duchess Street W1 and Princes Street W1."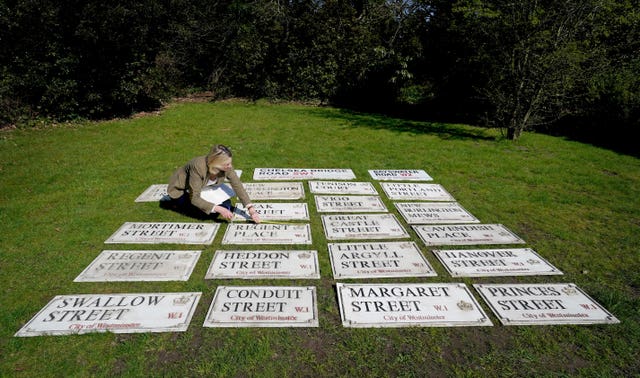 She added: "The familiar black and red sans serif lettering are under copyright law, forbidden to be copied anywhere else in the world without permission from the council. Each of the signs offered for auction will be sold with a signed certificate of authenticity."
Councillor Paul Dimoldenberg, cabinet member for city management, said: "The council regularly maintains and updates street signs to ensure our public spaces are looking their best at all times, and these signs have been taken down and replaced after being on display for a number of years.
"Westminster is home to some of the most popular landmarks and most recognizable locations in the world, and this is a rare opportunity for members of the public to own a piece of the city's rich and colorful history.
He added: "This latest collection contains nameplates from the majestic Regent Street and the effortlessly cool Soho Square. And buyers looking to grab some coronation-themed memorabilia can also bid for signs from Duchess Street and Princes Street.
"Previous street sign auctions have raised thousands for local services and all money raised in this sale will be reinvested to improve services for our residents."
The auction will take place on May 18 at the auctioneers in Chislehurst, south London, and feature on its website at www.catherinesouthon.co.uk and on the bidding platform www.the-saleroom.com