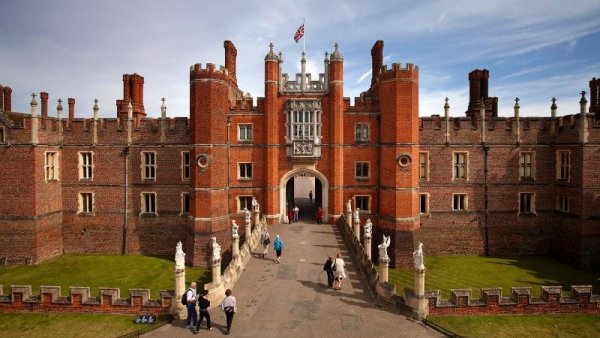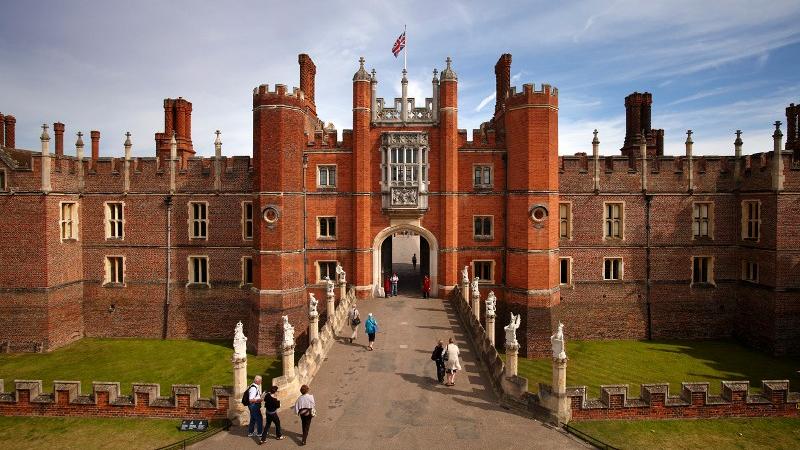 This month we've covered haunted castles and haunted places in the United Kingdom, but with the exception of the Tower of London, we've deliberately left out the nation's largest city.  As you might figure from the Tower of London's history, London itself has plenty of haunted places from pubs to palaces.  The ghosts include famous figures, malicious poltergeists, and harmless pranksters.  While there are plenty of spooky places such as Bleeding Heart Yard to the Greenwich Foot Tunnel, the locations below have some legitimate spirits to raise the hackles on your neck.  Let us know some of your favourite haunted London places in the comments.
Hampton Court Palace
Hampton Court Palace was built by Cardinal Wolsey in 1514, but after he fell out of favour with the court, King Henry VIII acquired it and turned it into one of his many homes.  Henry's known for some pretty infamous acts, most notably the number of his wives who died or were executed on trumped-up charges because they could not bear him a son.  Jane Seymour, who died in childbirth at the palace, is said to haunt Hampton Court, as is Catherine Howard, who was beheaded on charges of treason.  Other ghosts include a dog and a nurse to Prince Edward.
The Spaniards Inn
The pub takes its name from the fact it was once the home of the Spanish ambassador.  The pub is associated with a number of ghost stories and famous persons, such as highwayman Dick Turpin, who was said to be a regular.  Legend has it that pub founders Francesco and Juan Perero fought over a woman and Juan was killed. As a result, leaving his ghost to haunt the pub.  Other stories about the pub helped inspire Bram Stoker to write Dracula, and the pub appears in the novel as the heroes hunt down the vampirised Lucy.
London Underground
Though a more recently constructed location (the 19th Century, but still) on this list, several Tube stations are said to be haunted.  During the London Blitz, it's said that 173 people died trying to enter the Bethnal Green station to take shelter from the bombs.  Later on, a worker at the station is said to have once heard children sobbing and people screaming late one night for ten to fifteen minutes.  At Farringdon Station, the ghost of Anne Naylor, a trainee milliner murdered by her adopted mother at age 13, can be heard by the station staff.  Lastly, Bank Station has one of the most famous Tube ghosts in Sarah Whitehead, who was driven mad by her brother's conviction for fraud and whose ghost still searches for him, clad only in black.
50 Berkeley Square
Holding the title of the most haunted home in London, 50 Berkeley Square was once the home of Prime Minister George Canning, but he's not one of the ghosts in the home.  One spirit in the home is thought to be a Mr. Meyers, who became a recluse after his fiancée left him.  Another ghost is that of a young woman who committed suicide within the home and appears as a brown, foul-smelling mist capable of frightening people to death.  Several recorded accounts of hauntings have led to the home's notorious title, and now it only serves as the home for a bookseller.
The Flask
Another Hampstead pub, The Flask was named for the flasks of water it used to sell in addition to its ale.  The pub has at least two notable ghosts, the first of which was a Spanish barmaid who hung herself in the attic (now a seating area) after being spurned by the Publican.  There's also said to be a man in a Cavalier uniform who walks across the floor before vanishing into a pillar.  The Flask's Committee Room is also supposedly the location of the first autopsy, with a body brought over from nearby Highgate Cemetery.
Highgate Cemetery
Speaking of Highgate, it was quite the popular place for burial during the Victorian period (insert "dying to get in" joke here).  When the cemetery was built in 1839, the idea was to build a series of cemeteries outside of the city, and now there are approximately 173,000 people buried here including such famous luminaries as Charles Dickens, Karl Marx, and Douglas Adams.  Understandably, several spectres as said to reside within the cemetery, including a floating nun, a businessman, an old woman who murdered her children, a ghoul with red eyes, and a legendary vampire it is said was the subject of the story that Bram Stoker heard in The Spaniards Inn.
Westminster Abbey
3,000 people and 17 monarchs are buried in one of London's most famous churches, and that tends to lend itself to at least a few ghosts.  John Bradshaw, who presided over the trial of King Charles I, is said to wander Triforium and has been spotted by tourists.  Another ghost, known as "Father Benedictus" appears as a monk (possibly from the monastery that first existed here) who is said to be so slid that he looks to be still alive, and will supposedly chat with tourists.  Westminster Abbey is also home to Britain's version of the Tomb of the Unknown Soldier, who is an unidentified young man from World War I, and supposedly stands vigil over his gravesite.
Sutton House
The house was built in 1535 by Ralph Sadlier, a courtier to King Henry VIII and now is in the ownership of the National Trust.  Even though there are no more dogs within the home, the ghosts of owner John Macell (who lived there from 1550 to 1558) can still be heard howling at night.  The White Lady is another spirit believed to haunt the building, as is a woman in a blue dress that a student once claimed hovered above his bed.
Old Bailey/Viaduct Tavern
Built on top of the remains of Newgate Prison, the Central Criminal Court has ghosts both from the prison and the criminal cases that have occurred within the building.  Naturally, most of the spirits are those of convicted thieves and murderers, such as Amelia Dyer, who murdered dozens of children and infants in her care over a period of 20 years and was hung outside of Newgate.  Another ghost haunts the Viaduct Tavern across the street.  Known as "Fred," he often spill guests' drinks and is supposedly responsible for other noises and pranks.
Windsor Castle
For the most royal ghosts, look no further than the castle from which the Windsor family takes its name.  King Henry VIII is the most famous, wandering the corridors and guests have claimed to hear his moans and groans from the hallway.  His second wife, Anne Boleyn, was one of the wives charged with treason and beheaded.  Her ghost haunts the Dean's Cloister and can be seen looking out the window, sad and allegedly crying.  His daughter, Queen Elizabeth I, haunts the Royal Library with her footsteps heard on the hardwood floor before she is seen.  It's also said that she has appeared to several later monarchs including King George III, King Edward VII, and King George VI.  George III himself has been spotted as Windsor is where he was kept during his bout of mental illness and other ghosts have included Queen Victoria, and King Charles I.  Numerous other ghosts have also been reported around the castle.