The latest trend in tourist attractions these days seems to be putting glass floors into a famous landmark. We're from Chicago and the Willis Tower (it will always be Sears to us!) has done this, making the attraction more popular than ever.
Now, Tower Bridge in London has become the latest place to add a glass floor – this time on the walkway that spans the Victorian Neo-gothic towers.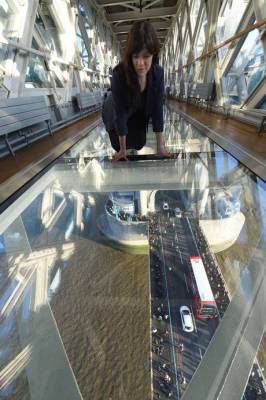 The floor enables visitors to view traffic passing over the bridge or ships passing under its raised bascules from a height of 42 metres (138 feet). This is the most significant change to the structure of the Grade 1 listed, 120-year-old bridge since the opening of its exhibition centre in 1982.
Looks amazing! I can't wait to visit this the next time we're in London.
You need to purchase admission to the Tower Bridge Exhibition to be able to walk to the top of the bridge. The walkways were originally included to ensure that even during a lift, pedestrians, should be able to cross the river unhindered. They were originally open to the elements and were closed in 1910 as they had become a haunt for prostitutes and pickpockets, and only reopened as part of the Tower Bridge Exhibition in 1982.
A rather humorous side of the story – one British newspaper asked the question – should women (or Scotsmen in Kilts) wear trousers while visiting the glass floor? Tower officials thought of this and assure everyone that the glass is not as transparent from below and isn't directly below a pedestrian walkway, so your modesty should be safe.