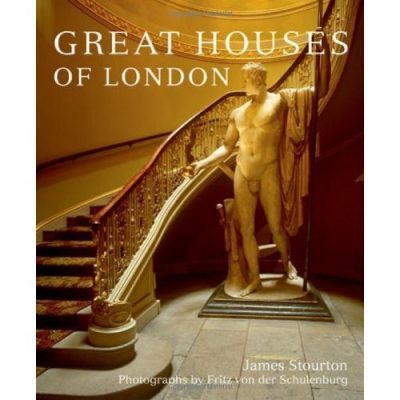 One of my favorite aspects of British history is exploring the great houses that exist in Britain. While country houses usually get all the attention for tourists and historians, it's easy to forget that there are quite a few stately homes in London.
Many stately homes in London were sold off and demolished in the 20th century but there are still many treasures today and that's the subject of a new book from Francis Lincoln called Great Houses of London.
This is a stupendously huge book about London's great houses, it's definitely a coffee table sized book filled with full color pages all throughout. Inside you'll find an exploration of dozens of great houses in London.
Each entry features a detailed history of each house along with ample beautiful color pictures. The text of the book is written by James Stourton, as chairman of Sotheby's, he's knowledgeable on these matters.
Many of the houses in this book are not open to the public, so it provides a rare look inside the of each of these houses. My favorite entry was on 10 Downing St – the home of the prime minister – pictures of the inside are rare so it's really cool to get a good look. While the size of the book doesn't make for easy reading in the lap – the size of the large format pictures will keep you busy for hours as you explore every minute detail of every home.
This is a rather expensive book – but so worth the money when you consider all the wonderful content that's within it.
[amazon-product alink="0000FF" bordercolor="000000″ height="240″]0711233667[/amazon-product]