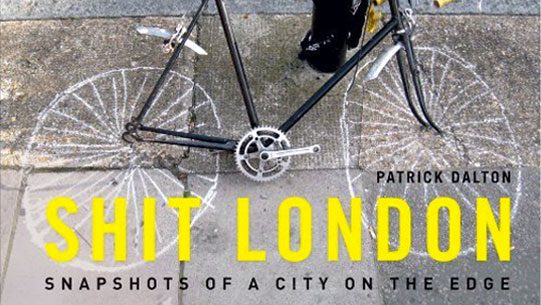 NSFW LANGUAGE WARNING!
Shit London: Snapshots of a City on the Edge is one of the most enjoyable and funny books that we have received at the Londontopia Offices in a long time! This book written and complied by Patrick Dalton really shows some of the grittier sides of London and that great British sense of humor. Shit London peeks behind the prim and proper London and shows a whole other London that most don't ever get to see. The book was born out of the blog Shit London.
The book is composed of snapshots from around London. They consist of graffiti, fun signage, and other oddities around London. Many of the photo are completely hilarious. Each page is dedicated to a photograph and there is a caption at the bottom of the page telling where it was taken. There is such a wide array of subjects in the book that feels really full, and that it really encompasses Shit London.
I loved this book! I laughed pretty much from cover to cover. It is such a wide and original collection of photographs. I particularly liked a picture in the book of a bicycle that had an open wine bottle placed where a water bottle should go. Some of the signs captured in the book are really funny too, like another photograph taken of a sign that reads, Naborhood Centre, where it should read Neighborhood Centre.
The book is laid out really well. Patrick Dalton, really has an eye for this type of photography, in my opinion. The book shows a grittier, rawer London than I am used to seeing. While the title may put some off, I think it beautifully illustrates some of the less glitzy parts of a city that is known for class. I highly recommend this book and I am so glad to have it as part of my library. This is a must have for any London lover that would like to have a laugh, looking at another side of that amazing city.
[amazon-product alink="0000FF" bordercolor="000000″ height="240″]1907554343[/amazon-product]