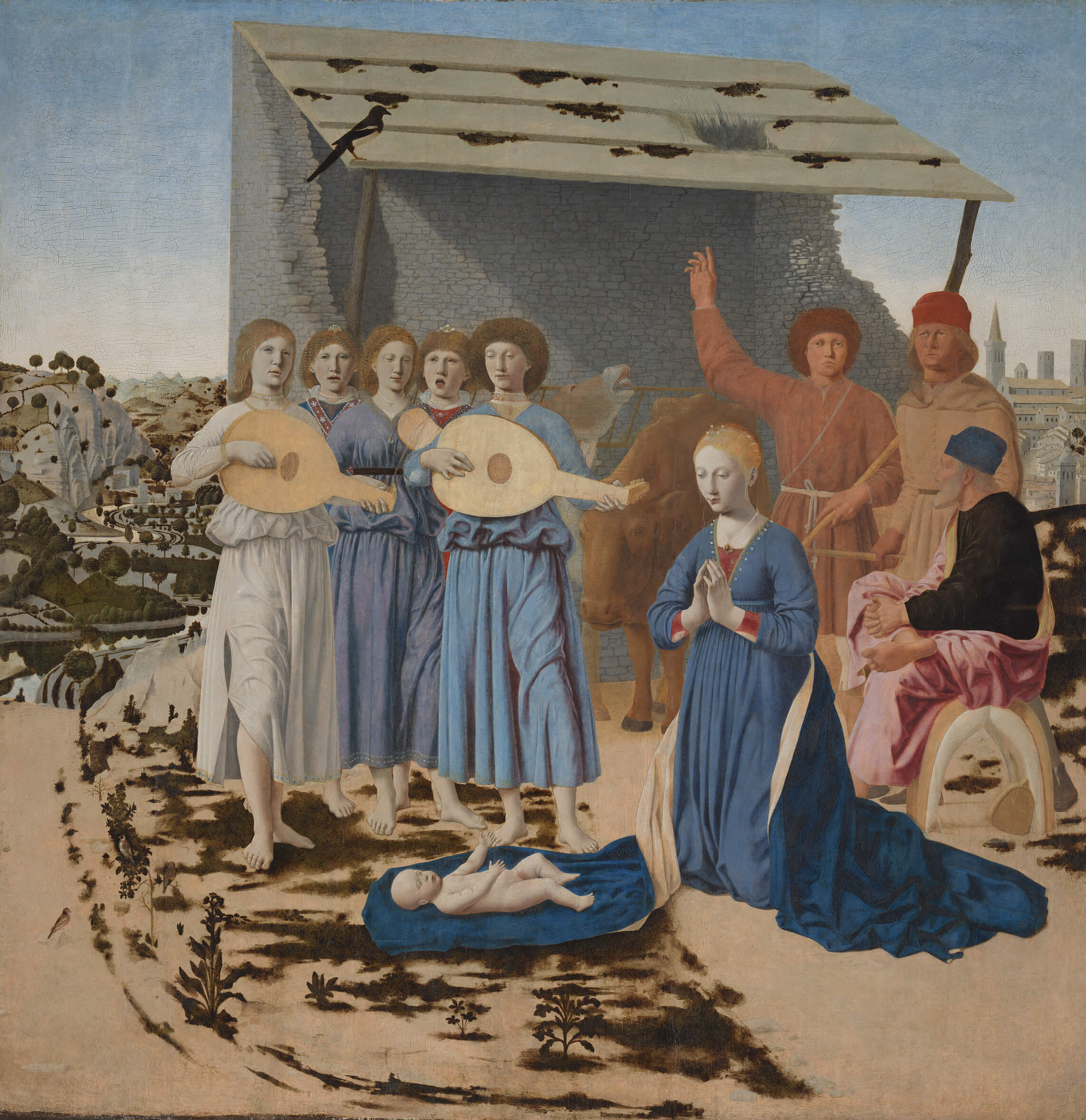 One of the National Gallery's most iconic paintings is now back on display in time for Christmas, after a 3-year restoration.
The National Gallery's newly restored Nativity by Piero Della Francesca, 1415/20-1492, will go on public view in a special display from December 1 2022, in time for Christmas.
This is following an unusually challenging restoration, carried out in the Gallery's Conservation Department.
To coincide with this new display, the Gallery is also publishing a video on December 1 going behind the scenes of the restoration.
The painting remained with Piero's family until it came to London in the 1860s. By then it was in poor condition, with splits in the panel, and it had been over-cleaned in several areas, notably the heads of the shepherds. When the Gallery acquired this painting in 1874, a question was asked in Parliament concerning how much original paint had survived. Hansard records the lengthy defence of the purchase by the Prime Minister, Benjamin Disraeli, concluding, 'I congratulate the country on having acquired…a picture of the most rare and interesting character, and which I think, will add to the beauty and value of the National Collection.'
The restoration process, led by the Gallery's Senior Restorer Jill Dunkerton and with panel work by Britta New, has also provided an opportunity to solve several myths and mysteries about the painting. The lack of shadows of the figures, long thought to indicate that the painting was unfinished, is now interpreted as showing the Nativity through the eyes of Saint Bridget of Sweden in her vision of Christ's birth. Retouching of abraded paint on the stable has made visible a patch of light stones; the young shepherd's hand can now be understood as indicating a beam of heavenly light coming through the gap in the roof. The shepherds themselves have been restored to some extent by glazing thinly over the lines of Piero's precise underdrawing. This makes the figures recede as they should, allowing us to appreciate again Piero's mastery of light, colour and space.
Previously framed and displayed as an altarpiece in the Gallery's collection, the work is now understood to be instead a very grand, domestic painting (indeed, Piero may even have painted it for himself). To complement this new interpretation, the Gallery has been able to acquire a carved walnut frame, of almost exactly the correct dimensions, date and probable origin.
Jill Dunkerton, Senior Restorer, says, 'Spending the last three years with this much-loved painting has been a real privilege but also a great responsibility. Every decision, every tiny brush stroke of retouching, affects our perception of its appearance and meaning, possibly for many generations. I hope that visitors will now be able to experience its quiet magic without the distraction of the past damage.'
Gabriele Finaldi, Director of the National Gallery, says, 'Piero's Nativity is a beautiful and profound meditation on the Christmas story. The recent conservation project has enabled us to see just how carefully planned every element of the picture is, from the play of light across surfaces to the rendition of the distant San Sepolcro hills. Over five centuries after Piero's lifetime, we can still marvel at his artistic vision, his skill and his sheer inventiveness.'