It's pretty common for London's museums to be variously closed while renovations are done. Next up is the Courtauld Gallery, the art gallery located in Somerset House. This small gallery is often overshadowed by the bigger National Gallery and National Portrait Gallery, practically across the street but it's home to some amazing art. As with most museums in London, the building itself is amazing to experience as well.
The museum is closing from September 3rd and will be closing for two years. They're going to undergo massive renovations.
Here are some of the details:
A remodeled entrance will enable visitors to access The Courtauld Gallery comfortably and will improve general access to Somerset House
New and improved display and interpretation of the permanent collection and a new temporary exhibition space, will enable more works to be shown and better public engagement
The Great Room will be reinstated and represented as the culmination of the visitor experience
The presentation and interpretation of the collection in the historic Fine Rooms will be improved
Newly integrated back of house facilities for storage and art handling and improved spaces for conservation
Improved facilities for visitors will offer an experience commensurate with the quality of the collection
Purpose built conservation facilities will enhance conservation of the collection and the work of the conservation departments
A new Learning Centre that will increase access for school children, families, community groups and adult learners.
Sounds like worthy improvements to an already wonderful place. During renovations, parts of the collection will go on display around London and elsewhere in the UK. So, the art will be seen, just in various disparate places.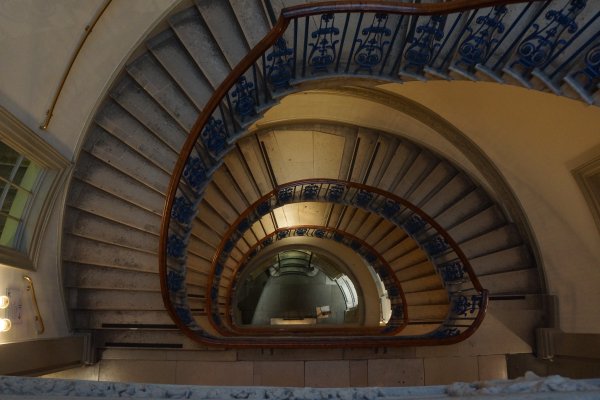 When we visited last year, I marveled at the beautiful staircase between the galleries.
If you're going to be in London between now and September, do make sure to stop in and see the art before it's too late!