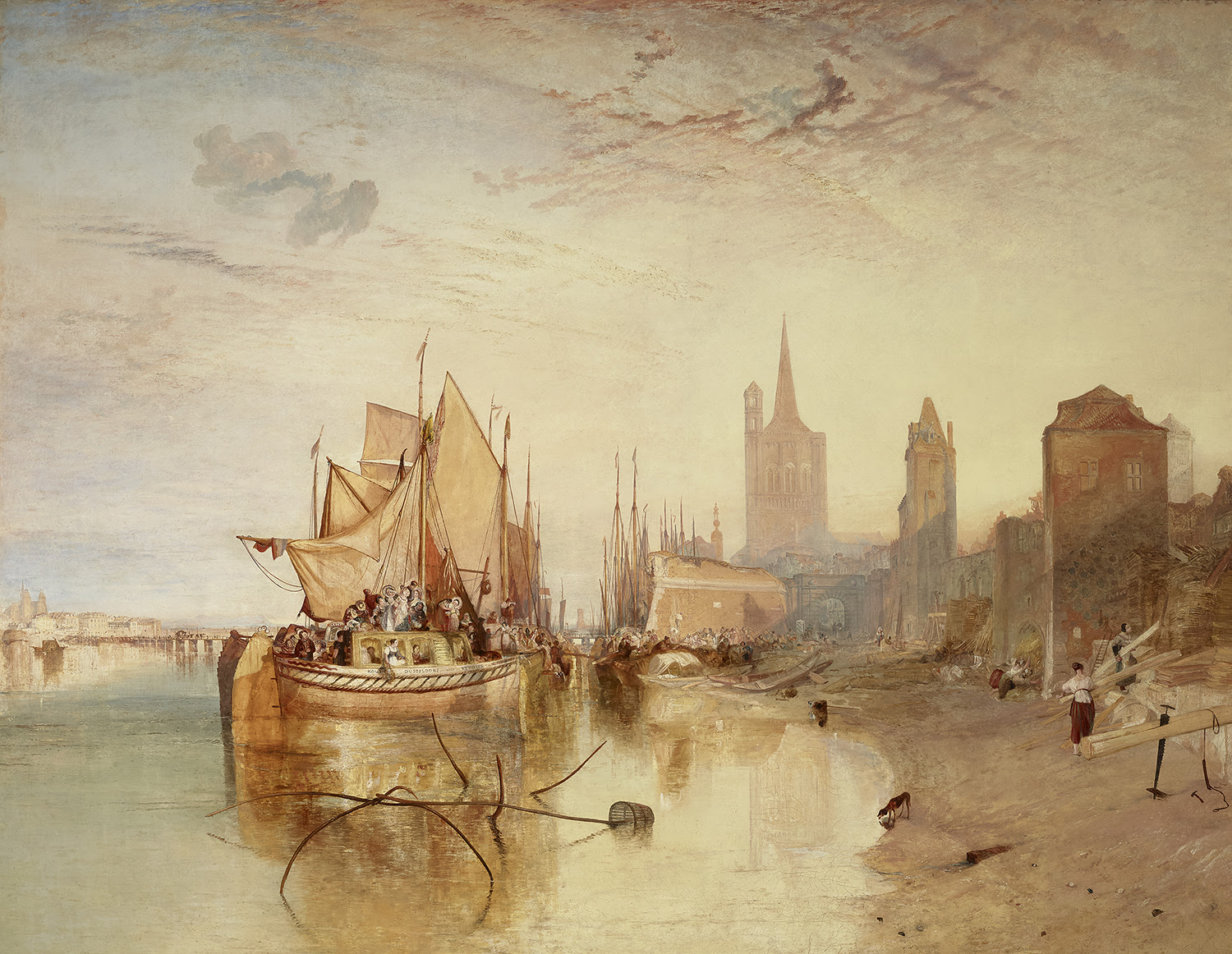 This will definitely be worth seeing later this year! Some very important JMW Turner paintings are returning to Britain for a special exhibition at the National Gallery this autumn.
Here are the details from the National Gallery:
Two ground-breaking pictures by Joseph Mallord William Turner (1775–1851) will return to the UK for the first time in over 100 years, as part of a new National Gallery focus exhibition.
Generously lent for the first time by The Frick Collection in New York, the two oil paintings, will be on display at the Gallery in the Turner on Tour exhibition this winter (3 November 2022 – 19 February 2023).
Harbour of Dieppe: Changement de Domicile and Cologne, the Arrival of a Packet-Boat: Evening were acquired by the American industrialist Henry Clay Frick in 1914 and have remained in the United States ever since.
Turner on Tour will present a unique opportunity for visitors to see these two oil paintings in the proximity of the Claude (1604/5?–1682) paintings which may have directly inspired them and of the other Turner paintings in the National Gallery Collection.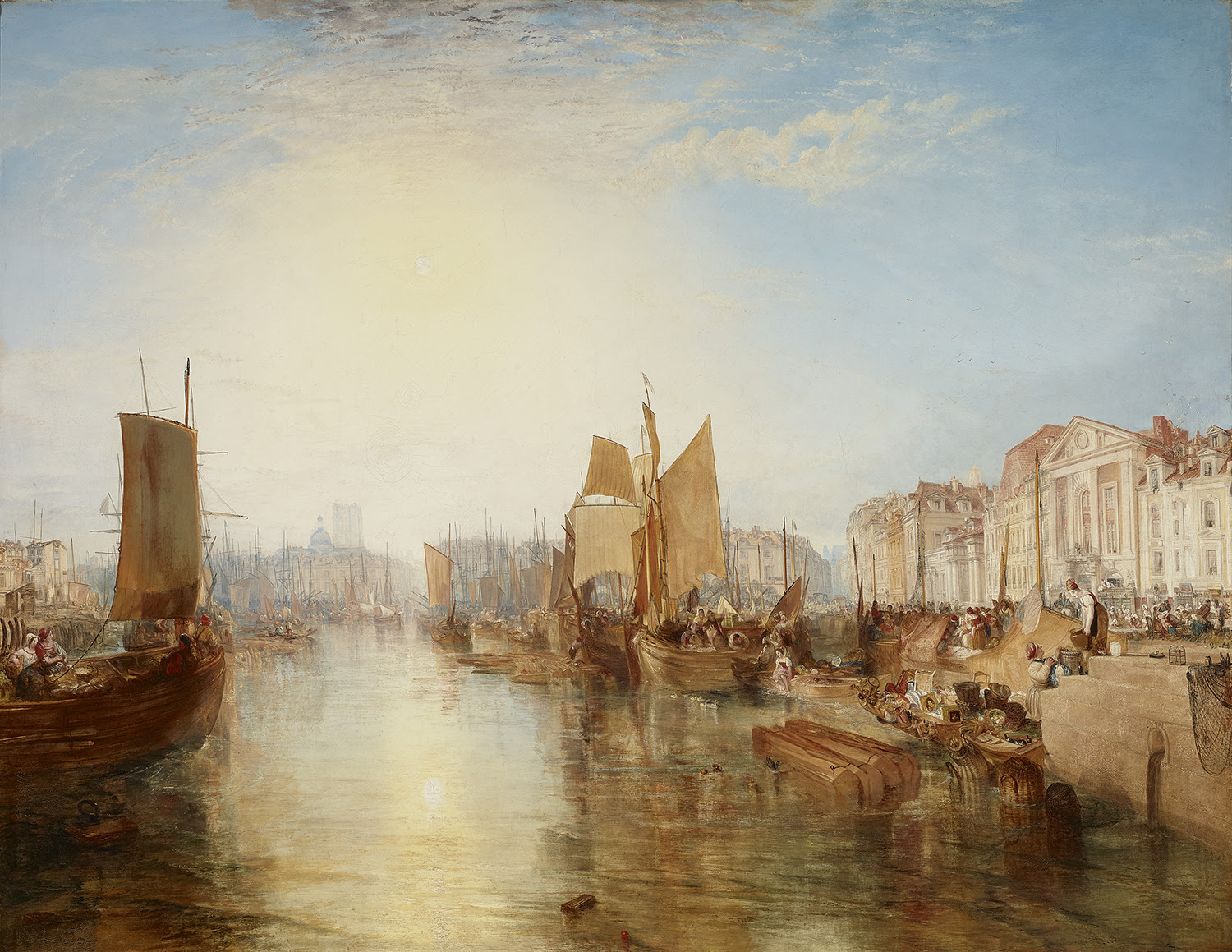 Painted in the mid-1820s, Dieppe and Cologne exemplify Turner's life-long fascination with the subject of ports and harbours – past and present – as dynamic, transitional places. Exhibited at the Royal Academy in 1825 and 1826 respectively, they represent in powerfully visual terms, the outcomes of Turner's regular sketching tours within Europe that were central to his fame as an artist-traveller, as well as his radical approach to colour, light and brushwork.
Turner visited the French fishing port of Dieppe, in Normandy, twice in the early 1820s before painting Harbour of Dieppe: Changement de Domicile in his London studio.

He completed the painting in 1826, a year after exhibiting it in the Royal Academy along with its companion piece Cologne: The Arrival of a Packet Boat: Evening, one set in the afternoon, the other at dusk.

The paintings have not been seen in the UK since 1911. They were exhibited in New York in 1914 at the Knoedler Gallery, after which they were purchased by Henry Clay Frick.

Turner on Tour is the third exhibition in Room 46 this year after Gainsborough's Blue Boy (25 January 2022 – 15 May 2022) and Picasso Ingres: Face to Face (3 June 2022 – 9 October 2022) featuring rarely loaned paintings from American institutions.
Christine Riding, Jacob Rothschild Head of the Curatorial Department, says: 'I am absolutely delighted that these wonderful paintings by Turner, one of the best loved artists in Britain, are going to be returning to the UK for the first time in more than 100 years and will be seen in Trafalgar Square, where they are sure to be hugely popular. The National Gallery was the home of the Turner Bequest so this is the perfect location for people to enjoy getting reacquainted with such masterpieces in person.'
National Gallery Director, Dr Gabriele Finaldi, says 'Turner's glorious river and harbour scenes from the Frick Collection are, through a special set of circumstances, coming to London for an unprecedented showing at the National Gallery. I am enormously grateful to our friends at the Frick for sharing their masterpieces with us.'