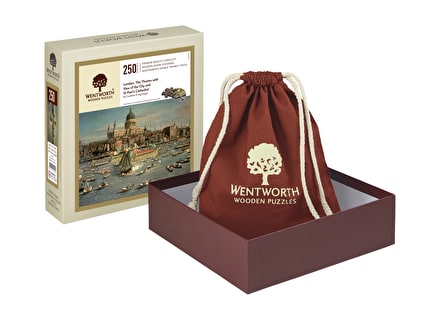 We've been working on this for quite some time and we're really excited about it.  Exclusive to Anglotopia we've commissioned three custom puzzles from Wentworth Puzzles, a company based in Wiltshire, England that specializes in making beautiful wooden puzzles. Each 250 piece puzzle will come in a beautiful box from Wentworth and you can store your puzzle in a cloth bag. Each puzzle features fun 'whimsy' pieces that make the puzzle and extra challenge. You'll spend a few hours on these puzzles and the final result will be beautiful. We've also chosen five of our favorite puzzles from the Wentworth Catalog featuring the artwork of Turner, Constable, and Waterhouse.
Each puzzle is worth owning and even framing when you're done putting it together. The top three puzzles are being custom produced for us and won't be available anywhere else. We are producing them in limited quantities so what's available for sale will be it – they'll be collector's items and if we offer these puzzles again, we'll do new images. One we finish orders on November 17th, we will place the order with the manufacturer and it will take 2-3 for them to be produced. We expect these to ship mid-December in time for Christmas.
BROWSE THE WHOLE COLLECTION HERE!
Anglotopia Exclusive: Wentworth Puzzle – London, The Thames with View of the City of St.Paul Jigsaw Puzzle – Shipping December
Anglotopia Exclusive: Wentworth Puzzle – Gold 'Hovis' Hill Shaftesbury Dorset – Shipping December
Anglotopia Exclusive: Wentworth Puzzle – Castle Combe Wiltshire – Shipping December
Anglotopia Exclusive: Wentworth Puzzle – Sir Winston Churchill – Shipping December
Anglotopia Exclusive: Wentworth Puzzle – Spitfires Jigsaw Puzzle – Shipping December