The 2012 Olympic Games is serving to remind people what a great place London is to watch sport in. However, it's always a good idea to remember that London values art and culture as much as it values sport.
Here are five great places for art lovers to go to when they visit the capital after the sporting circus has left town.
1. William Morris's home and gallery
[William Morris gallery, Lloyd Park, Walthamstow. Photo by Chris Ide]
Travel to the extensive grounds of Lloyd Park in London's Forest Road and you will find William Morris's house – an impressive Georgian dwelling it is too. Of course, Morris, who is arguably most famous for his wallpaper, does not live there any more – he died in 1896.
However, you can still find a gallery there, celebrating the life and work of a man whose many talents included writing, illustrating and reviving interest in textile arts.
2. National Portrait Gallery
[Photo by David D. Muir]
William Morris's portrait is one of many which features in the National Portrait Gallery – the gallery was established in 1856 to house portraits of the most historically important and famous British people.
So, this is the place to see paintings, caricatures and representations of Kings, Queens, Prime Ministers, pop stars and gangland criminals. It's always fascinating to tap in a name and see if the gallery has a portrait of a person (yes to Reggie Kray but not to Terry Wogan!).
You know you're famous when you're hung in the National Gallery – find it at St. Martin's Place, off Trafalgar Square.
3. Tate Galleries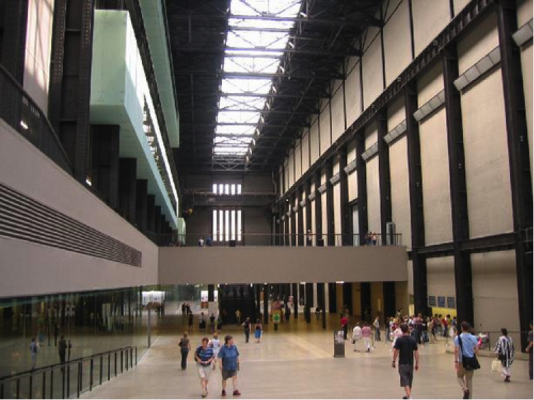 [The Turbine Hall in the Tate Modern. Photo by Budget Travel Accommodation.]
Tate has two branches in London – Tate Britain and Tate Modern.
Make sure you visit the Tate which is best-suited to your art tastes; Tate Britain (which is situated on Millbank, near the Conservative Party HQ) houses British art from 1500 to the present day while Tate Modern (in Central London's Bankside area) houses art from 1900 to the present day.
Tate Britain hosts the annual Turner Prize and its permanent collection includes work by J.M. Turner, William Hogarth, John Constable, Francis Bacon, Peter Blake and David Hockney.
Tate Modern first opened its doors for business in the year 2000 and is currently holding a fascinating exhibition called 'Another London', detailing how international photographers captured life in the capital between the years 1930 to 1980.
You've got until 16th September 2012 to catch the exhibition.
4. Banksy's Tesco Flag
[Photo by Jordi Martorell]
Subversive street artist Banksy – a man or woman whose identity has long been a secret – has left his mark all over London.
A wall by the side of a humble chemists shop in Essex Road in Islington is the place to see one of his most famous pieces of graffiti; a painting depicting three young children gathered around a flagpole up which a flag of a Tesco carrier bag is being solemnly raised.
Look closely and you will see that the flagpole is in fact some ducting for electric cables – Banksy always likes to make use of the natural environment to create art!
5. The Gallery Soho
The Gallery Soho is best-described as "Eighteen hundred square feet of pure Art loveliness"; it says so on the blue plaque outside this historic Charing Cross road events venue.
Many visitors have happily set foot on the gallery's wooden floor boards to gaze at the art displayed on the white-walled gallery space. If an exhibition isn't to your taste you can look through the windows instead and take in a view of the vibrant Soho streets below you.
And when visiting London, do bear in mind that you don't just have to see other people's art at this venue – you can always hire it to stage your own capital exhibition!
Susan writes for Yellow Moon arts and crafts company