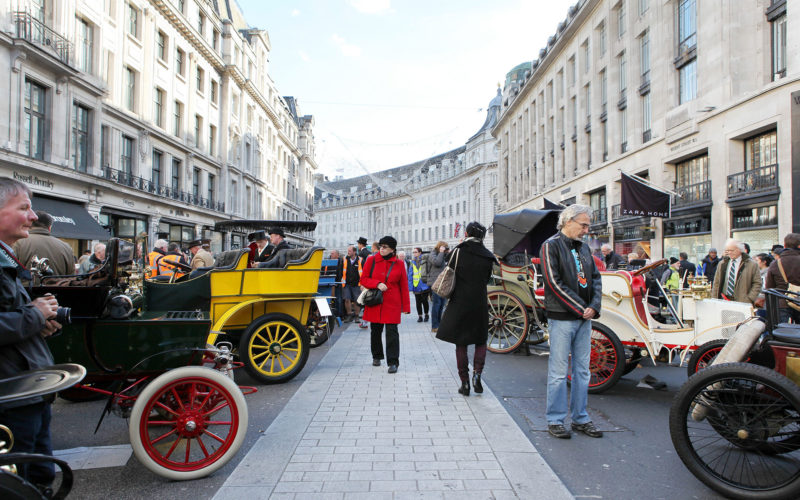 Things certainly start getting colder in London during November, but the city is still smoking hot with events all month long.  From Diwali on the Square to the Lord Mayor's Show, there are plenty of major things happening, but that's not all.  Food, art, and automobiles are also on tap for this month, and we've outlined five cool events going on during November that you should check it out.  Of course, this list is by no means exhaustive, so feel free to let us know some of your own favorite events going on around London in the comments.
Regent Street Motor Show
Car lovers will be sure to want to visit the Regent Street Motor Show when it the streets on November 2.  Everything from classic cars to high-powered roadsters will line Regent Street, showcasing over 125 years of automobiles and motorbikes.  There are also plenty of exhibits featuring future technologies such as low-emission engines, self-driving cars, and more.  The best part about this is that, because it's on a public thoroughfare, the show is completely free to attend.
St. Andrew's Day
For those who love Scotland and Scottish culture, London's St. Andrew's Day festival will let you have it all without having to make an extra trip up north.  November 30 is the date of St. Andrew's feast day celebrating the man who was the brother of St. Peter and the first disciple of Jesus Christ, as well as being the patron saint of Scotland.  London has a number of events going on including the St. Andrew's Day Ball at Whitehall Palace, a dinner featuring a number of Scottish celebrities at The Savoy, and Scottish restaurants such as Albannach and Boisdale serving culturally relevant meals.
London Illustration Fair
From November 29 to December 1, the London Illustration Fair celebrates artists and their work.  Bargehouse and OXO tour feature several floors of exhibits to crafts and creativity as well as offering a number of items for sale to support illustrators of all styles.  The festival features not only individual artists, but also graphic designers, creative agencies, design firms, and more.  For those who want to learn more about illustration or improve their own skills, there are several workshops and lectures to attend, but it's best to sign up for those early as they can fill up quickly.
Taste of London:  Festive Edition
London launches into Christmas at the time most of us are still getting ready for Thanksgiving, and the Taste of London series of festivals holds a three-day taste test of holiday food and drink from November 21 to 24.  Dozens of the city's restaurants participate as well as artisans selling books, ingredients, and crafts that all have a holiday bent to them.  Attendees can also sit in on Q&As with London's top chefs, workshops to learn how to make their own holiday creations, and watching some of the city's culinary masters at work.  If you weren't hungry for the holidays before going, you will be by the time you leave.
The Winter Forest
Another Christmas event that launches in November, the Winter Forest at Broadgate Circle will transport visitors to a winter wonderland from November 6 to December 20.  Wood cabins, twinkling lights, and over 300 snow-covered trees greet you and add to the magic of Broadgate Circle's restaurants and shops.  What's more, the Winter Forest features a number of concerts, events, and Christmas films from Everyman Cinemas.  If you know a thing or two about the holiday, you might want to attend one of the Monday Night Trivia events at Mrs. Fogg's Winter Terrace where you can win drinks and other prizes.  These are only a sampling of some of the events going on for the holiday season, so be sure to check the website for those events that will really put you in the holiday spirit.