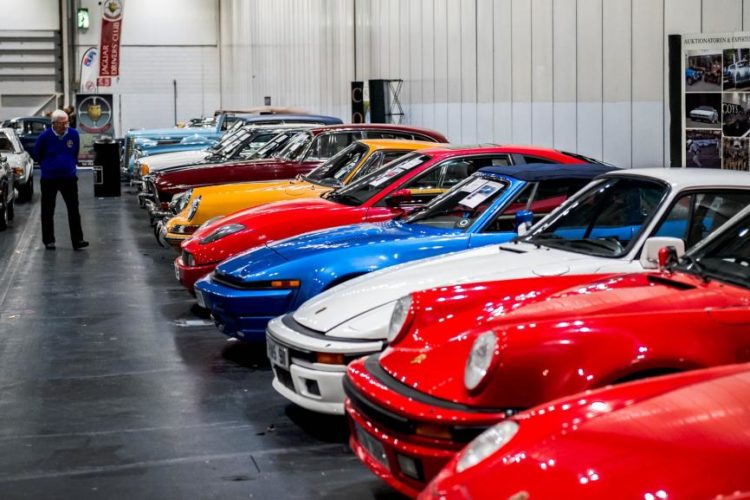 Past the winter wonderland of the holidays and not yet into the warmth of Spring, London sees a number of events in February that get people out into the streets and into its venues.  Several festivals take place during the month along with a couple of major events that provide just about anyone something fun to do.  Whether you're into cars, art, sport, or food and drink, we've found five different London happenings that we think you should consider attending.  If one of these doesn't strike your fancy, however, let us know your own favorite February events in the comments.
London Classic Car Show
Petrolheads of all ages won't want to miss the London Car Show, the biggest automotive event in the city.  Visitors to Olympia London from February 20 to 23 will have the chance to get up close and personal with over 700 different vehicles from Mini to Aston Martin.  Just walking amongst these four-wheeled pieces of art may be enough for some, but attendees can also have the chance to see them in action and learn about their histories.  It doesn't matter what type of car or era you prefer most as there is bound to be something for everyone on the Olympia's display floor.
Lightopia Festival
Starting on January 22nd, Lightopia runs through the entirety of February, bringing one of the most colorful exhibits to London.  Lightopia uses its lighting displays creatively to "revive and reinterpret the classics, transporting the audience into a very different world of expression and raw emotion".  Of course, the displays are more than just passive viewing, and several are interactive, requiring visitors to mash buttons, bang on drums, and other activities to change the colors or motions the displays make.
Six Nations Rugby Championship
From February to March, the nations of England, France, Italy, Ireland, Scotland, and Wales come together in an annual rugby competition.  Matches takes place in all six nations, with the English team's home being Twickenham Stadium.  February 23 marks the first match in London as England plays Ireland at Twickenham and even if you can't get tickets, you should at least be able to find a pub that's playing the championships.  Wales are last year's champions, but it remains to be seen if they'll be able to defend their title or if England will be able to rise to the challenge.
Imagine Children's Festival
As the name might imply, this festival isn't geared towards adults, but children, and runs from February 12 to 23 at Southbank Center.  The festival brings literature and imagination to life for those under aged eleven, and allows them to "Feed and interact with dinosaurs, celebrate the Harry Potter books, and go on adventures with Pippy Longstocking."   Imagine Children's Festival's twelve days of events also focuses on literature, comedy, music, parties, creativity, and more, seeking not simply a passive audience, but participation that helps bring about a fun experience for all little ones.
Love Beer London
February isn't just a month for lovers, but also for lovers of London craft beer.  Love Beer London is a three-day keg festival that takes place from February 13 to 15 in King's Cross.  The Society of Independent Brewers, London Brewers Alliance, and Craft Beer Cares come together every year to put on the festival where the proceeds go to help the charitable organization The Benevolent, which supports workers in the beer industry.  The cost to enter is a mere £12 and will let you sample some of the finest and, in some cases, most exclusive beers in the city, so there's no reason to miss out on this great local event.