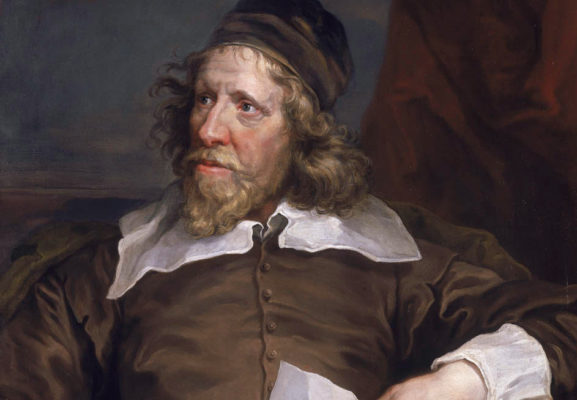 One of the first great architects of modern times, Inigo Jones was one of the instigators of the Palladian style of design, introducing the classical style of Venetian architect Andrea Palladio to Britain.  Several of his building projects can be seen today all over the country, and many of them are found in London, where Jones was born.  Not too much is known about his early life other than his birth on 15 July 1573 in Smithfield, London and his subsequent baptism at the church of St. Bartholomew-the-Less four days later.  With the Neo-Palladian movement, Christopher Wren did some digging and was able to find evidence that Jones had been an apprentice joiner in St. Paul's Churchyard, but this is the extent of what we know about his life before 1603.
In that year, through some unknown means, Jones managed to find a patron in William Herbert, the 3rd Earl of Pembroke or George Manners, the 7th Earl of Rutland.  The Earl sent him to Italy to study painting and architecture after being impressed with Jones's sketches.  It was during this time that he fell under the influence of Palladio's style of design.  While there, he also found himself influenced by the theatre, which would later lead him to add costume design to his repertoire.  Following his time in Italy, he travelled to Denmark to work in the court of King Christian IV and had a hand the designs of palaces at Rosenborg and Frederiksborg.
By 1605, Inigo Jones had moved back to England, where he became the principal architect for Christian's sister, Queen Anne, wife of King James I.  Under Queen Anne's patronage, Jones was able to pursue both his passions.  Teaming with Ben Jonson, the two worked together for twenty-six years with Jones designing sets and costumes for Jonson's plays before the two had a falling out.  Providing some architectural drawings to other projects, Jones became Surveyor of the King's Works in 1613 and made another trip to Italy that year.  As an architect, his first job under Queen Anne was designing her residence, which would become known as Queen's House, in Greenwich in 1615.  After the previous Banqueting House burned down, Jones designed the new building which is still part of what remains of the Palace of Whitehall.
He remained with the court after King Charles I ascended the throne in 1625.  Before Charles became king, Jones had already begun work on designing the Catholic chapel for Charles's wife, Henrietta Maria, in 1623 and completed it two years later.  During Charles's reign, Jones was also the lead designer on the restoration of Old St. Paul's Cathedral, though all of his work would be lost in the Great Fire of London in 1666.  Inigo Jones also designed London's first square, Covent Garden, in 1630 as well as St. Paul's Church there.  Around this time, he also contributed to the design of Wilton House in Wiltshire and several projects that did not see completion such as Temple Bar and the rebuilding of the Palace of Whitehall.
The reason that so many later projects went unfinished was due to the English Civil War.  Jones being a favourite of King Charles I meant that after the Parliamentarians took control of London and later defeated the king, Jones's services were no longer in demand.  It appears at one point he was arrested and his property seized, but it was eventually returned to him in 1646.  He completed few other works after returning to Somerset House, with the exception of Coleshill House, which was completed by Roger Platt in 1660.  Unfortunately, Jones would not live to work on or see the completed building for himself, dying in the summer of 1652 at Somerset House.  He was buried with his parents at St. Benet's Paul's Wharf church.  A monument erected to him was unfortunately lost during the Great Fire, but Banqueting House, Queen's House, Queen's Chapel, Covent Garden, and several of his works remain as the ultimate monuments to his design and impact on London.