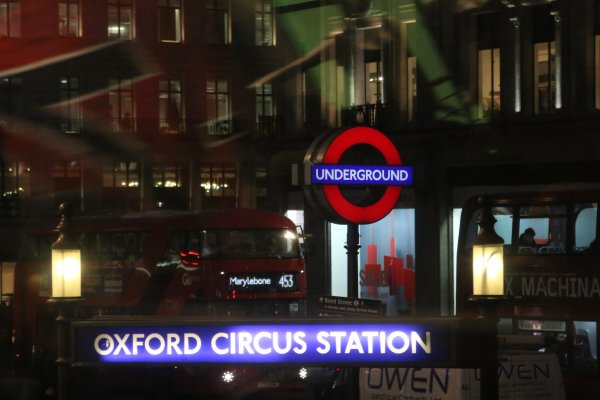 If one is in need of a bit of a shopping adventure, there is no better place to do it than London's Oxford Street. A quick ten minute walk from Piccadilly Circus, up Regent Street, will bring you to the middle of this metropolis where you look down either way and see a never ending display of shops and things to do. With an H&M placed every couple blocks, the bigger department stores of Selfridges, Marks and Spencer's and John Lewis, there is a place for everyone on this stretch of road.
As my campus is right in the middle of Oxford Street's frenzy of stores, I am there a few times a week, and let me tell you, it still hasn't gotten old. Perhaps it's because I am a shopaholic, but no matter how many times I go there, I can always find myself popping into a Primark or an H&M to see if they have anything new in stock, even if I was just there two days before. But for the less frequent shopper, or visitor to London, it may be so overwhelming that you don't even know where to start. To help you comprehend it a bit, I have a plan that makes it a bit easier to handle.
Start at the Marble Arch End
A lot of people end up taking the Tube to Oxford Circus and start from there, but that's the middle of the street, and if you go one way, you miss everything down the other way. My suggestion is to take the Tube or a bus to the Marble Arch station and start at that end. From there, you'll get the best walk down the street, and you won't miss anything a long the way. There's a huge Primark right at the beginning, which can take awhile to get through, but it's the cheapest clothes you'll find in Europe, so it's definitely worth a look, even with how busy it can get in there.
Go During the Day
After 5pm, Oxford Street get's very busy. People are getting off work, so the traffic gets insane, and the stores fill up with tons of people who go shopping on their way home. This madness can last pretty late into the night, all the way until stores close at 10pm, so it's worth it to go earlier in the day. Most stores open around brunch time and will most likely have less people inside, which means no large check out lines or mobs of people shuffling through the sales rack.
Take Advantage of Student Discounts
Almost every major store has a discount for students, so if you are a student yourself, or with one, make sure you flash your ID card for 10-20% at many stores. It can save a lot of money, especially when the prices get high on certain objects. You can check online before you go inside to see what the discount it, or ask at the counter. Some of the shops don't advertise their discount, but many have them and cater to the poorer student population who want to look chic and fabulous.
Don't Be Afraid to Wander Down Side Streets
Oxford Street has many different side streets that house boutique shops and mini-markets, so take a chance and walk towards something that looks interesting. Carnaby Street has some interesting shops, and is tucked off to the side. It's actually easy to miss sometimes, so be sure to look out for it. Regent Street is the big intersection where the Oxford Circus station exit is, and has a lot of fancier stores, as well as is the path to Piccadilly Circus.
Walk the Entire Length
The exciting stores tend to taper off a little more once you pass the Regent Street intersection, but that doesn't mean you shouldn't still head that way. Once you get to the end, there is yet another Primark, as well as the Tottenham Court Road area, which can lead you back around to the theatre district if you walk far enough. Definitely don't discount this part of the street, since there's still plenty to see the entire way down.
Get Lost in a Department Store
Going into a place like Liberty or Debenhams will definitely give you a chance to get lost in a huge building full of clothes, accessories, household goods and everything else imaginable. Yes, you may not be able to actually afford anything in the bigger name stores, but what's the harm in looking? It's totally possible to go inside one and lose your way amongst the maze of floors featuring fabulous items for purchase. It's just a fun activity to pass the time before going back out onto the street and seeing what else is for sale. There's quite a few of them in this area, so definitely check them all out.