After waiting patiently for a month for my boyfriend to arrive in London, he is finally here! And let's just say, I've kept him very busy with a schedule packed full of wonderful things to do in London. He was actually just in London back in March for a theatre tour through his university, so he got to do most of the touristy stuff six months ago. So with that in mind, I set out to create a list of exciting things to do and see for someone who's already been here before.
I am confident that in my collective visits (and now that I am currently living in London), I can be a very good tour guide to anyone who wants something to do. I would definitely not call myself an expert in the area, but give me a few things you're interested in and I can come up with a quick short list of London sights for a traveler to devour. With my boyfriend, I know he's quirky, loves museums and art, enjoys theatre and can't resist good food, which led me to take him to the following places…
Camden Lock Market
Knowing his love for good food and interesting areas of town, I hopped on a bus with my boyfriend and headed over to Camden. He hadn't been here on his previous trip, so I thought it would be something he would enjoy. And he truly did. From all the eclectic things for sale and the huge variety of food vendors, he was very excited to explore. We walked around so much that I even ended up seeing parts of the Camden Lock area I hadn't been through yet. It ended up being bigger than I expected, and that was fun. It's fun for me to go to places I've been before, especially with a new set of eyes, because that way, you see things you missed the first time. After being indecisive for too long on which food to eat, we finally settled for some Turkish wraps, filled with beef, feta cheese and spinach. It was delicious.
South Bank & Tate Modern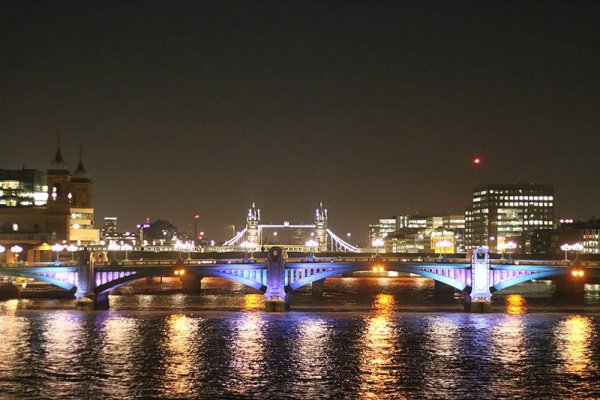 I've wrote before about how much I love the South Bank area, because it's so interesting to walk around and see stuff, but on his first night here, he was a bit tired from the flight, but I wanted to keep him awake so he'd adjust to the different time zone. To do this, I walked him from my dorm, past Big Ben, and we walked all the way down to St. Paul's Cathedral and Tate Modern. It was a lovely walk and got dark just as we were approaching the Millenium Bridge. We crossed over and found a nice little pub near St. Paul's, where we shared a meal and caught up a bit. He was a bit too tired to actually go to the Tate Modern on this day, so the next day I encouraged him to go back on his own while I was in class, and he had a lot of fun. He'd actually been to the Tate Modern on his last trip, but museums are constantly changing, so I was glad he wanted to go back and see what was new there.
Drag Show at The Black Cap
Thanks to my subscription to the Londonist emails, I was informed that there was a drag show happening at a famous gay bar in Camden. Being a huge fan of everything in drag queen culture, I just had to buy a pair of tickets. The Black Cap is a famous bar in Camden, known for hosting many well-known drag queens from all over the world. My only previous experience with a live drag show were the ones my university used to have annually and my last two years at Seattle Pride. This was my first drag show in an actual club setting, and I took my boyfriend out for a lovely night of lip-synching and entertainment. It was definitely worth the price of the tickets, and I was happy to be back in my element. I will definitely be going back to The Black Cap for more shows and potentially a night out clubbing.
The Scottsboro Boys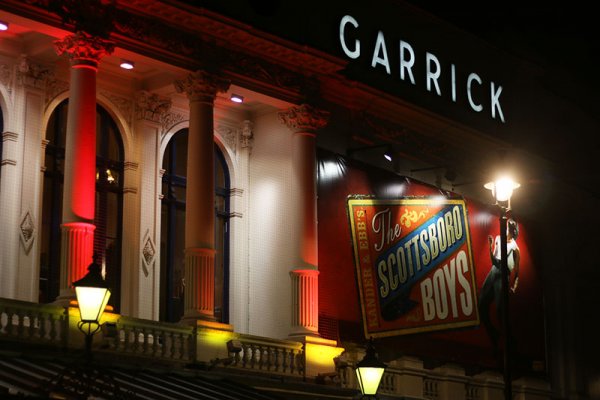 I was lucky enough to win two top tier tickets to the recently opened "The Scottsboro Boys" musical at the Garrick Theatre. My last time at the Garrick Theatre was two years ago when I saw Chicago there with a friend. Our seats were bought at the last minute and were pretty terrible. Leaning over to see an entire show isn't the best experience. But this time, we had great seats on the theatre floor and I was very excited to see this Kander & Ebb musical I had only heard good things about. And the reviews were right. The show was amazing. It was a very powerful two hours in that space. Not only was the music wonderful, created from the same minds as Chicago and Cabaret, but the high energy of the acting and dancing were perfect too. I may actually pay to go again because I liked it so much. Sadly, the musical is based on the true story of a horrible incident that happened in Alabama in the 1930s, but that didn't deter the extraordinary effort the writers made to create this beautiful piece.