When you're surrounded by a thriving city, especially one as fantastic as London, you can forget there is the whole rest of the country to explore that has equal amounts of beauty and entertainment. What can be wonderful about London is that you are in the center of this thriving metropolis, but in 30 minutes by train, bus or car, it's like that city of 8.4 million disappears, and you've arrived in a magical town, right on the cusp of the craziness. After spending the last two months in London, and only traveling to larger European cities, I found myself wanting a quiet day away, so I bought a cheap ticket using my 16-25 Railcard (such a great discount for young people), and found a train to St Albans, a town 20 minutes outside of central London.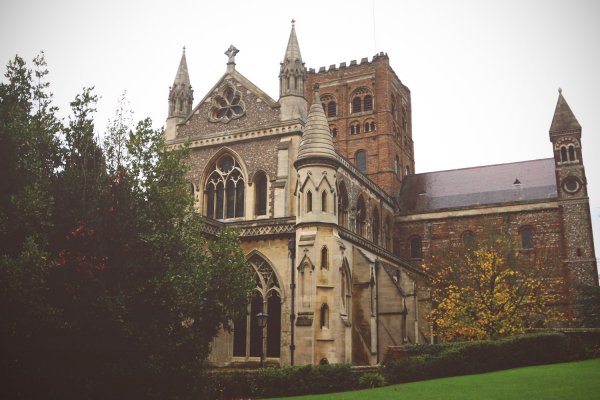 St Albans is the former home to many famous figures. Stanley Kubrick spent the last 20 years of his life there, Stephen Hawking briefly attended school there as a youth, and even the historic Sir Francis Bacon lived there in the 17th century. It is a town close enough to London, that it is used as a home for commuters. I could definitely see the appeal of the town in my visit there. Not everyone is cut out to live in London, but to live close and take a train into work in the morning, is something many people do nowadays.
I spent my day walking around to see as much as I could. From the train station, it's a nice 10-15 minute walk to the city centre, which houses shops and eateries. I was happy to immediately find a bookstore to peruse, as well as a book fair. I made my selections and then found a clear marker to tell me which way to get to the cathedral. St Albans Cathedral is a large church, originally dating back to the 2nd century, which has had many reincarnations over the years. The entrance was free, so I wandered around inside for awhile. It's quite a lovely building, with original parts of it still intact. I loved seeing wall-markings from people who carved their name or year into the wall. It's funny to know that people have done that throughout history.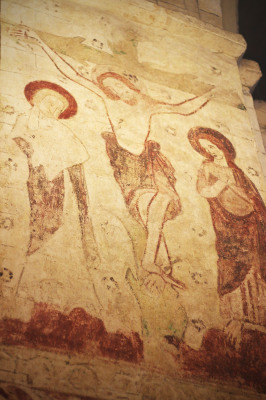 Right next to the cathedral was St Albans school, and as I walked past, a group of school children were being led by, so I followed them, since I had no idea where I was going. It turned out that they were heading to a huge park, which was the original Roman city of Verulamium. The entire area was a former Roman area, transformed into a park, but keeping as many remains of the historic structures as possible. I was glad I followed these kids, because they brought me somewhere I wouldn't have known to go.
I ended up staying in this area for awhile and walking down the pathways, feeding the birds, and enjoying the surprisingly lovely mixture of light rain and sunshine. There were two, adorable young swans that followed me the entire length of one of the ponds. I was in heaven. I people-watched a bit, walked around the entire area, came across the Verulamium Museum (didn't go in), came out on the other side of the park, and decided to take a different route back to the train station through the winding roads of the town.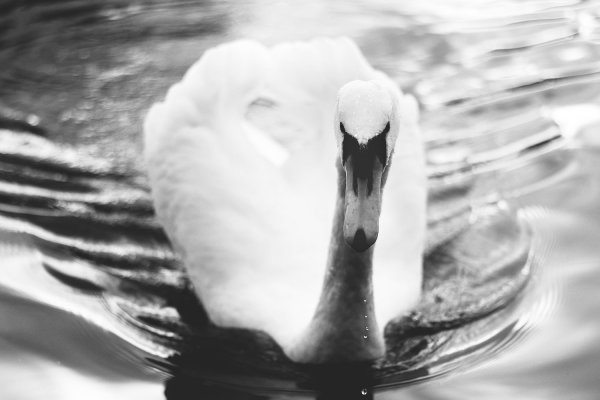 I wasn't afraid to get lost. I was just happy to get some fresh air and enjoy the setting sun as I traipsed through the residential areas, all the way back to an area that looked familiar. I finally found the road to the train station and made my way back with ease. It was definitely a successful day. I really hope to take more trips like these because they actually make me enjoy London even more. Just to know that I have this amazing option of being able to stay in this city of constant entertainment, or be able to step out for a bit to explore another area, is something I'm really happy about. I want to see as many parts of the UK as I can, and soak up some of the culture that I miss when I only stay in London.
Being in St Albans felt like being back in Chester, England, where I previously studied abroad; a nice, small English town with character. I miss that a bit, and since Chester isn't as quick of a trip as some other places are, I'll take advantage of the close ones first and then expand my reach to the wider UK-world. I will definitely be going back to St Albans, and very soon. They have a Christmas market that opens at the end of the month, so I want to go back, browse the stalls, drink some mulled wine, and enjoy the traditional British Christmas-time spirit.
What other day trips from London should I make?