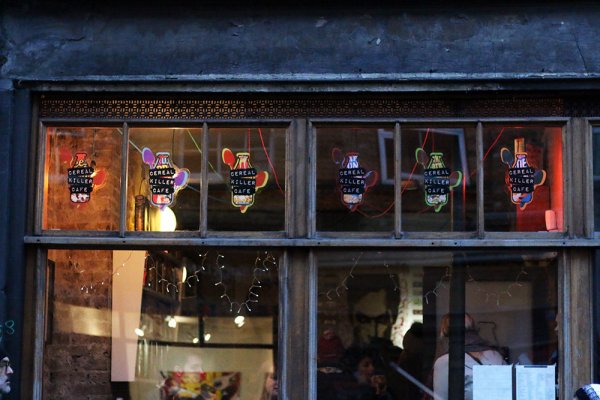 Ever since it was announced a couple of months ago, I was ecstatic for the Cereal Killer Cafe to open on Brick Lane. After much anticipation, it finally opened on December 10th. It sounded like the perfect sort of restaurant for a Pacific Northwest hipster to go and try, especially one who was missing certain American cereals that tend to cost a lot when bought from Tesco. The marketing build up for this place was unbelievable. From Buzzfeed to Time Out London, they seemed to be getting a lot of free press for their fun and crazy idea to sell bowls of cereal. For anyone my age, or people just interested in that sort of niche idea of taking cereal and putting into a cafe setting, we can all agree that it was bound to get great reviews and be a popular location.
But on December 11th, the day after opening, I walked by the newly opened cafe and found it almost deserted. Yes, there was a line inside, but of only about 10 people. A few passersby stood on the sidewalk across from the building and said, "Oh, that's that new cereal cafe I heard about," but then continued on their way after snapping a quick photo. Under normal circumstances, I would've been surprised as to why on their second day, there wasn't a huge queue out the door and pouring onto Brick Lane, especially with all the excitement brewing in advance. But since I knew what had happened just the night before, I understood why this new cafe all of a sudden was struggling a bit to bring in customers.
After a very interrogational and unwanted interview from Channel 4 News, the Cereal Killer Cafe all of a sudden came under a lot of fire for their pricing choices. The question posed to one of the owners was about how they could charge £3.20 for a bowl of cereal in one of the most impoverished parts of London. This was not what the owner wanted to be asked, so he told the interviewer he didn't like his questions and that he was busy and turned back to serving customers. Of course, this interview was aired, and the media blew up with the same question of, "Why would you charge so much for cereal in such a poor area?" For these new business owners, this was not something they needed in lieu of their opening.
After research from various news sources, it showed that the Tower Hamlet area, which houses Brick Lane, has one of the lowest annual incomes of the entirety of central London. Anger started to rise in commenters, who ran to the Cereal Killer Cafe's Facebook page to call them out for their "hipster takeover" and continuing the gentrification of the neighborhood. This eventually led to a late night post from one of the owners of the cafe, telling off Channel 4 for posting a non-story and causing trouble with their new business. Of course, this led to even more news articles being published about how the cafe owners had angry outbursts and couldn't answer their question of gentrification.
Now that you know the backstory, here's my take on it. As a former journalism student, I felt that the attacks from the media on this new business were unneeded and certainly targeting. Yes, gentrification is a huge issue that doesn't really have an easy answer on how to solve it. Areas evolve as new people move in; there's no way to change that. It becomes unfortunate for the people who previously inhabited that place, because they feel like they're getting pushed out, and that's always terrible. But when a funky, new restaurant that serves cereal opens up in a poorer area of London, and the first question from journalists is, "How can you charge so much?" it becomes an attack, rather than an inquiry that was needed.
When opening a new business, one has to take into account the overhead costs, including importing these international cereals, paying staff, as well as rent. Yes, £3.20 could be seen as a little steep for a bowl of milk and cereal, but that's the same price that a latte costs, and people aren't attacking Starbucks or Costa for that. In the end, the media decided to do a cruel thing to this new and budding business, and the Cereal Killer Cafe will definitely struggle because of it. With the open thought of gentrification on Brick Lane, will come a lot of people deciding to not go to this cafe. Just the proof that there was no line when I went by shows that a location that should've been buzzing with patrons in its first few days, became trapped into a first impression of "dumb hipsters who overcharge," and that harmed their image incredibly.
Since I can look at this from both a journalism and public relations side (as that is what my undergraduate training was in), I could wish that they weren't given such a bad media rap in their first week, especially since they were counting on the amazing, free publicity they were getting from so many websites picking up on their niche idea. But now that they have dealt with this crisis, I can only hope they rebuild their image through loyal customers choosing to ignore the television and newspaper articles, and look past the gentrification issue, which two cafe owners shouldn't have to be pulled into. Of course, I could be wrong, and perhaps they should be questioned, but then go to every hipster-owned business on Brick Lane and ask the same question before trying to tear down a new and successful trade.