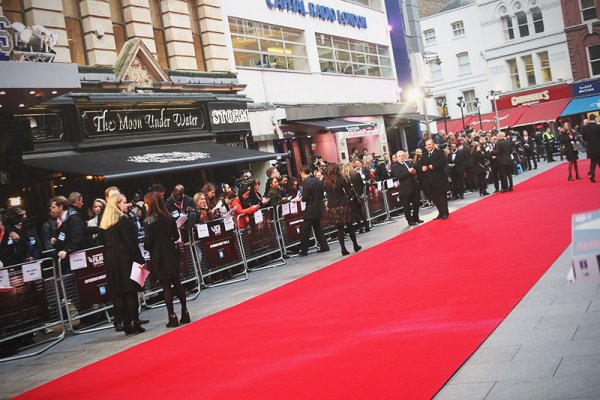 It's no secret that I have a slight obsession with celebrities and pop culture. In fact, the moment I'm finished with grad school, my career goal will be to attain my dream job of becoming a celebrity publicist. I get criticized for this a lot, as this field is very superficial and filled with people who don't deserve to be famous. I fully understand these thoughts. The entertainment industry is pretty ridiculous, but as someone who grew up in the theatre and is a performer myself, when I watch films and television, I am enjoying it so much because I truly respect the talent of certain actors. I aim to someday only represent these amazing thespians, but in the meantime, before I get to attend red carpet events as part of the staff, I have to entertain myself by going to these things as a lowly fan. I get asked ALL THE TIME, "Oh my goodness, how do you get to meet so many celebrities? Where do you find out all this information?" And now I've compiled my secrets into one place for those as obsessed as me.
Film premieres are crazy, but can be completely worth it if you are willing to spend the time and effort to attend. While most people cannot go inside and watch the film (unless you win a contest or have friends with tickets), you may stand outside in the fan pens, where celebrities will walk the red carpet and sign autographs along the way. I use Mark Meets and Be the Red Carpet to find out which premieres are coming up. They are in Leicester Square 80% of the time, and occasionally will be held at a hotel or shopping centre. Celebrities tend to arrive anywhere between 5:30 and 7pm, depending on the popularity of the film. My suggestion is to show up at least by 2 or 3pm at the latest, and much earlier if it's a large blockbuster type film. All you need is something for them to sign and a camera and you'll be fine. My biggest tip is to stand near to where the stars get out of their cars, and don't stand across from the press or media.
I've been lucky and found some very random events happening in London, just by browsing Twitter to see what's happening. Follow as many celebrities as you can, because sometimes they'll tweet about events. Follow publicists, media industry people, entertainment companies or anything London-related. It's worth a browse through different hashtags as well, because you never know what will pop up. I've found events that were terribly publicized, just because I happened to be on Twitter at the right moment to find the one tweet about it.
TheatrePeople
Meeting a performer at the stage door has been a long tradition. Think back to whenever you've even seen a friend in a show; they often come out to greet you afterwards and thank you for coming. Well, celebrities will do this for their fans after a performance for most shows. I like to use TheatrePeople.com to see which stars are appearing onstage, although, this website only shows West End productions. London has other theatres as well, such as Soho Theatre, Hampstead Theatre and others that will often showcase a famous actor. Make sure to keep an eye on who's playing where, and you'll most likely be able to head to the stage door after the show and get an autograph or photo.
Live television tapings are so much fun. It's free, entertaining and never a waste of time. In these cases, you aren't usually able to meet the actors or performers, since you're put into a secured audience, but there's nothing better than getting to see your favorite TV host sit and chat with a star for half an hour, or to see live music from a popular figure. SRO Audiences provides free tickets to so many wonderful tapings that happen right in Central London, and if you can get one, it's exciting and something you can brag to your friends about (especially when you can see yourself on TV in the audience shots). For some of the more popular shows, it's hard to get a ticket, but if you're willing to go to the lesser attended ones, you can get a seat much easier.
A good way to meet someone you like up close and personal, is to attend a book or album signing. These tend to be more intimate events, and usually allow a bit longer of time to have a chat with the person, unlike a premiere where you'd get pushed away by a mob of fans. Most of the time, you HAVE to buy the book or album for them to sign, which is fine if you wanted it anyways, and they won't sign other memorabilia (usually at the request of their publisher or publicist). There's multiple ways to find out who's signing and where, and the Londonist often posts about them when they get wind of them. This method is one of my favorite ways to meet a celebrity, because it's often a more calm atmosphere and usually guaranteed that you'll get an autograph, since you're not in a crowd, but instead in a queue.
Good luck in your quests! Just a reminder though; please be respectful to celebrities, as they are humans too, and a polite fan gets more respect than a rude one.