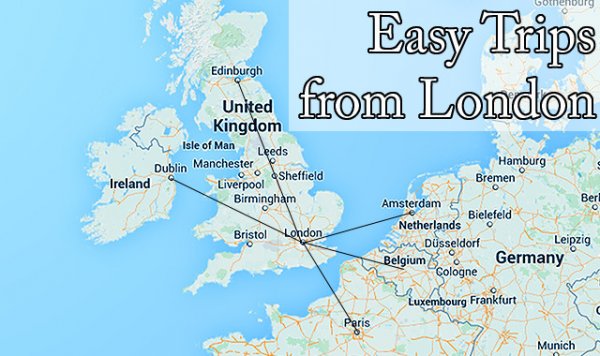 If you're conflicted about where to go next in the world, and your starting point is London, I've created a list of 5 places that are very simple to get to. Sometimes a trip to London needs a little extra journeying, just to add to the fun, so if you want to get away from the city, but not too far away, these places are accessible by a simple bus, train, or plane ride, as well as inexpensive.
Amsterdam
There are a few ways to get over to Amsterdam, including by bus (MegaBus, iDBus, EuroLines, etc.), by boat (which no one does because it's expensive), and by plane (RyanAir or EasyJet have inexpensive flights). I prefer the bus route, because it's the cheapest and it may take 10 hours, but will all be worth it when you arrive. Amsterdam is famously known for a few obviously things, but also has hidden sites like the Anne Frank House and the Van Gogh Museum. There are many more things to do than those, so a day or two is more than enough time to explore the city, although you may want to plan for more.
Brussels
If you take the Eurostar, you can get to Brussels in a little over two hours. There's even an option to continue your journey to any Belgium station from Brussels, so you can also go to Bruges or other towns. I haven't been to Brussels yet myself, but I am hoping to go in a few months and experience all the beauty I've heard about the country. Since it doesn't take long to get there, you could potentially do it as a day trip if you were willing to go early in the morning and come back to London at night. But if you go for an entire weekend, it's possible to get in a few locations nearby as well and round out your trip.
Dublin
Another place I haven't been yet is Dublin. It's a bit harder to get to, because there are no direct trains there, and you either have to take a boat or a plane. The boat rides tend to be long, so a flight is quicker and more convenient if going straight from London. Dublin is definitely worthy of a whole weekend, especially if you want to explore the countryside and the gorgeous scenery of the Irish coastline. If you're a beer fan, going to the Guinness Storehouse for a tour is much recommended.
Edinburgh
It's about a five hour train ride from London to Edinburgh, but a lovely five hours of scenery that makes it worth it. Edinburgh is such a picturesque city that it is not one to miss if you have time in your trip schedule. I almost studied abroad in Edinburgh, but didn't get placed at the school there and ended up a few hours south in England. I made sure my first trip while in the UK was to Edinburgh, and I instantly fell in love with it. It's a lovely city to walk around, see the and explore the castle, as well as checking out JK Rowling's old writing spot, the Elephant House. I only spent half of a day there, and wished I had more time, so my suggestion would be to at least spend one night there to get the full experience.
Paris
Just two and a half hours away from London, by train, is one of my favorite cities in the world. Paris is the perfect weekend getaway from London, and so easy to get to. If you take the Eurostar, you're transported right into the center of Paris, and it's magical to step out of the train station and into the city of lights. It's already obvious all the amazing things Paris has to offer (Eiffel Tower, The Louvre, etc.), but one of the best things is to go to the Basilique du Sacré Cœur and watch the sunset over the city. It's a beautiful place to go any time of the year, my favorite getaway from London, as well as one of the most popular side trips to take.