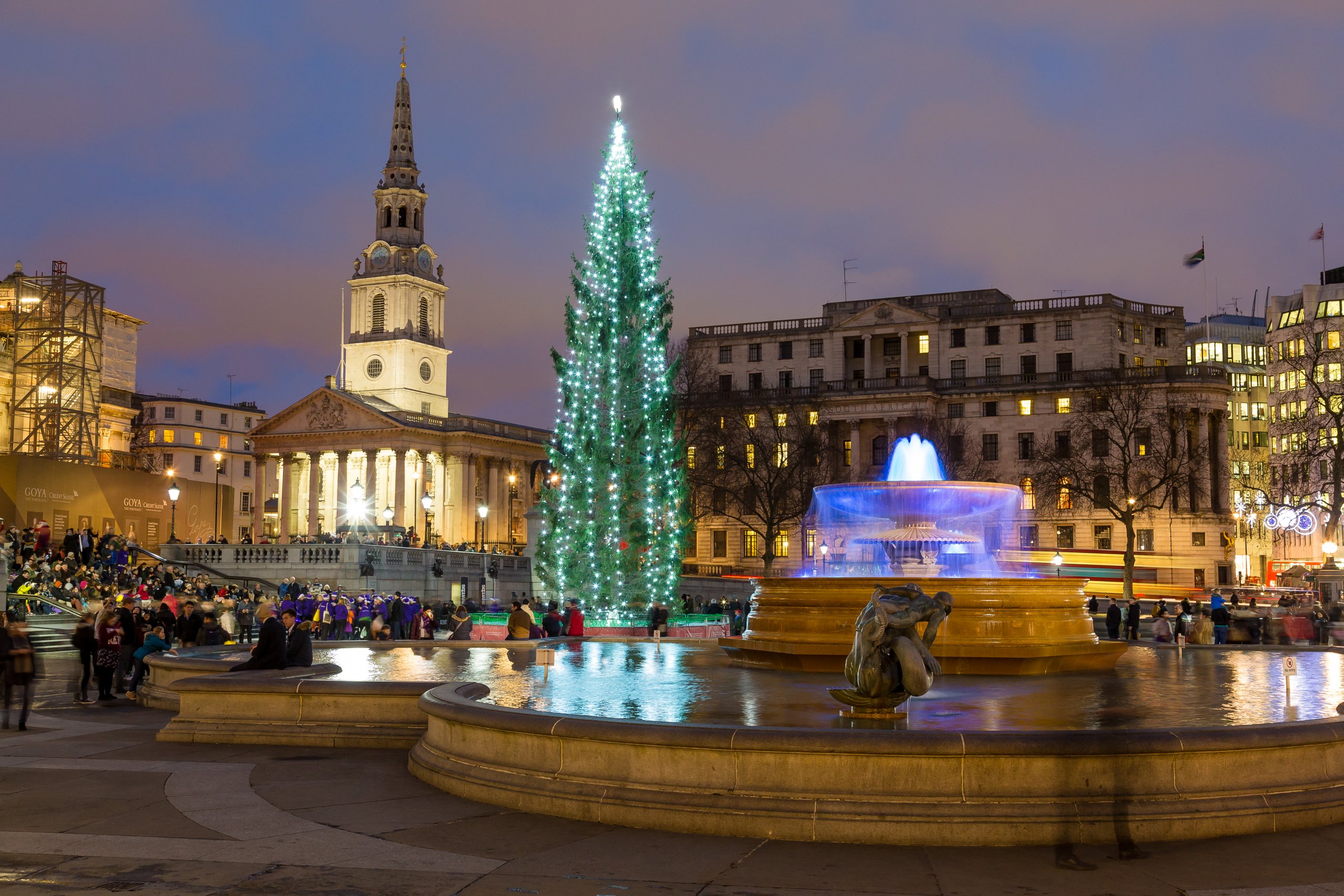 Oh, Christmas tree!  Oh, Christmas tree!  Ever since it was made popular by German immigrants in the United States and Prince Albert in the United Kingdom, it has been arguably everyone's favorite Christmas decoration.  Oftentimes decorated with ornaments, lights, and tinsel, you'll see this symbol of Christmas not only in homes and flats across London, but also in major public spaces.  If you want to find some of the best Christmas trees in the city, we've outlined five of our favorites below, and you can share your own favorites with us in the comments.
Covent Garden
Covent Garden is hands-down one of the best places to be in the city for Christmas, between the holiday market and the Christmas lights.  Naturally, this means the area also has one of the best Christmas trees in the city.  This year's tree comes from the same farm that grows Christmas trees for the Royal Family and is a whopping 60 feet tall.  It's decorated with a total of 30,000 lights as well as giant baubles, and after the holiday will be recycled to make woodchips that can be used to heat homes. 
Claridge's
If you're staying in London during the holidays, you certainly expect your hotel to be decked out in its Christmas finest. Nothing could be truer for the high-class Claridge's Hotel. While the hotel certainly has its share of real Christmas trees adorning the lobby, each year also features a special art installation Christmas tree. This year's tree has yet to be fully revealed, but will be called "Diamond" and was designed by Sandra Choi for Jimmy Choo and feature reflective mirrors and pulsating lights. What's more, reflecting the artist's imagination of what it would be like to view the world from inside a Christmas tree, guests will be able to go inside and experience the tree's reflective surface firsthand.
St. Pancras International
There's nothing during the holidays like rolling into London's St. Pancras Station on a train to be greeted by a giant Christmas tree on the platform. Each year the station has a different themed tree designed and provided by a major organization. Past years trees have been done by Fortnum & Mason, Disney, Eurostar, and ZSL London Zoo. While this year's sponsor has yet to be announced, you can bet they'll bring their A-game to one of London's most spectacular Christmas displays.
Leadenhall Market
Leadenhall Market's grand arcade is one of the most magical places to go shopping in London, and it's made all the more so during the holiday season.  At the center of it all is Leadenhall Market's Christmas tree, which lets viewers know in no uncertain terms what time of year it is.  The switching on of the Christmas lights is a very big deal for the market and will take place on November 17 at 6 PM this year with a children's coral performance and a speech by the Lord Mayor of the City of London.  Details are forthcoming about this year's tree, but you can guarantee it will put you in a holiday spirit. 
Trafalgar Square
The granddaddy of them all, Trafalgar Square's Christmas tree is perhaps the most impressive in the city every year.  This year's Christmas tree certainly gets the award for the furthest distance traveled as it hails all the way from Norway, which has provided the tree as a gift to the people of Britain since 1947.  Described by Norwegian foresters as the "Queen of the Forest," this year's tree is over 65 feet tall and approximately 50-60 years old.  The tree lighting ceremony will take place on December 1 and will be attended not only by the Lord Mayor of Westminster but also by the British Ambassador to Norway and the Mayor of Oslo.  If you can't physically make it to this year's tree lighting, the City of Westminster normally streams it so people all over the world can participate.