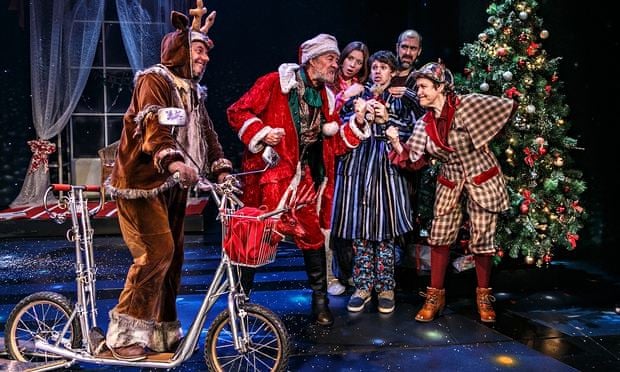 "Panto" short for "pantomime" is a type of play based upon traditional fairy tales.  These pantos rule London's theater scene during the Christmas holidays, with stories ranging from traditional family fare to more "adult" performances.  Especially due to London's status as the center of entertainment in the UK, many of the city's pantos feature a number of big-name celebrities indulging their silly or bawdy sides.  Some shows even do both, more wholesome during the day for kids, then raucous performances at night when the adults come out.  We've identified a few pantos for the 2018-2019 season below that we think you will want to see.
Beauty and the Feast
Beauty and the Feast offers *adult* patrons a chance to dine and be entertained by NSFW takes on their favorite fairy tales.  Held at The Vaults, Fairy Liquid invites the visitors to a feast held at the Beast's Palace in order to lift the ancient curse that turned him into a monster.  The three-hour immersive dining experience rewards ticket holders with a fun night out and a bar that stays open after the show is over.
A Christmas Carol
There are some stories that get performed by several theaters, each with a different take on it.  One of these is Dickens's Christmas classic.  If you want to go the more traditional route, Simon Callow will be doing a one-man show at the Arts Theater similar to how Dickens himself would perform his stories.  A different route is that offered by Chickenshed, which is taking the story and placing it in 1930s London.  Other regularly performed pantos include Peter Pan, Cinderella, and Aladdin.
The Messiah
Big names sometimes get involved in local pantos whether the celebrity in question is a West End star or a comedy darling.  This year, Everyman Cinema also gets in on the panto action by hosting a performance of The Messiah featuring comedian Hugh Dennis, actor John Marquez, and soprano singer Lesley Garrett as a theater troupe arriving in the town of Cheltenham to reenact the Christmas story as you've never seen it before.  Naturally, with these two comedic geniuses and talented singer, you can believe their performance trends more to the absurd.
Horrible Christmas
Presented by Horrible Histories, Horrible Christmas comes to the Alexandra Palace for a wild and hilarious Christmas story like no other.  One boy must journey through time to save Father Christmas and ensure that the holiday continues.  On his quest, he encounters such historical figures as Charles Dickens, Oliver Cromwell, King Henry VIII, Saint Nicholas, and even Rudolph the Red-Nosed Reindeer.  The show is more family-friendly, so you shouldn't have to worry about whether to bring the kids along.
A Pair of Pantos
For something progressive and thought-provoking, A Pair of Pantos plays with traditional concepts of gender-flipping in pantos.  Normally, pantos feature a Dame (a man in drag) and Principal Boy (women playing male roles) characters.  This show in Canada Water Culture Space features non-binary and trans actors to put on two traditional panto plays.
Mother Goose Cracks One Out
Some pantos just aren't meant for the kiddies and let the adults have a great laugh.  Such is the case for gay theater Above the Stag's Mother Goose Cracks One Out.  Putting a decidedly naughty spin on your favorite fairy tales, this panto is full of the ribald humor that has come to characterize the genre over the years.  If you go see this one, you can expect plenty of scantily-clad performers (especially the men), pop songs, and some of the filthiest jokes around.  Just to repeat, this is definitely not a family show and something for just you to enjoy.