This is a really unique experience that I thought was worth sharing. An adaptation of Charles Dickens's A Christmas Carol is to be staged for the first time in the state rooms at Windsor Castle (the Queen's favorite home).
What a rare treat!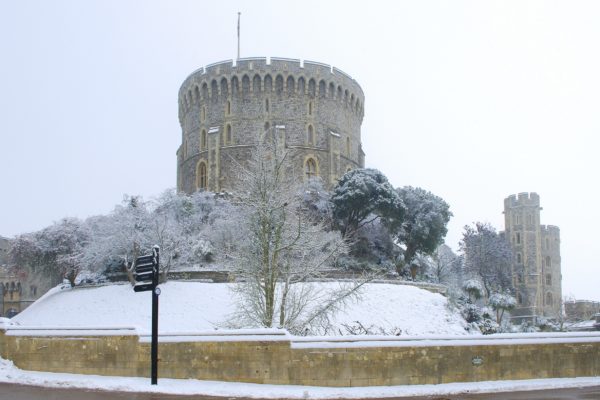 Here are the details:
This December, for the first time, an immersive Christmas performance will be staged in the magnificent State Apartments at Windsor Castle. Throughout the festive period, nine family-friendly evening performances of Charles Dickens's A Christmas Carol will be presented by theatre company Watch Your Head. The performances will take place in the Castle's two largest rooms, where the young Princesses Elizabeth and Margaret performed Christmas pantomimes during the Second World War.

Tailor-made for Windsor Castle and using Dickens's own words from his public readings of the classic tale, the production will feature live music and immersive elements, transporting the audience into a Victorian Christmas.

Visitors will accompany Ebenezer Scrooge from the Castle gates to the Waterloo Chamber, where Jacob Marley awaits to conjure his haunting dreams of Christmas Past, Present and Yet to Come. A cast of actors and musicians performing all around will transform the colossal space into Dickensian London, before the audience follows Scrooge into St George's Hall to celebrate his new-found festive spirit beneath the Castle's spectacular Christmas tree.

The event will form part of a programme of Victorian-themed activities at Windsor Castle this Christmas. Monarchs have been celebrating Christmas at Windsor Castle since the 12th century, but it was Queen Victoria and Prince Albert who introduced many of the Christmas traditions that we know today. Prince Albert is credited with popularising the German tradition of Christmas trees while enjoying the festive season at the Castle, and the Queen and Prince Albert were often seen ice skating and enjoying winter sleigh rides in the Castle grounds.

It was during this period that Dickens first publishedA Christmas Carolin 1843, and it has remained a festive classic ever since. The work can be seen in miniature in the library of Queen Mary's Dolls' House, built in the early 1920s as a perfect replica of an aristocratic Edwardian residence and housed ever since at Windsor Castle.

Jemima Rellie, Director of Content and Audiences, Royal Collection Trust, said, 'Windsor Castle at Christmastime evokes images of Queen Victoria, Prince Albert and their young family celebrating around the Christmas tree. As part of our Victorian-themed festive programme, we are excited to be staging an immersive Christmas performance in the State Apartments for the first time, and are sure that audiences will enjoy a unique experience that they will treasure for years to come.'

Sara Langridge, Producer, Watch Your Head, said, 'We are so delighted to continue our relationship with Royal Collection Trust in this way –A Christmas Carol really is the perfect story for this magical place and we can't wait for audiences of all ages to share this wonderful experience at Windsor Castle.'

Their third collaboration with Royal Collection Trust, Watch Your Head's latest production follows their recently staged immersive performances of William Shakespeare'sA Midsummer Night's Dreamin the Castle's Moat Garden.

A Christmas Carol is directed by Sasha McMurray, with costumes designed by Annina Pfeul and an original score by Joseph Reuben.
Here are the booking details – I think this will definitely sell out – so I would book now if you're interested!
A Christmas Carol at Windsor Castle, Windsor, Berkshire, SL4 1NJ
Dates 16–30 December
Performance schedule 16–17, 20–23, 28–30 December
Entry from 18:00, performance starts 19:00. Performance lasts 90 minutes including a 20-minute interval
Ticket prices Adults: £30.00; Children (Under 17s): £25.00 | Family (2 adults, 3 children): £110.00
Book online www.royalcollection.org.uk/christmascarol
Book by phone +44 (0)303 123 7340