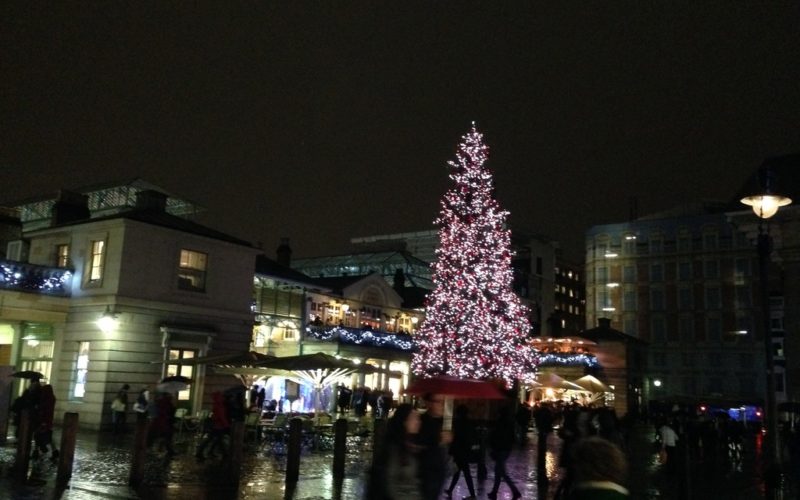 Shopping can be a wonderful and hectic activity during Christmastime, even in London.  Of course, the city's shopping centers, markets, and high streets offer plenty of options for Christmas gifts along with decorations galore.  If you happen to be in London during the holiday season, we hope you'll consider one of these ten shopping destinations that are full of Christmas cheer and presents for your friends and family.
Westfield London
Americans in London might find some home comforts in the Westfield London shopping center, a destination similar to many American shopping malls.  Westfield does it up during the holidays not only with decorations but craft-making events such as Christmas paper and wreath making worships and Santa's Snowflake Grotto.
Spirit of Christmas Fair
A great place for Christmas gifts, the Spirit of Christmas Fair in Olympia features of host of independent boutiques and craft makers selling unique holiday items.  The food hall and foot court also have an array of food and drink of the season, while the Home & Garden workshops give you a chance to make some of your own special Christmas presents.
Christmas by the River
Hosted each year at London City Bridge, Christmas by the River is one of London's top Christmas markets.  Little wooden cabins sell anything from bespoke Christmas gifts to food and drink of many countries' Christmas celebrations.  The market goes along the Queen's Walk from Hay's Galleria to The Scoop at More London.  With stunning views of Tower Bridge in the distance, it's definitely a place to visit during the holidays.
Bond Street
Full of high-end designer shops, Bond Street is a top shopping area of London.  And while it didn't make our list of some of the top places for Christmas Decorations in London, it still has a dazzling display of holiday lights that you'll want to visit.  Last year's display featured peacock lights, and it remains to be seen what spectacular decorations are in store for this year.
Southbank Centre's Wintertime Market
Another riverside Christmas market, the Wintertime Market at Southbank Centre is part of the area's winter festival.  As with Christmas by the River, Wintertime Market features a number of chalet-like retailer booths selling Christmas goodies and food and drink, such as mulled wine.  The Bar Under the Bridge is a great spot to visit, featuring a menu full of cheese-themed dishes.
Covent Garden
Variety is the Christmas spice of life at Covent Garden.  Unlike the more high-end retail of Bond Street, Covent Garden features a mix of shops that cater to all tastes along with dining establishments and three pop-up markets that offer everything from antiques to hand-made items.  If you do read our article about Christmas decorations, you'll know it's also one of the best places to take in the holiday lights.
Selfridges
One of London's best department stores, Selfridges is the place that coined the phrase "the customer is always right."  As such, in addition to the numerous items you can find throughout the year to satisfy your loved ones' desires, Selfridges also opens up its Christmas shop for the holiday featuring personalized items and Christmas decorations galore.  The store doesn't skimp on its own decorations either, so get a load of the ornamentation inside the shop as well as its display windows.
Angel's Market at Winter Wonderland
Winter Wonderland is a wonderful carnival that takes place every year in Hyde Park, and Angel's Market is a magical shopping experience in the middle of all the rides, food, and performances.  The market shops focus heavily on English and German crafts and gifts while offering a great number of crafts from artisans.  It's also one of the largest Christmas markets in the city, so it's a definite must-visit when you consider everything else Winter Wonderland has to offer.
Oxford Street
Perhaps the best shopping street in London, it's also one of the busiest at any given time of year and definitely is at Christmas.  It has over 300 shops, outlets, and stores (including the previously mentioned Selfridges).  It's also got one of the best Christmas lights displays in the entire city, which are bound to put you in the holiday spirit as you look for presents.
Harrods
With the motto "All things for all people, everywhere", Harrods is a number one shopping destination year-round.  This goes double for the holiday season, with decorations that will make you think Harrods is secretly Santa's workshop.  Harrods hosts its own Christmas shop, and there's a Christmas Grotto where kids can visit Father Christmas.  Beyond the dazzling selection of gifts, the store's Christmas window displays are a highlight of the city's holiday decorations.  Needless to say, whatever you need for your Christmas experience, you're bound to find it at Harrods.