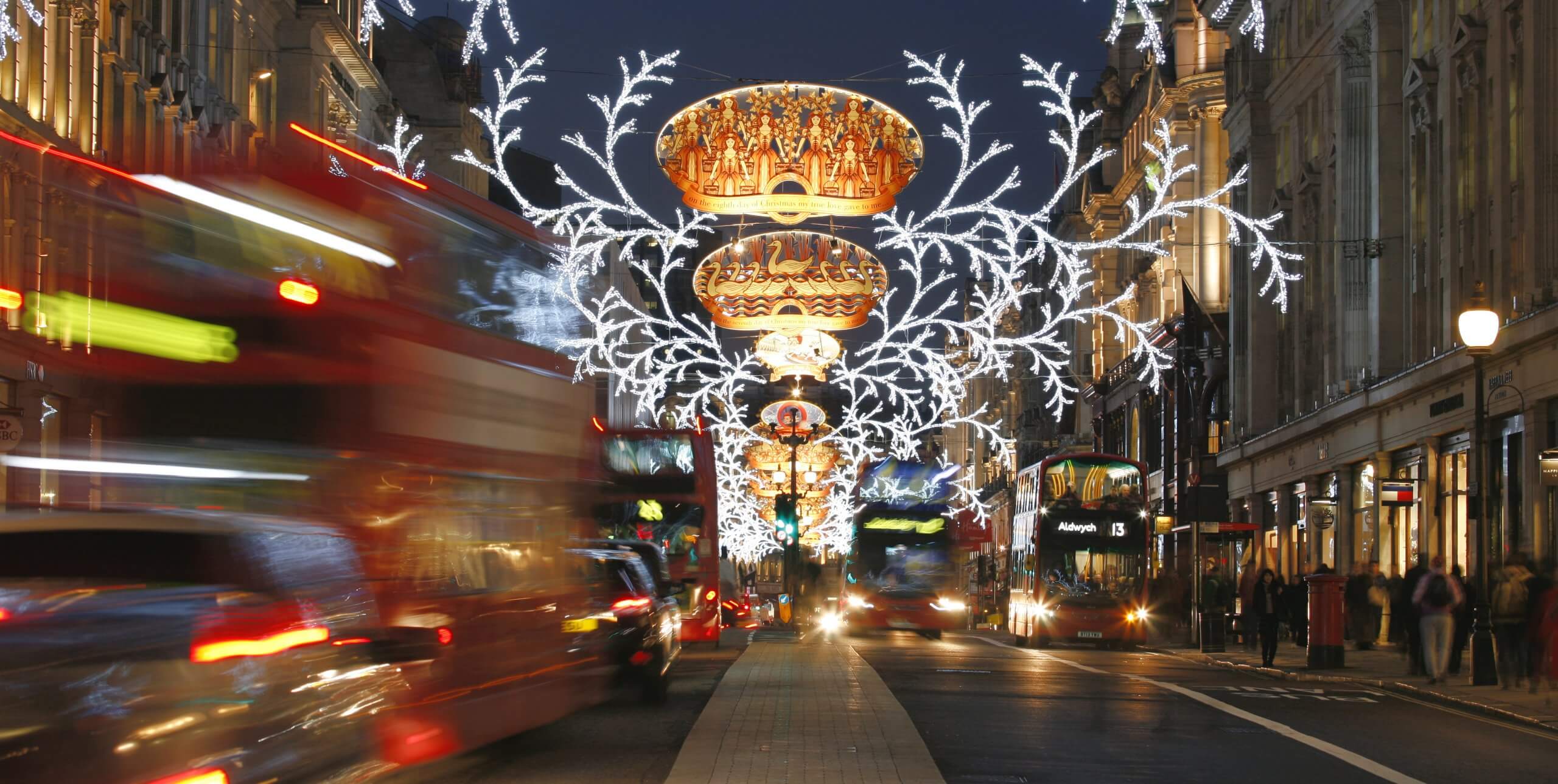 Those Christmas lights, light up the street….wait a second; that's part of a Coldplay song.  Christmas lights are an indelible part of the holiday season.  Whether you live in a modest apartment or a mansion, you likely have some of your own decking the outside and showing your holiday spirit to the world.  London is no different, and you can see the Christmas lights that Chris Martin sings so eloquently about on many major streets, buildings, and landmarks.  If you find yourself in London this holiday season, we've got a guide to help you find some of the best light displays in the city.
Shopping Districts
London's streets offer some of the best Christmas light displays you'll see in the entire city, especially if you go down to any of the major shopping districts.  Places like Regent Street, Oxford Street, Carnaby Street, and Bond Street all have their own unique displays.  Many of them also come with a theme, be it the angels of Regent Street or a lovely tribute to the late Queen Elizabeth II with lit crowns on Bond Street.  Even whole neighborhoods get in on the action, such as Seven Dials and Marylebone.  Some of the best lights you'll see are simply wandering around these well-trafficked areas.
Christmas at Kew
Kew Gardens really does it up for the holiday, and this year is no exception.  When the sun goes down, Christmas at Kew gets underway with dazzling light displays amid all the lovely plants.  You'll find plenty of interesting light displays beyond the normal twinkling light trails when you visit Kew Gardens.   You can go from the flickering flames of the Fire Garden to the spectacular music and light show at Palm House. 
The Churchill Arms
The Churchill Arms is a sight to behold throughout the year, but they really go up another level at Christmastime. Normally decked out in plants, plants, and more plants, the pub switches them out for an assortment of Christmas trees, holly bushes, and more—and all with their own Christmas lights that make the pub seem like one big Christmas tree itself.
Shard Lights
The Shard is aptly named for looking like a great glass dagger piercing the London skyline. Like many great skyscrapers in cities all over the world, the Shard also has its own light display that goes into overdrive when Christmastime comes. This year, the top twenty stories feature a display that sparkles like diamonds before alternating between green, red, white, and blue lights for the holiday. Of course, one of the best things about Shard Lights is that since it's the tallest building in the city, you can see the light show from just about anywhere with a decent view.
The Markets
And we're not just talking about the year-round markets, but the special pop-up Christmas markets as well.  Leadenhall Market is one of the top ones to visit, not only for its massive Christmas tree at the center, but the annual lighting ceremony that's presided over by the Lord Mayor of London.  Leicester Square hosts a small market where each booth id decked out in its own little lights.  Christmas in Belgravia is another great holiday market that really knows how to light up the area with strings of white icicle lights hanging overhead.  Even Winter Wonderland's market gets in on the action, and you can also visit the Street Food Village and marvel at their lights while you enjoy a Christmas treat.
Lightopia
Last, but certainly not least, Lightopia at Crystal Palace is self-described as "London's finest festival of lights this Christmas" and may actually back up that claim.  From a fire-breathing dragon to a magic illuminated forest, Lightopia stretches the imagination and takes it to new places.  Each part of the light festival feels like stepping into its own magical fantasy land, and it's topped off with a light show at Crystal Palace Park's lower lake.