The new Heathrow Terminal Two has officially opened today. It's getting much less fanfare than the huge launch a few years ago for British Airways's Terminal Five – mostly because that launch was such a disaster. They're phasing the new Terminal Two into use over the next few months, so the gradual start-up doesn't turn into any major disasters and they work out the bugs.
The new Terminal Two replaces the original terminal at Heathrow that was opened in 1955 and was known as the Queen's Building. The new terminal will take that old name and known as The Queen's Terminal. The terminal will be honored with a Royal opening on 23 June when Her Majesty the Queen will visit the airport accompanied by His Royal Highness The Duke of Edinburgh.
BBC News Story from Today's Opening:
https://www.youtube.com/watch?v=D7Ek23MIdFU
United Airlines is the first airline to move into the terminal and will today operate 17 arriving and 17 departing flights for nearly 6,000 passengers. Terminal 2 will eventually be home to 26 airlines – 23 members of the Star Alliance as well as Aer Lingus, Germanwings and Virgin Atlantic Little Red. Airlines will move into the new terminal in phases over the next six months. When fully occupied, Terminal 2 will have 332 daily flights to 54 global destinations.
I get kind of geeky about airports – I'm a strange person that happens to love airports. I'm a huge fan of BA's Terminal Five. Unfortunately, it will probably be along time before I get a firsthand look at the new terminal as I usually only fly BA from Chicago to London and they use T5 exclusively. The new terminal is certainly beautiful and it will certainly be a major improvement over what was there before. I'd been through the grotty old terminals before T5 opened years ago and thought they were a disgrace.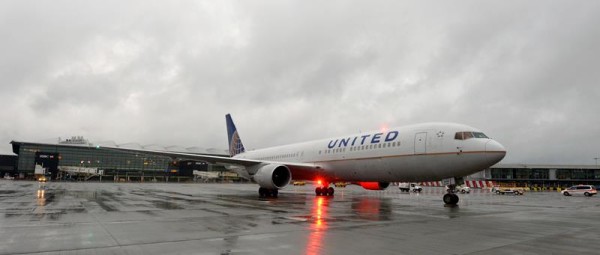 Video Tour of the New Terminal
Key Facts about the new Terminal: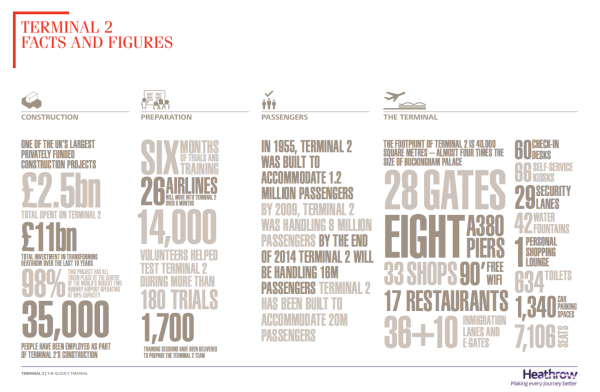 New Terminal Gallery:
Here's a list of all the airlines that will be using the new Terminal 2:
Aegean
Aer Lingus
Air Canada
Air China
Air New Zealand
All Nippon
Asiana
Austrian
Avianca
Brussels Airlines
Croatian
Egyptair
Ethiopian
EVA Air
Germanwings
LOT Polish
Lufthansa
Scandinavian
Singapore Airlines
South African
Swiss
TAP Portugal
Thai Airways
Turkish Airlines
United Airlines
Virgin Atlantic Little Red