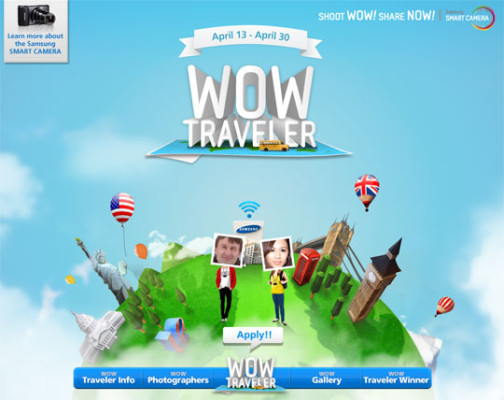 The folks over at Samsung have launched a new Facebook sweepstakes where one of the prizes is a free trip to London.
Here are the prize details:
There are two prizes –

1 Winner: A 6-day all-expenses-paid travel package to London and a Samsung SMART Camera.
1 Winner: A 6-day all-expenses-paid travel package to New York and a Samsung SMART Camera.

Required Travel Dates:

New York : May 14 – May 19, 2012
London : May 25 – May 30, 2012
The contest will take a little bit of work to enter. First, it's a Facebook only contest which will not interest a lot of people. But to those that it does – the prize may be worth dealing with Facebook.
To participate in this event, you have to Like Samsung Camera Facebook page, click on the app titled Samsung Smart Camera, check-in as you can see in the first image of this post, and click "Apply." Then you need to submit a great picture, which will then be voted on. The winners wil be selected from that.
You have until April 30th to enter – so you need to enter NOW!
Londontopia Contest Disclaimer – PLEASE READ – before you email us and complain about the contest please understand that we are NOT running this contest NOR are we affiliated with it in anyway. We are merely providing the information that this contest exists.