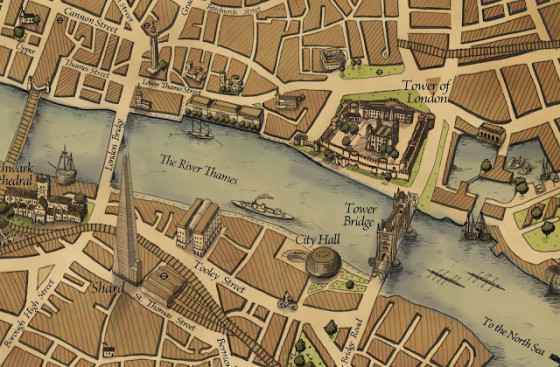 The folks over at Wellingtons Travel Company have created a beautiful new map of London that takes the modern layout of London and visualizes it as a 19th century map.
They can describe it better than I can:
In the 1800s, diplomats and merchants from around the world arrived in the ports of London and would purchase maps from pedlars. Maps were not only very popular but also a crucial tool that kept visitors safe and informed of markets, churches, neighbourhoods, and lodgings.

These meticulously crafted working documents also served as gifts, ornaments, and elegant tokens of remembrance for early travellers. As the city changed, so has the look of its maps – but not ours. Our current day maps have kept the same style true to the originals used in the days of Arthur Wellesley, 1st Duke of Wellington.
I'm happy to report that we have a spare copy of this map and we're going to give it away!
To enter to win this great map – all you have to do is sign up for weekly Londontopia newsletter. Fill out the form below:
You have one week to enter – all entries need to be received by April 10th, 2012. USA based entrants only!