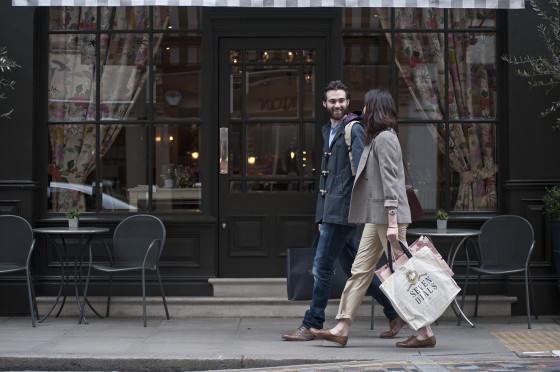 Make Seven Dials and neighbouring St Martin's Courtyard your ultimate shopping destinations this spring with an exclusive 20% off shopping evening on Thursday 26th April, presented by MasterCard's Priceless London and in association with the London Evening Standard.
For one night only in Covent Garden, between 5 and 9pm, Seven Dials, a haven for independent style and modern British Heritage, will be offering shoppers of discerning taste the chance to refresh their spring wardrobe for less. Covent Garden's newest shopping destination, St Martin's Courtyard, will also be tempting shoppers with this exclusive seasonal offer throughout its unique mix of fashion, beauty and lifestyle boutiques, flagships and restaurants. If you're in London for a cheap holiday – then definitely check out this deal!
Over 120 stores including beauty and grooming salons, cafes, restaurants and bars will be offering an exclusive 20% off their collections, services and menus. Additionally many of the participating stores and venues will be hosting in-store activities such as DJs, live music, makeovers, gifts plus complimentary food and drinks to make it a truly memorable shopping experience.
As part of Seven Dials' new partnership with MasterCard's Priceless London, the first 200 shoppers to spend over £100 on their MasterCard card will receive a free luxury goodie bag to be collected on the night. Also during the evening St Martin's Courtyard will be hosting a pop-up bar serving complimentary drinks for shoppers with a voucher, and 100 shoppers selected at random will be presented with a golden ticket entitling them to a gift worth £5 to £150 from stores within Seven Dials and St Martin's Courtyard.
The Seven Dials and St Martin's Courtyard 20% Shopping Evening takes place on Thursday 26th April 2012 between 5 and 9pm. To qualify for the discount, shoppers need a 'Seven Dials and St Martin's Courtyard Shopping Voucher' which can be downloaded for free one month in advance of the event at Sevendials.co.uk along with a list of participating stores and venues. You can also get updates on the event at Twitter @7dialsWC2 & @smccoventgarden, and Facebook facebook.com/sevendials & facebook.com/StMartinsCourtyard.