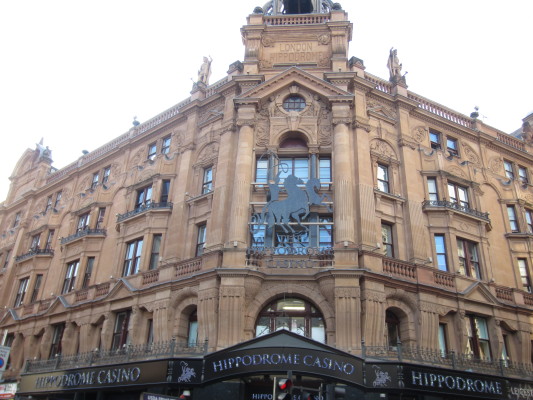 Although it's seldom brought up among the world's premiere casino tourism destinations, London retains a relatively high number of active casinos, some of which have fairly strong reputations. No local or tourist would go so far as to call the city a "casino town," but for anyone looking for this brand of recreation and entertainment, there are plenty of options out there. The question is, are London's casinos still worthwhile attractions at this point in the 21st century?
Some might assume that they're not, for a few different reasons. The first that comes to mind is that sports betting—one of the biggest draws for some casinos elsewhere in the world, particularly in the States—is pretty prevalent elsewhere around London and the UK. According to an analysis of UK betting habits from the Guardian, there were over 9,000 operational betting shops in the country as of 2012, offering fixed-odds betting machines that allow people to simply place sports bets on-the-go. That's a pretty incredible number. When you combine it with the popularity of online sports betting, in addition to on-site bets for events like major horse races, the entire sports-related side to casino culture seems somewhat unnecessary in London.
Another factor that figures to have worked against the relevance of London casinos is the range of benefits and convenient features associated with the thriving online casino industry, which operates freely and legally throughout the UK. London-based online casino Betfair offers a range of promotions and bonuses that includes options like free bonus chips for new members and matches for in-game deposits up to £200. For some, these kind of welcome bonuses—on top of the existing convenience of online gambling—make it worthwhile to ask why one would bother playing at a live casino.
Despite the appealing alternative options that exist for both sports betting and casino gaming, London casinos remain open and popular, largely due to some of the unique attractions and charms they offer. So if you're in town, and if this is an aspect of London's culture you haven't explored before, here are a few locations to check out.
Casino At The Empire
The Casino At The Empire, in the Leicester Square area, is probably the closest thing London has to the glamorous casino destinations more typical of Las Vegas or southeast Asia. Bright lights, gaudy decor, and buzzing attractions abound, and the casino itself lives up to the image it's trying to project. It's one of the biggest casino venues in England, offering up a huge range of gaming options, along with additional recreation in the form of multiple bars. Finally, the casino is also known for the FuLuShoul restaurant; Timeout's page on the restaurant describes it as "pan-Asian," offering a number of delicious small plate options and exotic teas.
The Hippodrome Casino
This one just sounds cool, doesn't it? The Hippodrome Casino is located not far from the Casino At The Empire, and while it's not quite as lit-up, it dwarfs it in appearance. That's because it's built into a very old and magnificent building, which gives it a great combination of modern casino glamour and, fittingly, London class. Inside, the Hippodrome is basically a five-story entertainment complex featuring tons of gaming options, fine dining, shows and musicals, etc.—basically, everything you could want from a night out at the casinos.
Grosvenor Victoria Casino
The Grosvenor is one of the newer casinos in London, and doesn't have the outwardly apparent glamour of the Casino At The Empire or the architectural appeal and raw size of the Hippodrome. But what it does have is its own unique, sleek atmosphere in addition to the most famous poker rooms in London, if not the UK as a whole. Already an attraction for professional card players, the Hippodrome's poker room is a good example of the sort of gaming you just can't quite get online or elsewhere.
Given all these three venues have to offer, it's safe to say the casinos of London are still worth visiting, even if their activities are no longer exclusive to live facilities.