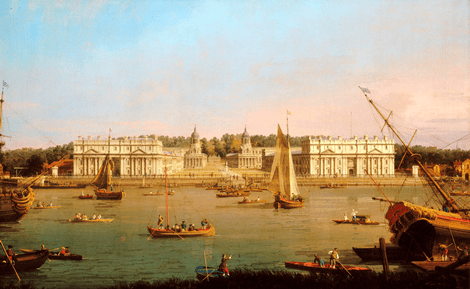 The National Maritime Museum in Greenwich, London is celebrating both the Queen's Diamond Jubilee and its own 75th anniversary with a major exhibition about royalty and London's River Thames.
Royal River: Power, Pageantry and the Thames will look at how royalty has used the river throughout history to display their power, patronage and pageantry, and how Londoners are intimately and inextricably connected to the Thames.
Historian David Starkey curates the exhibition, which will include 49 items from the Royal Collection, many them on display for the first time. Visitors will be able to see Handel's autographed score for the Music for the Royal Fireworks, a collection of artworks by Canaletto, the figurehead from the royal yacht Royal Charlotte and the stern carvings from the Royal Yacht Victoria and Albert III.
David Starkey says: 'The exhibition brings to life the extraordinary and varied history of the Thames as Britain's royal river. This grand street through the heart of London has been a stage for the power and pageantry of key events in British history. Many of the 350-plus objects to be shown in Greenwich have never been displayed before. Together, they provide a visual feast, highlighting both the drama and magnificence of river celebrations and the fascinating and unexpected stories of Thames people.'
At high tide in the afternoon of Sunday 3 June, up to 1,000 boats will take part in the Thames Diamond Jubilee Pageant led by Her Majesty the Queen. It will be one of the largest flotillas ever assembled on the river. Rowed boats, working boats and pleasure vessels of all shapes and sizes, including historic boats, wooden launches, steam vessels and other boats of note will be dressed with streamers and Union Jacks and progress down the river 22km (14 miles) from Hammersmith in west London to Greenwich.
The National Maritime Museum holds the world's largest maritime collection. It is housed in historic buildings forming part of the Maritime Greenwich World Heritage Site, which incorporates the Royal Observatory, Greenwich and 17th-century Queen's House.
Greenwich Park is a venue for the London 2012 Olympic and Paralympic Games and the exhibition will be open throughout the games. In 2012 Greenwich also becomes London's newest Royal Borough.
The National Maritime Museum is open daily 10am–5pm, admission free. Royal River: Power, Pageantry and the Thames runs from 26 April to 9 September. Tickets for the exhibition are £11.00, £9.00 concessions and £24.50 family tickets.
National Maritime Museum, Romney Road, Greenwich, London SE10 9NF
Tel: +44 20 8312 6565
Websites: www.rmg.co.uk
www.thamesdiamondjubileepageant.org
Facebook: National Maritime Museum
Twitter: @NMMGreenwich
Vimeo: National Maritime Museum
Flickr: National Maritime Museum